Wild on Sports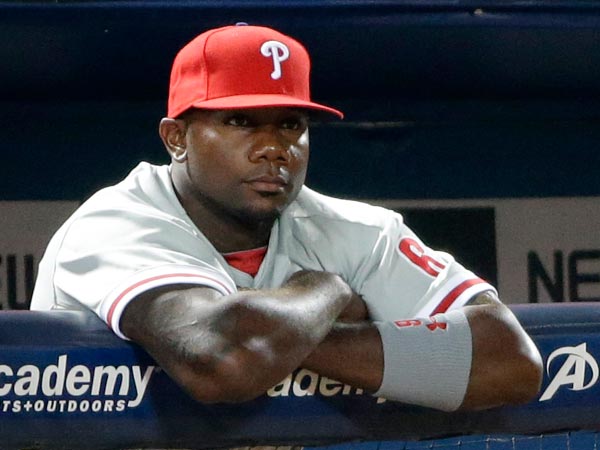 MLB 2014 Team Preview: Philadelphia Phillies
By Wild on Sports Analyst Aaron Dorman
2013 Overview:
Roy Halladay goes down and so the Phillies and their mini-dynasty; the fearsome pitching trio of Halladay, Lee, and Hamels lasts barely three years. Everyone is old and/or injured, and Ryan Howard's contract which pays him at least another $85 million may be the worst of all time. Newcomers Michael Young and Ben Revere do little to help the Phillies compete. Overall it's their first losing season since the year 2002.
Winter Grade:
C+
Coming:
AJ Burnett, Marlon Byrd, Miguel Alfredo Gonzalez, Roberto Hernandez
Going:
Roy Halladay
An old team gets even older, but what choice did they really have? None of the old guard-Rollins, Howard, Utley, et al-have much trade value so the Phillies take aim at one more year of respectability. The late signing of AJ Burnett looks very smart, especially with Cole Hamels missing April, but the other signings are head scratchers. Marlon Byrd had a sub-.500 OPS before his magical rebound last year, and to expect him to repeat is an expensive gamble. Cuban import Gonzalez came to spring training throwing below 90 mph and right now the Phillies aren't sure he's a major league starting pitcher. For the price the Phillies paid to bring in these guys, as well as retaining catcher Carlos Ruiz, they could have splurged and signed a real impact player like Sin-Soo Choo. Overall the roster makeup doesn't give them very much flexibility right now.
Wild Card(s):
Marlon Byrd
- He was one of the best outfielders in the league last year after nearly washing out of baseball, but to say his season was a career outlier is an understatement. At age 35, Byrd hit a career-high in Home Runs (24), and he did it in an unsustainable manner, upping his strikeout rate to career highs (24% or 144 K in 532 AB), and reducing his walk rate to career lows (5.3% or 31 BB). Typically when you miss more pitches like he did, your batting average goes down, but Byrd maintained a high BABIP (Batting average on balls in play) all year. The big season wasn't all smoke and mirrors; Byrd got into better shape going into last year and the stats point to a new, more aggressive approach which worked for him last year. Considering he is moving to a bandbox in Philadelphia, some or most of the power should remain. The question, however, is whether or not Byrd can keep a respectable batting average, or take more walks, or even stay on the field for 140-plus games. He's going to turn 37 in August, so nothing should be taken for granted with him.
Key Contract Years:
AJ Burnett may go year-to-year as his career winds down. Kyle Kendrick has been up and down but could get a contract similar to Scott Feldman's 3-year deal on the open market. Jimmy Rollins has a mutual option at the end of the year.
Rookies:
Although he won't arrive until midseason, Maikel Franco may force his way into the lineup at third base, or first after the inevitable Ryan Howard DL stint. Franco has big time power, swatting 31 HR between high-A and AA last year. He has an aggressive, contact oriented approach and Philadelphia will find out if that works at the AAA level first, or if he begins to pile up strikeouts. Their best pitching prospect, lefty Jesse Biddle, could also get a call-up around June if he can fix some control issues. Mentioned above, Miguel Gonzalez is a "rookie" but right now the Phillies don't know if they bought a backend starter or a AAAA washout.
Key Questions:
Who stays healthy?
And then who replaces the guys who go down?
Do Cody Asche or Darin Ruf have the ability to play full-time?
Speaking of 2013 rookies, is Jon Pettibone a big league starter?
Do either Cole Hamels or Cliff Lee get traded if the Phillies get off to another bad start?
Would AJ Burnett approve of a move to a contender?
Farm System Overview: YELLOW (average)
Injuries have decimated what looked to be a promising pitching crop, but the top tier of Phillie prospects is still solid. Maikel Franco has as much power potential as any prospect, and last year's draft pick JP Crawford had a very strong debut (.443 OBP) in the Gulf Coast League. The organization still has a knack for finding toolsy players in the draft and on the international market; speedy shortstop Roman Quinn could be poised to break out next year.
2014 Prognosis: Unlikely Contenders
An old team, coming off a 74-win season, doesn't read on paper like a contender. But they've still got those two ace lefties and Howard, Utley and Rollins have now played together for a decade. Between them, can they squeeze out enough former glory to make a run at the wild card? It's a long shot, but no matter what happens, at least Ryan Howard is paid like an MVP.