Wild on Sports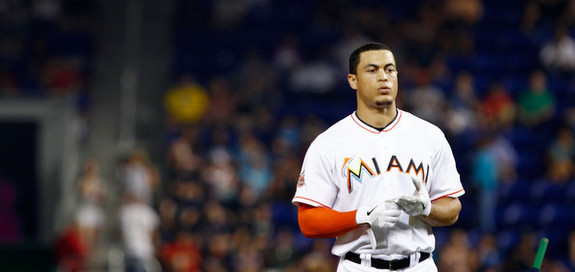 MLB 2014 Team Preview: Miami Marlins
By Wild on Sports MLB Analyst Aaron Dorman
2013 Overview:
Surprise! When you trade away sixty percent of the rotation and half the lineup the previous winter, you lose a lot of games. Miami scores a putrid 513 runs in their sophomore season in a new ballpark, and the roster is historically bad until some late season call-ups like Christian Yelich and Nate Eovaldi keep things respectable. Still, things are sour on and off the field. Veterans Placido Polanco and Juan Pierre show why they were available to the Marlins in the first place, in what should be their final seasons. Prized outfielder Giancarlo Stanton expressed his displeasure with the team's direction and then has a poor season hitting .250 with 24 Home Runs. Batting coach Tino Martinez gets outed for abusing his players and then management punishes the PLAYERS, sending down rookies Derek Detriech and Marcell Osuna to AAA. Finally, even the emergence of ace Jose Fernandez comes with the footnote that by letting him pitch five extra innings in April, the Marlins lose a whole year of control of his services.
Winter Grade:
D
Coming: Jarrod Saltalamacchia, Rafael Furcal, Garret Jones, Casey McGehee
Going: Logan Morrison, Juan Pierre (retires), Placido Polanco (retires)
Three years after John Buck's mistaken contract is finally off the books, Miami gives the same contract to virtually the same player in Saltlamacchia, a one-dimensional catcher coming off a career year. Expect things to go similarly when he finds the fly balls don't go as far in Florida. It's nice to see Furcal attempt to continue his career, and both Jones and McGehee are mildly interesting pickups for a terrible offense, but the Marlins sell very low on Logan Morrison and without Ricky Nolasco, there are no veterans to help take the pressure off their young starters, or eat innings when they get injured. Peppered among their minor league free agent signings are some names like Carlos Marmol or Ty Wigginton who bring back memories but probably not enough to draw fans to the park this year.
Wild Card(s):
Nate Eovaldi is far more intriguing than his 9-21 career record would indicate. The 24-year-old had a 3.39 ERA last year for Miami and has the best combination of stuff and peripherals among their young starters not named Jose Fernandez. He is the best bet to become a mid-rotation caliber starter; as of now fellow rotation mates Jacob Turner (mediocre fastball) and Henderson Alvarez (poor strikeout rate) lack that favorable prognosis.
Among hitters, Dietrich and Osuna could be big league regulars, although it remains to be seen how long ownership will hold a grudge against them. Outfielder Christian Yelich has a chance to be even better than Stanton, adding speed and strong batting ability along with well above-average power.
Key Contract Years:
Nobody unless some of their minor league free agents pan out. But it doesn't matter, as Miami often trades players well before they reach free agency (arbitration eligible players are 'expensive') and sometimes trade them even after signing them to long term deals (Hanley Ramirez, Josh Johnson).
Rookies:
Most interesting players close to the majors saw enough time last year in Miami to lose their rookie status. One guy who didn't was center fielder
Jake Marisnick
, who came over in the mega-deal with Toronto. Marisnick is very athletic but he's been rushed and could use some time in AAA to improve his pitch recognition and become a better hitting threat. His speed and defense will allow him to be useful but there is some five-tool potential in him as well.
Lefty
Andrew Heaney
had a 1.60 ERA in 19 starts last year between High-A and AA, and we know Miami isn't afraid to push their top pitching prospects…but he only threw 95 innings and just six starts above A-ball, so he's probably not ready.
Key Questions:
Who gets the bulk of the playing time, the rookies or the scrubs?
When will Miami pull the trigger on a Stanton trade?
Will they also move closer Steve Cishek?
Will the ballpark be filled to above halfway capacity in any game this year?
Farm System Overview: YELLOW (mediocre)
Overall the Marlins have a lot of young talent but many of their best prospects lost rookie status by the end of last year (Yelich, Jordan Turner, etc). What's left is a top-heavy collection of Heaney, 2013 first-rounder Colin Moran (3b), and mostly a bunch of back-end starter types. The two main pitching prospects returned in the Toronto megadeal, Justin Nicolino and Anthony DeSclafani, had solid seasons in high-A, but neither throws hard enough to project as a star right now.
2014 Prognosis: Rebuilding
It smells like rotting fish in Marlins Ballpark. What else is there to say? Ownership keeps them irrelevant because they refuse to spend more than the bare minimum or exercise enough patience to wait for a winning core to come together. Their scouting and development people are pretty good, and the Marlins have been above .500 four times over the last decade despite the payroll constraints. Giancarlo Stanton, Jose Fernandez and Christian Yelich must have other GMs salivating.