Wild on Sports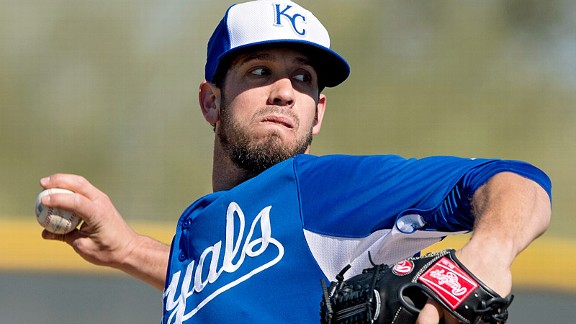 MLB 2014 Team Preview: Kansas City Royals
By Wild on Sports MLB Analyst Aaron Dorman
2013 Overview:
It looked like another disappointing year in Kansas City, but the team finished strong, going 43-27 in the second half of the season, and in fact were above .500 in every month except May, when they went an abysmal 8-20. Their solid season may have saved Dayton Moore's job, and staved off a significant amount of embarrassment coming from the fact that they'd made a tremendous push last winter to compete, trading prized prospect Wil Myers (among others) in the process. Still, they missed the playoffs for the 28th straight season.
Winter Grade:
B
Coming: Jason Vargas, Norichika Aoki, Omar Infante
Going: Ervin Santana, David Lough
Kansas City creatively patched up their holes on the roster this winter, signing the now-underrated Infante and acquiring a solid on-base threat in Aoki for virtually nothing. Signing Vargas to a long-term deal is a head-scratcher, especially since Santana remains a free agent, but that excess is mitigating by retaining Bruce Chen on the cheap. Danny Valencia was acquired as insurance at third base that they won't need (more on that below).
Wild Card(s):
Mike Moustakas. In 2.5 seasons with KC, the former can't miss prospect has missed a lot of pitches, his strikeouts and weak contact keeping his power numbers down (his career slugging percentage is a cool .385). He's now 25 years old and far enough removed from his blue chip status that Kansas City is already making contingency plans, but I have faith. Moustakas' career to date looks a lot like another current Royal, Alex Gordon (albeit with less plate discipline). Gordon took forever to get going but once he broke out in 2011, he's remained a very solid asset across the board (power, baserunning, defense, etc). Moustakas is still young enough to make a similar jump. He could also tap into more of his raw power and become the AL's version of Pedro Alvarez. In short, there are plenty of still likely scenarios in which he contributes to a contender.
Key Contract Years:
James Shields, Norichika Aoki. Shields may well be a goner after this year, which puts an immense amount of pressure on the Royals to win this year; as good as Shields was last year, to having nothing to show for letting go of Wil Myers and company will haunt the Royals management team (lead by Dayton Moore), wherever they wind up after this year. That said, the Royals have done a decent job locking up their best homegrown talent, with an offensive core of Gordon, Eric Hosmer and Salvador Perez in toe for the long haul. DH Billy Butler has an option for 2015 that will be picked up unless he has a complete breakdown this year.
Rookies:
Flamethrower Yordano Ventura will get first crack at a rotation spot, followed closely by Kyle Zimmer, a former first-round pick whose high ERA last year (4.32) masks a strong finish and excellent component ratios. Both could have Royals fans forgetting Ervin Santana by the end of the season.
Key Questions:
Will another bad start force the Royals to deal Shields midseason?
Where will the power come from in the lineup?
Can Bruce Chen keep hitters guessing with smoke and mirrors for at least one more season?
How bold will management be in reinforcing the roster if they are contending?
Farm System Overview: GREEN (above average)
Before 2011, the Royals were aggressive spenders in the amateur draft, complementing regular top ten picks with later-round bonus babies like Wil Myers, Chris Duffy and Mike Montgomery, to name a few. Overall they haven't seen the returns you'd expect given the money they've spent and the high draft slots they've had, but nevertheless, the system has a nice mix of interesting pitchers and athletic position players, highlighted by Raul Mondesi Jr, the youngest player in full-season ball last year (he'll be 18 in 2014). They also had an interesting strategy in last year's draft, which seems to have worked so far; third-basemen Hunter Dozier was signed cheaply so that they could save money for lhp Sean Manaea later on, who fell to them due to concerns about his hip.
2014 Prognosis: Likely Contenders
The Royals are slightly more impressive on paper than the Indians going into the year, and could easily leap-frog them in the standings. They did more to improve their shortcomings this year, but more importantly, there is more room for growth on their roster, particular among position players, as guys like Eric Hosmer and Salvador Perez have true star potential. Bullpens are usually fickle, but Kansas City has a tremendous corps of relievers who can make a real difference. Finally, their veteran workhorses seem more than capable of bridging the gap between Shields and their aces of tomorrow.