Wild on Sports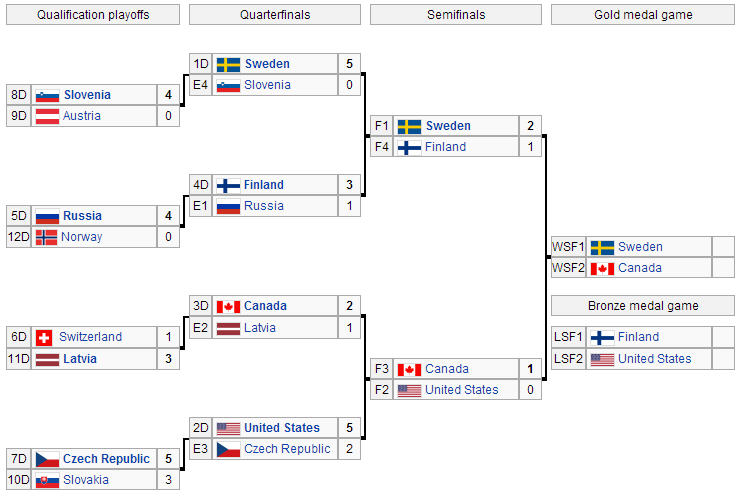 2014 Olympic Hockey Bracket & Schedule
The teams are set! Let the real hockey begin!
The group round robin round is now over and we have our official rankings and bracket for the 2014 Sochi Olympic games for Men's Ice Hockey. What an exciting first week to Olympic hockey it has been! Russia, many experts favorites to make it to the gold medal game on home ice have looked very human, losing a thriller to the United States and surviving a nail bitter against Slovakia. They have arguably three of the top 5 offensive players in the world on their team, yet have had a very difficult time finding the back of the net.
For Team USA and Canada it has been business as usual. The United States won the most exciting Olympic game is recent memory, knocking off Russia in an eight-round shootout. The biggest question mark coming into the games for the USA was goal scoring. That has not been an issue at all as the USA has the best goal differential in the tournament at +11. Canada has been as advertised. Even though they have not gotten a whole lot of production out of their big name stars, they have controlled the play in all three of their games and look ever bit the team that won gold in Vancouver. The ways things are set up, we are likely to see a USA-Canada match-up in the semifinals.
Sweden, 2006 golf medal winners, come into the quarterfinals as the the #1 seed. They are the only team in the tournament to collect the full possible nine points with three regulation wins. As expected, Henrik Lundquist has led the way in net, shutting out the surprise Switzerland team 1-0 and leading the charge against the Czech Republic in a 4-2 victory. He will be more important than ever now in a likely semi-final match-up against Finland or Russia.
You can find the complete TV schedule for the remaining games here...
Feb. 18
3 a.m.


Slovenia vs. Austria
NBCSN
Feb. 18
7:30 a.m.


Russia vs. Norway
USA
Feb. 18
Noon


Switzerland vs. Latvia
NBCSN
Feb. 18
Noon


Czech vs. Slovakia
MSNBC
Feb. 19
3 a.m.


Sweden vs. Slovenia
NBCSN
Feb. 19
7:30 a.m.


Finland vs. Russia
NBCSN
Feb. 19
Noon


USA vs. Czech
USA
Feb. 19
Noon


Canada vs. Lavia
MSNBC
Feb. 21
7 a.m.


Sweden vs. Finland
NBCSN
Feb. 21
Noon


USA vs. Canada
NBCSN
Feb. 22
10 a.m.


Bronze Medal Game
NBCSN
Feb. 23
7 a.m.


Gold Medal Game
NBC