Wild on Sports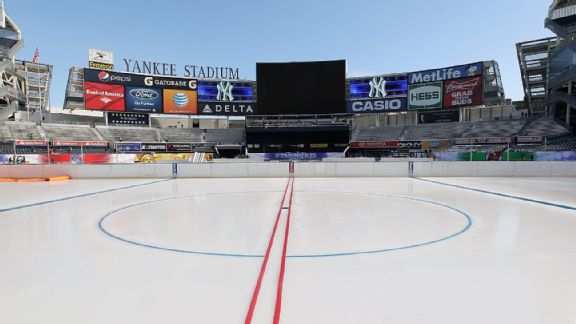 NHL Power Rankings
January 29, 2014
What an exciting week! We saw two games outdoors over the weekend in New York and California. We get treated to another tonight at Yankee Stadium. The Stadium series seems to be gaining some traction as fans of not just hockey but some of the other sports in which their team's stadiums are being used are tuning into the games to see what the NHL has created. Really a great week all around for hockey.
Now onto the rankings...
We all know the Ducks are the top of the NHL at this point. They are keeping up their play winning 7 of their last 10. In the Pacific there are a couple red hot teams right now. The San Jose Sharks are also winner of 7 of their last 10 and have jumped up 3 places this week to #2. The St. Louis Blues and Pittsburgh Penguins swap spots at 3 and 4 thanks to a three game win streak for the Blues. Rounding out the top five are the Chicago Blackhawks who fall three spots this week after losing four straight.
Where does your team rank this week?
| Rank | | Team | Last Week |
| --- | --- | --- | --- |
| 1 | | Anaheim Ducks | 1 |
| 2 | | San Jose Sharks | 5 |
| 3 | | St. Louis Blues | 4 |
| 4 | | Pittsburgh Penguins | 3 |
| 5 | | Chicago Blackhawks | 2 |
| 6 | | Boston Bruins | 8 |
| 7 | | Tampa Bay Lightning | 9 |
| 8 | | Colorado Avalanche | 6 |
| 9 | | Minnesota Wild | 10 |
| 10 | | New York Rangers | 11 |
| 11 | | Columbus Blue Jackets | 13 |
| 12 | | LA Kings | 7 |
| 13 | | Vancouver Canucks | 16 |
| 14 | | Toronto Maple Leafs | 14 |
| 15 | | Detroit Red Wings | 15 |
| 16 | | Colorado Hurricanes | 23 |
| 17 | | Phoenix Coyotes | 17 |
| 18 | | Montreal Canadiens | 12 |
| 19 | | Dallas Stars | 25 |
| 20 | | Winnipeg Jets | 22 |
| 21 | | Ottawa Senators | 19 |
| 22 | | New Jersey Devils | 21 |
| 23 | | Philadelphia Flyers | 18 |
| 24 | | Washington Capitals | 20 |
| 25 | | New York Islanders | 24 |
| 26 | | Nashville Predators | 26 |
| 27 | | Florida Panthers | 27 |
| 28 | | Calgary Flames | 29 |
| 29 | | Buffalo Sabers | 28 |
| 30 | | Edmonton Oilers | 30 |