Wild on Sports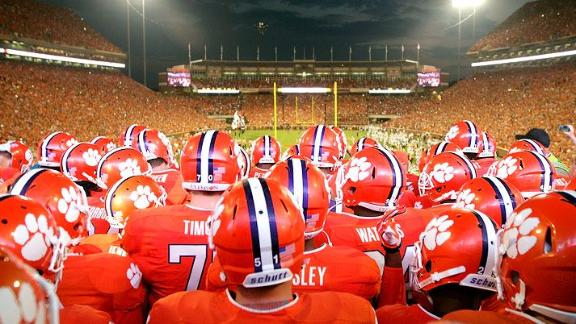 College Football Saturday Cash-In
We're back at it again this week giving you our top three picks of the week against the spread for NCAA College Football Week 8.
West Virginia (3-3) vs. #16 Texas Tech (6-0)
TT -5, O/U 57.5
Texas Tech hits the road in hopes of keeping its undefeated season going against West Virginia. If they do it it will have to be without the services of starting QB Baker Mayfield who will miss his second straight week due to a knee injury. Fellow freshmen QB Davis Webb filled in admirably last week in a shootout victory over Iowa St. The Red Raiders will need another strong performance from Webb in this one if they look to avoid being the second undefeated team to fall in consecutive days.
On the other side of the ball, West Virginia comes into the game off of a bye week but have a bit of uncertainty of their own at the quarterback position. Each QB on their roster has gotten a start, the most recent of which was former Florida State transfer Clint Trickett who stepped in and beat Oklahoma St. in his first start but then looked lost in a thumping from Baylor the following week. Does the extra week to think about the 70+ points they game up at Baylor help them or hurt them?
The Verdict: Consistency, or lack there of, on the defensive side of the ball has been a huge problem for West Virginia this season. Defensively, they just give up too many points. Texas Tech can score regardless of who is under center. We're going to lay the points under a touch down in this one.
PICK: Texas Tech -5
Vanderbilt (3-3) vs. #15 Georgia (4-2)
UG -7, O/U: 61.5
Georgia is coming off a devastating loss last week against Missouri that more or less officially ended any hopes of a trip to the National Title game. Injuries and the toughest schedule through 6 games in the nation have knocked the team that was the preseason #5 all the way down to #15. This week they take on another SEC foe in Vanderbilt. They may get star running back Todd Gruley back from an ankle injury. If they do, that should give the Bulldog a huge boost and take some pressure off of Aaron Murray and his depleted receiving core.
Georgia has owned Vanderbilt in recent years including a 48-3 thrashing last season. The bulldogs have won six straight against Vandy and ten straight in Nashville.
The Verdict: Despite all the injuries, Georgia is simply the more talented team on both sides of the ball. Aaron Murray won't let his team lose two straight. While they don't have a chance at the National Title, they still have a chance to win the SEC East. That coupled with revenge from last week's embarrassment should equal another Bulldog victory in Nashville.
PICK: Georgia -7
#5 Florida St. (6-0) vs. #3 Clemson
FSU -3, O/U: 64.5
Everybody's game of the week! Its not often that we get two top 5 teams duking it out in week 8. The game marks the 27th meeting between Clemson and Florida State dating back to 1970, but the first where both teams are ranked in the top five. The last six times they've met as ranked teams, Florida State has been the higher-ranked team, with FSU 5-1 in those games. For Clemson, this will be the second time this season that they have hosted the #5 ranked team in the country after beating Georgia in their first game of the season.
This game features one of the best quarterback match-ups we will see all season in Jameis Winston and Tajh Boyd. Both are very strong Heisman candidates and this game will certainly strengthen the resume for the victor. Statistically, Winston holds a slight edge as the only FBS quarterback to rank among the top five in Total QBR, completion percentage, and passing yards per attempt.
Both teams put up points in bunches (Clemson 40.8 points per game, FSU 53.6 ppg.). The key to this game is going to be making stops on defense and minimizing the damage. Florida St.'s athletic defense matches up fairly well against spread defenses (Clemson's system). In addition, the Seminoles have allowed just 12 points per game (vs. Clemson's 16.2). Georgia was able to put up 35 on the Clemson defense. Granted, it was only week 1 but from a comparison standpoint the FSU offensive attack is more impressive than that of the bulldogs.
The Verdict: Florida St. comes into the game just a little hotter in our opinion than Clemson. Last week's shutout of Maryland was a big eye opener. The Seminoles also appear to be a bit more suited to handle a shootout on the defensive side of the ball with strong DB play. We'll take the favorite in this one.
PICK: Florida St. -3