Wild on Sports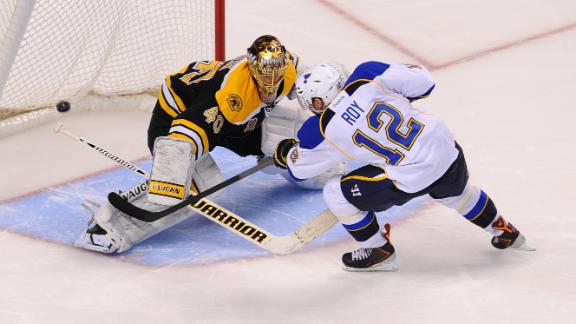 NHL Power Rankings
November 27, 2013
Another week, another new #1. At the top of the Central Division with games in hand over the defending Champion and #2 Chicago Blackhawks are the St. Louis Blues. The Blues are 8-1-1 over their past ten games and are 3rd in the league in scoring. Match that with solid goaltending and you have a team that will be right there in contention for the Western Conference crown this season. As mentioned, the Blackhawks continue to show that there will be no Stanley Cup hangover in Chicago this season. In fact, they may have the best chance of any team that we have seen in years to repeat. They sit at #2 on a three game win streak and wins in 8 of their last 10. Jumping up one spot this week are the Anaheim Ducks. The Ducks are without question the deepest team in terms of goaltending in the season. In fact, that depth is going to start to become a problem with three players all deserving of starers minutes. At #4 are the San Jose Sharks. The Sharks continue to hang tough in the Pacific Division despite the down week last week. Making the dig jump back into the top 5 are the Colorado Avalanche. It appeared they were in a tail spin after jumping out of the gate like gangbusters. This past week they took a huge step back in the right direction with wins over Chicago, Phoenix, and LA -- all teams rank in the top 5 last week.
The big mover of the week award this week belongs to the Philadelphia Flyers who jump up a whopping 9 spots to #15. After being left for dead early in the season they have won 6 of 7 and find themselves just 1 point out of a playoff spot in the East. Going the other direction are the Washington Capitals and Dallas Stars, down 7 spots each after three loss weeks.
Where does your team rank this week?
| Rank | | Team | Last Week |
| --- | --- | --- | --- |
| 1 | | St. Louis Blues | 2 |
| 2 | | Chicago Blackhawks | 1 |
| 3 | | Anaheim Ducks | 4 |
| 4 | | San Jose Sharks | 5 |
| 5 | | Colorado Blackhawks | 10 |
| 6 | | Minnesota Wild | 6 |
| 7 | | Boston Bruins | 8 |
| 8 | | Phoenix Cowboys | 3 |
| 9 | | Pittsburgh Penguins | 11 |
| 10 | | Los Angeles Kings | 7 |
| 11 | | Toronto Blues | 14 |
| 12 | | Montreal Canadiens | 18 |
| 13 | | Tampa Bay Lightning | 9 |
| 14 | | New Jersey Devils | 20 |
| 15 | | Philadelphia Flyers | 24 |
| 16 | | New York Rangers | 17 |
| 17 | | Detroit Red Wings | 19 |
| 18 | | Vancouver Canucks | 15 |
| 19 | | Washington Capitals | 12 |
| 20 | | Dallas Stars | 13 |
| 21 | | Nashville Predators | 23 |
| 22 | | Winnipeg Jets | 16 |
| 23 | | Carolina Hurricanes | 22 |
| 24 | | Ottawa Senators | 21 |
| 25 | | Edmonton Oilers | 30 |
| 26 | | Columbus Blue Jackets | 26 |
| 27 | | New York Islanders | 25 |
| 28 | | Calgary Flames | 28 |
| 29 | | Florida Panthers | 27 |
| 30 | | Buffalo Sabers | 29 |