Wild on Sports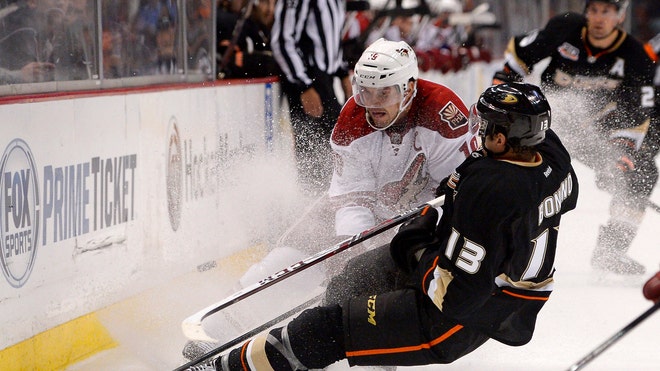 NHL Power Rankings
November 12th, 2013
Holy West Coast dominance! Our top six teams this week come from the Western Conference and with good reason: they are the better teams right now. We have some established dominance out West. In the East no one seems to want to run away with it. Whether that is a testament to a lot of very good teams at the top beating each other up or just simply a lack of consistency; the East is sagging behind a bit to start the year.
Getting to the rankings themselves; the Colorado Avalanche have won eight of their last ten and maintain the #1 rank for a third straight week. The Anaheim Ducks now have the most points in hockey at 31through 19 games. Ryan Getzlaf seems to have regained his championship form the Ducks cup run in 2007. It is no coincidence that the line of Getzlaf-Penner-Perry is reunited in correlation with this resurgence. The San Jose Sharks fall one spot to #3 this week. The Phoenix Coyotes are playing some great hockey winning 6 of their last 7, the one loss coming at the hands of the afore mentioned Ducks. They jump up one spot to #4. The defending Stanley Cup champs round out our top five. The Blackhawks are heating up having won 6 of 7 of their own. Patrick Kane is leading the way for Chicago with 10 goals already on the season, including goals in 3 of the last 4 games.
The big movers this week are the New Jersey Devils (up 6) thanks to a pair of shutouts from the ageless Martin Brodeur. Going in the opposite direction are the New York Islanders (down 8) who are now just 2-5 since the Thomas Vanek/Matt Moulson trade.
Where does your team rank this week?
| RANK | | | Last Week |
| --- | --- | --- | --- |
| 1 | | Colorado Avalanche | 1 |
| 2 | | Anaheim Ducks | 3 |
| 3 | | San Jose Sharks | 2 |
| 4 | | Phoenix Coyotes | 5 |
| 5 | | Chicago Blackhawks | 6 |
| 6 | | St. Louis Blues | 7 |
| 7 | | Tampa Bay Lightning | 9 |
| 8 | | Pittsburgh Penguins | 4 |
| 9 | | Boston Bruins | 8 |
| 10 | | L.A. Kings | 13 |
| 11 | | Minnesota Wild | 14 |
| 12 | | Vancouver Canucks | 10 |
| 13 | | Toronto Maple Leafs | 11 |
| 14 | | Detroit Red Wings | 12 |
| 15 | | New York Rangers | 18 |
| 16 | | Ottawa Senators | 21 |
| 17 | | Montreal Canadiens | 15 |
| 18 | | Washington Capitals | 17 |
| 19 | | Winnipeg Jets | 25 |
| 20 | | Dallas Stars | 20 |
| 21 | | New Jersey Devils | 27 |
| 22 | | Carolina Hurricanes | 24 |
| 23 | | Nashville Predators | 19 |
| 24 | | New York Islanders | 16 |
| 25 | | Philadelphia Flyers | 26 |
| 26 | | Columbus Blue Jackets | 23 |
| 27 | | Calgary Flames | 22 |
| 28 | | Edmonton Oilers | 29 |
| 29 | | Buffalo Sabers | 30 |
| 30 | | Florida Panthers | 28 |