Wild on Sports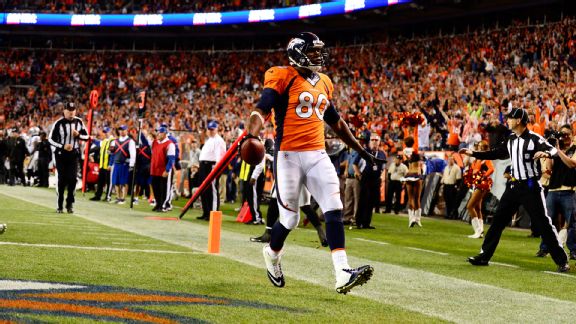 NFL Fanduel Week 11 Players to Start
Each week we give you a stud and a bargain at each position to help you win your Fanduel match-ups. Lets take a look at some of the players you should be starting this week...
QB - Matthew Stafford - DET vs. PIT - $9,600
Tom Brady just torched this Steelers defense for 400 yards and 4 TD's. Staffard has far better weapons than Brady at this point. Logic being logic; this just seems like a no brainier.
QB - Case Keenum - HOU vs. OAK - $6,600
Keenum has thrown three touchdowns in consecutive games. He appears to have started to build a good rapport with star receiver Andre Johnson. This week he plays an Oakland team that recently gave up 7 touchdowns to Nick Foles through the air. Like the match-up and Keenum's chances at making it 3 in a row.
RB - Reggie Bush - DET vs. PIT
Gone are the days of the stingy Pittsburgh defenses. This season they rank 29th against the run. Provides a very good match-up for Bush who is coming off a strong performance of his own last week.
RB - Mark Ingram - NO vs. SF - $4,500
Start a 3rd string back-up running back going up against one of the best defenses in football? I must be crazy, right? Hear me out on this one. Last week, his first week back from injury, he was part of a three way time share with Pierre Thomas and Darren Sproles. Despite that, he managed to rattle off 145 yards and a touchdown on just 14 carries. Drew Brees is going to open up the offense early against the 49ers. The 49ers are having trouble scoring. I'm thinking garbage time starts earlier than people expect this week.
WR - Vincent Jackson - TB vs. ATL - $7,100
Jackson had 10 catches for 138 yards and 2 TD's against Atlanta back in October. Atlanta is a bit healthier this time around but we still like the match-up here against one of the weaker NFC defenses.
WR - DeAndre Hopkins - HOU vs. OAK - $5,200
Hopkins has deep threat ability and Keenum has shown that he is not afraid to go down field. A good match-up this week in Oakland. Worth the risk.
TE - Julius Thomas - DEN vs. KC - $6,800
Thomas has 9 TD's so far this season and touchdowns in all but two games. He is about as consistent a TE and you are going to find not named Gronk or Graham. Big match-up this week against KC in a battle for the division. Expect Thomas to play a big role in Peyton's red-zone plans.
K - Phil Dawson - SF vs. NO - $5,000
Will the real San Francisco offense please stand up? This team is in desperate need of a shot in the arm. They are going to have to get things going this week if they want to keep up with the high scoring Saints offense. I just get the feeling that the teams are going to be trading touchdowns for field goals all game long.
DEF - San Diego Chargers - vs. MIA - $5,000
The Miami offensive line is an absolute mess. Ryan Tannehill has been sacked a league high number of times and his teammates are letting the off field distractions creep into their heads. I don't see much changing there this week against the Chargers.
Good luck this week everyone! Be sure to check back with us on Tuesday for a recap of the picks and how we all fared.