Wild on Sports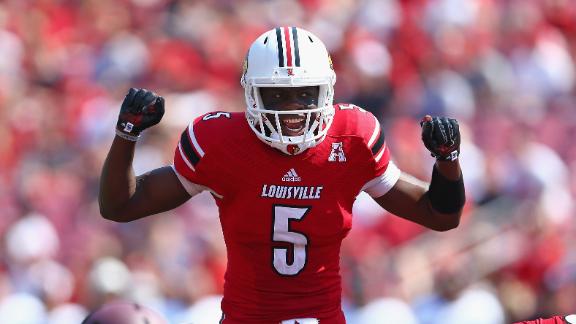 Knee Jerk Reactions: NCAA Week 2
By Wild on Sports Analyst Bryan Ridall
What I Learned From Week 2...
After an exciting Week 1, the second week of the college football season highlighted high-powered "rivalry" games with ranked teams, important hurdles in each team's step towards the BCS Championship. Also with the results of Week 2, two of the country's best coaching jobs could be open at the end of the season.

Georgia isn't dead and South Carolina might not be as good as advertised
After losing to Clemson last week, people were calling for Mark Richt's head and saying Aaron Murray wasn't good enough to win the big game; so a normal week in Georgia even though the team has gone 20-6 the past two years. Murray hadn't defeated South Carolina in his career, and couldn't risk starting the season 0-2, so he threw for 309 yards and four touchdowns to lead Georgia to a 41-30 victory against the Gamecocks. Georgia physically controlled this game, and other than one sack by Jadeveon Clowney, and a forced fumble that turned into quick points for South Carolina, their defense was awful. Georgia racked up over 550 yards of offense, and Murray was able to pick apart the South Carolina secondary, sustaining five drives over 65 yards, and throwing an 85-yard touchdown pass. Georgia got over 220 yards on the ground on one of the more solid run defenses in college football. With their matchup with LSU looming in just two weeks, Georgia may be able to use South Carolina as the rebound its season needed after the loss to Clemson.
I am still waiting to be impressed by South Carolina, and after two weeks I find myself underwhelmed. They beat up a mid-level ACC team in the undersized UNC Tar Heels, and then lost to Georgia, with their defense unable to stop anything Georgia wanted to do (Georgia only punted once). The good news for South Carolina that their schedule is so weak that they shouldn't be tested until the second week of November when they play Florida. South Carolina was able to run pretty effectively against the Georgia defense and Connor Shaw has established himself as the starting quarterback. The defense needs to improve its ability to get off the field on third down, and stop taking bad penalties. With a relatively weak SEC East schedule coming up, South Carolina should be able to address these concerns well before their showdowns with Florida and Clemson.
I may actually be right about Miami
Miami needed five turnovers to beat #12 Florida, but the important thing is that they did indeed beat them. Stephen Morris led two touchdown drives in the first quarter, including a gorgeous 52-yard strike as he was getting laid out by a defender, and Duke Johnson finished off a Miami defensive stand to give the Canes the points they needed to win 21-16. The offense was relatively bottled up by the Florida defense after the first quarter, and Florida's offense was able to move the ball all it wanted on Miami's D. Fortunately for Miami, Florida turned the ball over on four Red-Zone trips, and were only able to score one touchdown in the Red-Zone, which resulted from a blocked punt in Miami territory. Miami has two tough games left on the schedule, including a game with Virginia Tech, which will likely determine the ACC Coastal champ, and a game with Florida State, which is the biggest test on the rest of the schedule. Since the Hurricanes were able to do enough to overcome the sturdy Florida defense, Miami should be able to handle the weaker defenses on their schedules. It will really be up to the Miami defense to handle some of the offenses that are coming up, including Georgia Tech, Virginia Tech and FSU. If, and this is a big if, but IF the defense can hold, Miami could head into it's November 2nd showdown with FSU 7-0 and holding an AP Top 10 spot.
Teddy Bridgewater might be the Best quarterback in college right now
If you haven't seen Teddy throw the ball, you are really missing out on a beautiful spectacle. Bridgewater, who was coming off a five touchdown, 355-yard performance against Ohio, led Louisville against Eastern Kentucky, and threw for 397 yards and four touchdowns. Bridgewater hasn't had much competition in its first two games, but Bridgewater's stats aren't the only thing that makes him stand out, it's his ability to throw the perfect pass for the situation. In back to back weeks, Teddy has thrown beautiful touch passes to the back corner of the end zone that have fallen into the receiver's hands, far away from the defender. Bridgewater looks effortless throwing the ball, with the ability to throw it to any area of the field and has a very strong arm as well. Bridgewater is also getting no help from his running game, which only rushed for 79 yards on 28 carries, and will be even more effective once the Cardinals fix their run blocking. Bridgewater got 15 of the offense's 20 first downs through the air, and continued to show poise in the pocket. Louisville has a relative cake walk for the rest of the year, with conference games against Rutgers, UCF, USF, UCONN, Memphis and Cincinnati, leaving Louisville with a 13-0 record at the end of the season, which should put Louisville in National Title Game consideration, and leave Bridgewater as a Heisman finalist. Though Bridgewater may not win the Heisman, if he continues his play, he will cement his position as the first quarterback taken in the 2014 NFL draft.
Two of the best coaching jobs in College Football could be open this year
The two hottest seats in college football have to be Lane Kiffin's and Mack Brown's. The Texas and USC jobs are both at the paramount of college football and require the right candidate for the job. Kiffin's Trojans were ranked #1 last year to start the season, and woefully disappointed in Matt Barkley's senior season. Since losing Barkley, Kiffin has been struggling with who to name as a starter, employing a two-quarterback system that wasn't impressive against Hawaii and was much worse against Washington State. Kiffin has announced Cody Kessler as his starter, and needs him to make strides quickly, or else the Trojans could get buried once their PAC 12 games come around. If Kiffin can barely get the Trojans into a bowl game, and they lose the battle of LA to UCLA, USC will surely be looking for a new coach to take over this talented team; but the problem is who. There are a few NFL names that could pop up because of their link to USC, but the Trojans will probably try and make a splash with their hiring, chasing someone like Chris Peterson, Kevin Sumlin, or Charlie Strong. However, its unlikely that the USC position will draw them away from their jobs, so it is likely that USC will have to make a bit of a stretch for their hire, possibly looking towards Kliff Kingsbury, James Franklin, or even Arizona coach Rich Rodriguez.
Texas may be the best coaching job in all of college football, because of its history, prowess, and the endless recruiting that can be done in the state of Texas. I don't think Texas will fire Mack Brown outright, but would rather ask him to "step down" in order to pursue life so that longtime fans and boosters wouldn't riot. After getting run all over by BYU (550 yards rushing) Brown fired defensive coordinator Manny Diaz, reminding us all of what the biggest problem at Texas has been; the loss of Will Muschamp. Muschamp, who is now Florida's head coach, dialed up impressive defenses that helped Texas get to two national championship games in 6 years. There is a ton of talent at Texas, but Brown hasn't been able to figure out the defense and get consistent play out of quarterback David Ash, but unfortunately Ash suffered a head injury at BYU and it is unclear how long he will be out. It is likely that Texas will make a bowl game, but if they lose their important games against Oklahoma, TCU, Texas Tech, and Baylor, Texas will try to change for the future. Texas shouldn't be desperate to hire a new coach, but should try going after Muschamp first, who was once named Texas's coach-in-waiting, until he left for Florida. Texas could try to go after A&M's Kevin Sumlin or maybe even TCU coach Gary Patterson, but will likely get the search started now because they will need to be able to start recruiting as soon as possible for next year.