Wild on Sports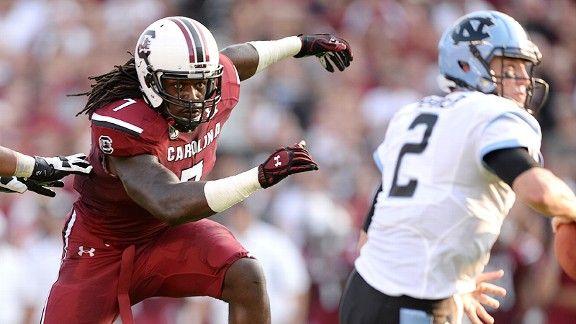 Knee Jerk Reactions: NCAA Week 1
By Wild on Sports Analyst Bryan Ridall
Oh how I missed college football! After an exciting weekend starting with the battle of the Carolinas on Thursday, and was ended with an unbelievable performance by a rather unknown quarterback, this year could be the best in recent memories.
People Are Overreacting to Jadeveon Clowney's Season Debut
Jadeveon Clowney was coming in as the most-hyped defensive lineman in recent memory, especially after his helmet-popping hit against Michigan. However, on Thursday, the cameras were focused on him, and he seemed to be rather underwhelming, causing college football analysts and every fan calling into sports talk shows to say how overrated he is. They attacked his lack of hustle and taking plays off and the face that he didn't record a sack while seeming to be out of shape. Now Clowney, at the end of the game, did admit that he was out of shape, but that was because of the heat and the style that UNC used to nullify him. UNC used a solid game plan of running away from him, double-teaming, and quick passes to make Clowney's night difficult. He did, however; record three tackles and forced the Tar Heels to game plan around his talents, and the South Carolina defense held North to 300 yards and one touchdown, after North Carolina was one of the top offenses last year. Defensive linemen can't give it 100% every single play because otherwise they wouldn't be able to stay on the field as long as they do; that's why coaches utilize rotation on the defensive line, to keep their players fresh. Clowney will continue to receive attention from every Offensive Coordinator, and with a game against Georgia coming up, he will be able to get a second chance in the spot light, to remind the nation he still is the top defensive player in the country.
People are Overreacting to Johnny Manziel's Day
After getting slapped with a one half suspension after the NCAA couldn't prove the allegations of receiving money for autographs, Johnny Manziel was ready to put that all behind him. However, after a gesture on Saturday that got him a 15-yard penalty and benched, analysts (surprise, surprise) were calling Manziel a "punk" and an "idiot" and were saying how awful he was for college football. They are dead wrong; Manziel is what is perfect about college football, passion for playing to their school, and not for a paycheck. Manziel was getting taunted all game by the Rice players with many of them giving him an autograph hand gesture in his face, anytime they could. However, after his third touchdown pass of the second half, which put A&M up 52-31, two Rice cornerbacks got in his face and were trash talking him as Manziel walked off the field, with referees around. However, it wasn't until Manziel turned around and pointed at the scoreboard did the referees decide to throw a flag, regardless of the fact that he had been getting jawed at all game. All Johnny Football does is win games and play with passion, and he did both against Rice. Manziel is going to light it up against Sam Houston State, and will face Alabama in the game of the year on September 14th. If Manziel wins that game, every analyst will completely flip flop and say how great Manziel is and will be behind him. However, if he loses, regardless of how well he plays, those same analysts will point to his off the field antics and "maturity" issues as the reason that he lost. At this point, all Manziel can do is win, because if he loses, the media will try to bury him.
The 2014 Quarterback Class Could be Better Than 2012
We are a bit early in the season to be sure, but based on play of quarterbacks that will likely enter next year's NFL Draft, pro teams may want to consider tanking their seasons in order to get one of the quarterbacks. The most exciting quarterback of the night, without a doubt, was Taj Boyd, who threw for 270 yards and 3 touchdowns, and added 42 yards and two touchdowns on the ground. Boyd's opponent, Aaron Murray, went 20/29 and threw for 323 yards, but had no touchdowns and one interception, and moved to 1-15 against Top 10 teams. My favorite quarterback to watch this week was my Heisman dark-horse Teddy Bridgewater who went 23/28 for 355 yards and 5 touchdowns, including one of the most beautiful touch passes in recent memory. Tommy Rees and Keith Price each had over 300 yards passing and multiple touchdown passes, trying to play their way into the draft. The most disappointing performance of the first week was Alabama quarterback A.J. McCarron who only went 10/23 for 110 yards and one touchdown. However, with a week off and a big game coming up against Texas A&M, expect McCarron to play much better.
Speaking of McCarron, Alabama Needs to Fix its Offensive Line
While McCarron's play left much to be desired, he was running for his life from a mediocre Virginia Tech defense. The line is replacing three starters who were drafted, two in the first round, and seemed lost at times on the field. There were breakdowns in communication and blown assignments all over the place in the passing game, and even the rushing game, a staple of Alabama's offense, was underwhelming behind the line. If Alabama wants to compete in the SEC, let alone make it back to the National Championship, they will need to fix the issues that they have on the line. However, Alabama has a week off, in which they can fix their protection problems, before they start their SEC schedule. Once the offensive line fixes its protection issues, they will be able to establish a strong running game, which will not only give McCarron more time in the pocket, but also allow him to be more effective.
Last but Not Least: Two Unknown Quarterbacks Opened My Eyes
While all eyes were on the elite quarterbacks like Manziel, Boyd, Murray, and McCarron, it was two freshman quarterbacks, in their first career starts, that really impressed me. On Friday, Texas Tech started Baker Mayfield, a freshman who had walked onto the team in summer session, and all he did was complete almost 75% of his passes for 413 yards and four touchdowns. Mayfield did an incredible job spreading the ball around, completing passes to 11 different receivers. Mayfield also ran for a touchdown, but the team was having a difficult time running the ball, which led to Mayfield's aerial assault. Coach Kliff Kingsbury gushed over Mayfield's performance and Kingsbury knows a bit about slinging the ball around for Texas Tech. Mayfield will have another opportunity to pick apart the secondary when Texas Tech takes on Stephen F. Austin, and could be an up and coming star in the Big 12. The week ended with a coming out party for Florida State sans E.J. Manuel, but they didn't seem to miss him too much. Freshman Jameis Winston was electric on Monday night against Pitt, going 25/27 for 356 yards and 4 touchdowns. In the first half alone, Winston was 17/18 for 240 yards and three touchdowns, while adding a rushing touchdown, accounting for 24 of FSU's 28 first half points. Winston was also pulled once FSU was up 41-13, which obviously would have only added to his stats if he had stayed in. With the unimpressive brand of defense that the ACC plays, Winston should be able to continue to dazzle the conference and college football fans on his way to a BCS Bowl game. The most intriguing game will be against Florida, who always has a strong defense, and has a history of terrorizing young quarterbacks. Though last year was the first time ever a freshman has won the Heisman, if Winston can lead Florida State to an undefeated season, and continue to put up his ridiculous numbers, it is likely he will be the second freshman to win it.