Wild on Sports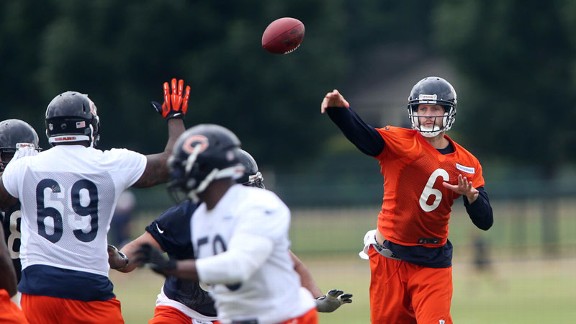 By Wild on Sports Analyst Andrew Weflen
It's finally that time of year again - summer is on the downhill slope, the stagnant summer heat is giving way to a crisp, light breeze, and mother nature is hinting at one thing: Football season! That's right, its time to get those NFL jerseys out of the closet and back in the weekly rotation. If many of you are getting the itch like I am, you find yourself flipping to ESPN a little more often, keeping track of any last minute moves, and tracking every depth chart. After all, you can't let you're buddy win that fantasy league again. Well, at least I can't. I can't handle that kind of demoralization two years in a row. That's why this year will be different - for myself in fantasy, and for many teams across the league. So let's take a look at one of the NFL's most diverse, competitive, and toughest divisions: The NFC North. There's been a lot of changes this off-season for these cold weather teams, so let's break them down by team, and then I'll let you in on my division pick.
Chicago Bears - What an off-season for the Bears. I, like many across the country, was surprised to see the Bears go with a rather unknown head coach. However, the more I researched into Marc Trestman, the more I liked the hire. Trestman's resume includes winning a CFL title with the Montreal Alouettes, but I think what is more exciting for Bear fans is the reputation of being a QB guru. Having worked with Steve Young and Rich Gannon (just to name a few), Chicago should expect Cutler to flourish with Trestman this year. After all, it's Cutler's contract year. Even more exciting is the return of a healthy Alshon Jeffrey, who looks to be a serious threat lining up across from Brandon Marshall. With a revamped O-Line, the signing of Martellus Bennett, and Aaron Cromer taking the offensive coordinator/offensive line coaching duties (no need to mention he's coached Drew Brees), the Bears offense really has the potential to explode this year. Throw in the mix of a healthy Matt Forte and Michael Bush, and you can expect the Bears to put up a lot of points. And we can't talk about the Bears without mentioning the defense, can we? Sure, Urlacher retired. In my opinion, he's been playing like he was retired for the past two years. I understand leadership goes a long way, but I really don't see the Bears hurting much from this. With the signing of D.J. Williams and James Anderson, don't expect a big hold at the LB position. I understand these guys are no Urlacher in his prime, but I think they get the job done. Plus, two of the top 10 CBs in the league in Charles Tillman and Tim Jennings return. Expect Chicago to be a tough football team.
Impact Fantasy Players (IFPs): Brandon Marshall, Matt Forte, Martellus Bennet, Alshon Jeffrey, Bears D.
Detroit Lions -Well, hopefully the Lions can pay their bills better than their hosting city. The streets of Detroit are rough, polluted, and dangerous. Isn't there an old saying that says a team reflects their city? This is the feeling I get when I look at the Lions. I just don't get excited. But, we can't overlook the fact that they have a tremendous QB/WR combo in Stafford and Johnson. Megatron is still the best receiver in the game, and when Stafford is healthy, he's scary good. The signing of Reggie Bush is exciting, but will he be as productive as anticipated? I've always thought Bush was overrated - anyone can do a push-up with Kim Kardashian on their back, right? But, I just question the leadership ability of Jim Swartz. With the 7th most penalized team, the Lions need to gain control. When playing disciplined, this team is scary. As it seems with every thanksgiving, though, Suh has to stomp on somebody and then seem shocked people call him a dirty player. Other players have followed suit, and quite frankly, lost control. And 'comon, who can forget the Swartz - Harbaugh handshake? I hadn't laughed that hard since Chris Farley was alive. All in all, I see a lackluster season for Detroit. My intuition tells me Stafford gets hurt again this year, and Detroit follows suit with their city: Depressing.
IFPs: Matt Stafford, Calvin Johnson, and Reggie Bush if he's still available late.
Green Bay Packers - When aren't the Packers tough? Seriously, can you remember a time when they weren't scary to play? Any team that has Aaron Rodgers as the helm is a title contender, period. As expected, Ted Thompson laid low during the off season, and worked on extending the contract of both Rodgers and Clay Matthews. The drafting of Datone Jones was a strong pick, which will pay dividends in the very near future. However, the loss of Greg Jennings and Charles Woodson may cost the Pack a couple Ws this year. Losing that kind of veteran leadership can certainly take its toll - and, the Packer's haven't replaced Woodson with a solid force as of yet. It will be interesting to see how this plays out. It will also be interesting to see how James Starks produces at the RB position this year. All in all, expect Green Bay to be a solid football team again. Nobody wants to play them in Lambeau. Until McCarthy and Rodgers leave Wisconsin, the pack will be an NFC force to reckon with.
IFPs: Aaron Rodgers, James Starks, Randall Cobb, Jordy Nelson
Minnesota Vikings - What a solid draft for the Viks. With three first round picks, gaining DT Sharrif Floyd, CB Xavier Rhodes, and WR Cordarrelle Patterson, the Vikings should be excited about this draft class. Since Minnesota is no longer Percy whipped, expect Patterson to make an immediate impact. Additionally, luring veteran Greg Jennings from the rival Pack, the Vikings should miss Harvin only minimally. Expect Christian Ponder to have a decent year - his teammates believe in him, and he's showed some real promise. Adding Matt Cassel to back him up, the Vikings can be a little at ease in case Ponder goes down. However, I think Ponder has an average year at best. But who needs a QB when you have AP? Peterson remains the game's best running back, so expect him to prove this once again this year. Hoping to lure another division rival's captain in Brian Urlacher, the Viks remain to have a questionable LB core, as we all know an agreement could not be reached with future hall of famer. Overall, expect the Vikings to have a decent year, but miss the playoffs.
IFPs: Adrian Peterson, Greg Jennings, Cordarrell Patterson, and Ponder if you need a bye week replacement.
Well, I've given you a low down on the state of the union for the NFC North. Now it's time for predictions:
Division winner: Chicago Bears (11-5)
Wild Card winner: Green Bay Packers (10-6)
Minnesota Vikings (8-8)
Detroit Lions (7-9)
Don't take your life savings to Vegas with these picks, but don't be surprised when Marc Trestman wins coach of the year.