Wild on Sports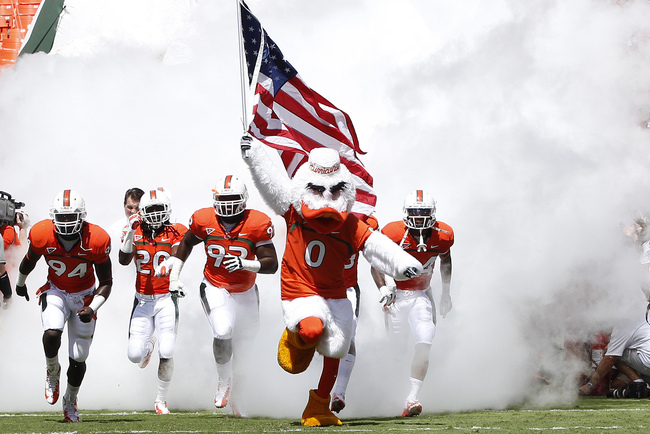 3 Unranked Teams to Watch This Year
By Wild on Sports Analyst Bryan Ridall
It seems that once the college football season starts every year, the SEC is the focus of all conversation moving toward the BCS National Championship Game. This year is no different, with five teams in the Top 10, all with title expectations. Like every year, however; there are sleeper teams, some not even ranked in the Top 25, that will not only play important roles in upsetting the contenders, but could also find themselves playing for a BCS Bowl, a much more prestigious designation. It seems like every year, pundits and media outlets slam the ACC and Big East for lack of competition, and lobby for those conferences to lose their automatic bids, but this year, both conferences could have a few teams that break into the Top 10, and provide us with Heisman candidates.
Miami Hurricans (Fl):
If Miami is going to be able to replicate the past successes of their previous powerhouse teams (1980s, 2000s), this seems like the best year to make it happen. Since Butch Davis left, Miami has been remembered for that fight with FIU and recent NCAA sanctions. However, Miami has two legitimate Heisman candidates this year, running back Duke Johnson and quaterback Stephen Morris. Together, they make the best 1-2 combination in college football, and yet will be battling each other for the right to be the ACC's and NCAA's best player. Johnson had a break-out campaign last year, in his first season, compiling over 950 rushing yards on only 140 carries (almost 7 yards a carry), and added another 800 yards on kick-off returns, the only person in college football to post those numbers. His 2,060 all-purpose yards last season was seventh-best in all of college football, and he added size to help make him more durable so that he can stay on the field, even if his work load increases. As great as Johnson will be this year, I think Stephen Morris is poised for even greater things, and could put himself into the upper echelon of this year's quarterback draft class with a solid season. Last year, Morris was handed the reins to the offense by coach Al Golden, and Morris made him look like a genius, throwing for 3,345 yards, 5th most in history, and also earned Miami a share of the Coastal Division title within the ACC. What's more impressive is that Morris's receivers were some of the worst in catching passes, ranking in the Top 10 in dropped passes. As if that wasn't good enough, Morris showed up to the Manning Passing Academy with some of the most well-known quarterbacks in college football, and put them all to shame. Morris has a pro-ready arm, play-making legs, and extremely high football IQ, but needs to answer questions about his consistency, which comes with playing time. Miami will have a strong offensive line this year, but their biggest problem will fall to their defense. Last year, Miami gave up the third-most first downs per game, which limited the amount of time Johnson and Morris were on the field. Miami has to play Virginia Tech and North Carolina, who will be looking to rebound after diappointing seasons last year. The rivalry games will be the most important for Miami, not only because of the meaning within each game, but what the college football world will perceive depending on the outcome. The Sept. 6th matchup with Florida is the most important game on the schedule because of the problems that Wil Muschamp can cause with his defenses. The Canes need to beat Florida State, especially after the transitioning they are going through, in order to be taken seriously, and in all likelyhood, in order for them to be able to play in the ACC Title Game. Miami will not have to play Clemson this year, removing the strongest ACC team from their schedule, and have a very manageable out of conference schedule other than Florida. Miami should find itself ontop of the Coastal Division, and playing for a spot in a BCS Bowl Game.
Kent State Golden Flashes:
I know some of you may have fallen out of your seats seeing a MAC team on this list, especially one that went through a coaching change and lost its senior quarterback. However, Kent State was a win against Northern Illinois away from being in a BCS bowl game, and this year, I eexpect them to not only win the MAC, but challenge for an at-large bid by being ranked in the Top-12. The loss of last year's starting quarterback, Spencer Keith, shouldn't be difficult to overcome, because Keith was average, at best, and the Golden Flashes ranked 114th in passing last year. Kent State will turn to JuCo transfer David Fisher to lead the team, who was a decent arm, but has the instincts to keep his eyes down field, allowing him to extend a broken play or use his legs to make plays. While there is turnover at the quarterback position, Kent State will return both of its 1300+ yard rushers, Trayion Durham and Dri Archer. Archer is a small, fast running back who averaged 9.0 yards per carry last year, while Durham is a big, bruising running back, who can wear defensive fronts down during the course of an entire game. Archer also led college football in "Highlight Yards per Carry," which factors in offensive line play and losses in yardage, with 11.5 yards per touch, which was better than Rams' 1st round pick Tavon Austin. Kent State's defense has been strong in the past few years, and return the most intriguing defensive player in college football, Roosevelt Nix. Nix has been a force of nature in his three years at Kent State, totalling 52 tackles for a loss from the defensive tackle positon; I should probably mention he is 5'11 and 245, the average size of linebackers. Defensive end Richard Gray continues to improve, and if the coaching staff pairs him on a side with Nix, it will be long days for the opposing offensive lines and quarterbacks. Kent State has two huge holes to fill surrounded by plenty of questions, the offensive line, and more importantly, the head coach. Head coach Dennis Hazell was hired by Purdue after his success at Kent State, so the Golden Flashes hired Paul Haynes, a coach, who like Hazell, spent many years under former Ohio State head coach Jim Tressel. Haynes is a defensive-minded coach, who preaches fundamentals and tries to use the athleticism of his players to create matchup problems. The offensive line is a whole different issue, because they lost two three-year starters, and a four year starter. In order for the running game to be as effective as it was in 2012, and for the team to be successful, the offensive line needs to hold up, especially early, to allow Fisher to get comfortable. The schedule is much tougher this year, with matchups against LSU and Penn State, back to back, and then a matchup with Northern Illinois two weeks later. For Kent State to do any damage, especially if they want to make it to a BCS bowl, they will need to go undefeated in the MAC, including a win over Northern Illinois, and a win in the MAC Title game, as well as put up a decent showing against Penn State and LSU.
Utah State Aggies:
Last year, Utah State shocked the college football world by going 11-2, but there is a good amount of transition going on for the Aggies this year. They will be transfering from the WAC to the Mountain West, a conference that has Boise State, Air Force, UNLV, Nevada, and Fresno State, all of which have had strong football programs. They also lost head coach Gary Anderson to Wisconson, but will be replacing him with Offensive Coordinator Matt Wells, so there will still be familiarity within the program. The rest of the news for Utah State is all positive, and coming off an 11-2 season and a conference championship. Utah State returns 17 starters including dual-threat quarterback Chuckie Keeton, who set single season school records for touchdown passes (27), passing yards (3,372), total offense (3992), and completion percentage (.676). Keeton will have his entire offensive line back from last year, including center Tyler Larsen, who was a pre-season 1st team all-conference selection. Last year, the Aggies had one of the best The Aggies are also returning three All-WAC linebackers; Jake Doughty, Zach Vigil, and Kyler Fackrell, so their defense should be as dominant as last year. The most important player to return for Utah State this year might be kicker Nick Diaz. Both games that USU lost last year were by three points or less, once to Wisconsin (16-14) and the other to BYU (6-3). In both games, kicker Josh Thompson had missed kicks in the fourth quarter that would have given the Aggies the wins. Diaz took over halfway through the season and was much more efficient than Thompson, granted Diaz never found himself in any pressure situations. The biggest challenge for Utah State will be their schedule, and will be thrown into the fire right away when they open the season against in-state rival Utah. The Aggies will have to play Air Force, USC, New Mexico, and UNLV away from Romney Stadium, and also have tough home games against Boise State and BYU. For Utah State to do any damage, they will need to defeat the PAC-12 teams on the schedule, and fight their way into the MWC Championship Game, which will be easier said than done. However, if Utah State can finish with another 11-2 record and win a Mountain West championship, its possible that they could find themselves fighting for an at-large bid for a BCS Bowl Game.