Wild on Sports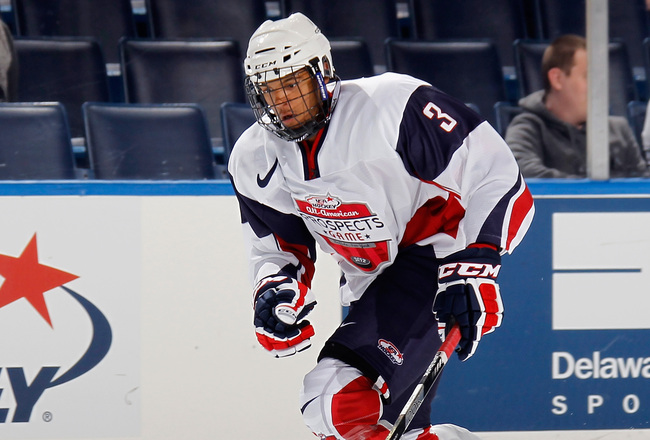 Puckmania: NHL Draft Review
By Wild on Sports Analyst Josh Tarr
My experience at the NHL entry draft was certainly unique, to say the least. As a 19 year old it was my first time traveling alone, so down time from attending conferences and doing final touch-ups on my scouting report were rather boring and lonesome. Besides that, I made new connections and bonded new friendships, discovered a couple fantastic restaurants in Newark (none better than Dinosaur BBQ adjacent from the Prudential Center) and met some famous people in the hockey world such as radio voice Todd Lewis, former Leafs GM Brian Burke and current Red Wings GM Ken Holland.
The NHL draft is where teams can drastically change the outcome of their future, whether it be by drafting players that best fit their system or acquiring current roster players via trade. That being said, it is safe to say that some teams faired much better than others on Sunday June, 30th.
Top 3 teams that did best on draft day (in order):
3: Columbus Blue Jackets
Slotting them at number three would be an understatement for many, this is a franchise that made a very sharp turn for the better this past season by the emergence of Sergei Bobrovsky and the acquisition of Marian Gaborik and others. Along with the recent signing of Nathan Horton, Columbus had three first round picks, selecting Alexander Wennberg, Kerby Rychel and Marko Dano. All three are forwards who play different roles and should find success someday in the NHL. If I were the Finnish guy calling the shots for this team, I would've considered drafting a defenseman in the first round, especially considering how top heavy the Jackets are with Forwards.
2: Nashville Predators
Nashville came out of this draft as the luckiest team in the NHL. At fourth overall, the long time unanimous first overall selection Seth Jones was still available after Colorado, Florida and Tampa Bay all opted with forwards. Nashville, you've found your replacement for Ryan Suter.
1: Buffalo Sabres
Buffalo flies in well under the radar when it comes to teams that drafted well this year, but when it comes down to the types of players their depth chart lacks, the Sabres nailed it with their two top 16 picks. Rasmus Ristolainen and Nikita Zadorov are both very big defenseman who have the capability to cover large portions of the ice while being able to help out on the scoreboard. They have the potential to someday be a powerhouse top line defensive pairing in Buffalo. You have been warned.