Wild on Sports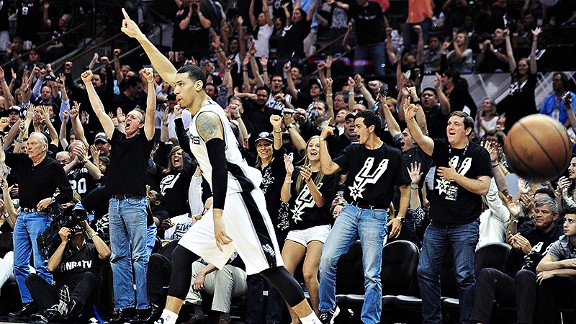 Spurs in Control
By Wild on Sports Analyst Jason Gillson
It seems like every night a new hero emerges. Game one it was Tony Parker and the miracle shot. In game three it was Danny Green and an endless barrage of 3-pointers. There was more of that in Sunday night's game five but the spotlight was on yet another Spur; this time Manu Ginobili.
Ginobli broke out of what has seemed to be a playoff long slum to throw down 24 points to go along with 10 assists as the Spurs cruised to a 114-104 victory and commanding 3-2 series lead. It has been a long time coming for the Argentine who made his more traditional off balance circus shots that left Miami's defense puzzled all night.
Perhaps the biggest story this series has been the play of guard Danny Green. Green broke the NBA finals record for three pointers in a series Sunday (ironically previously held by now Heat guard Ray Allen). Green, who signed with San Antonio off the scrapheap in March of the 2011 season, now has 25 three-pointers in the series passing Allen's old mark of 22. His clutch shooting very well may have him at the top of the finals MVP discussion.
What has been puzzling has been the way Miami has approached Green defensively this series. Tony Parker said it best, "I can't believe he is still open at this moment in the series. They are still playing me tough and doubling Timmy (Duncan). Danny is wide open. He is shooting the ball well. If you leave Danny open he is going to make threes."
And three's he has made. Miami now has to make adjustments. If they don't they are going back to their death in South Florida. In this back and forth series the hot hand usually wins his team the game. The Spurs have had that hot hand in Green thus far, and as result have control of the series.