Wild on Sports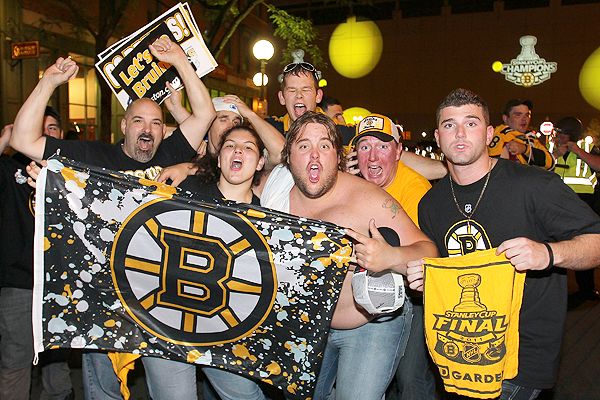 Puckmaina: Warning Fairweather Fans
By Wild on Sports Analyst Josh Tarr
A message to all "new" hockey fans:
If you watched the beast that was the triple overtime game last night, you now either have a lot to cheer about, a lot to mope about, or just a lot of sleep to catch up on. But I want to make this following statement as clear as I possibly can…
IF YOU DON'T KNOW ANYTHING ABOUT HOCKEY (hinting to about 50% of Bostonian's watching the Stanley Cup Finals, I can't speak on behalf of the people of Chicago) DO NOT PRETEND THAT THE BRUINS AND/OR BLACKHAWKS ARE YOUR LIFE ON SOCIAL MEDIA.
I simply cannot fathom the amount of people who are aboard the Bruins bandwagon right now. It took me two hours to be able to go on twitter after Shaw's game winner to avoid cringing at the cries of knowledge-less sports fans. Whether you're a diehard hockey fan, or just someone with a functioning brain, I'm sure you've been able to relate at some point in time. The following are tweets from people that are FAR from an avid Bruins fan following Boston's 3OT loss:
"I WANNA CRY"
"UGH BRUINS NO"
"And that will conclude Chicago's wins for the series. #untilnexttimeblackhawks"
"Blackhawks are huge dicks"
"Shut up about the loss, Boston has been and will always be the strongest city known to man, because no matter what teams win, we won in april"
"F**KING FIVE HOURS OF HOCKEY FOR F**CKING NOTHING"
Sidenote: that last tweet is curtiousy of @BruinsFansProbs, literally the biggest bandwagon/pink hat account in the history of mankind, worth following only because of the level of patheticness it exuberates. I highly recommend looking up this account. It's completely worth the laughs and cringing that follows.
And on Facebook, it doesn't get much better:
"Ffffffuuuuuuuuuu"
"star star star GO BRUINS star star star"
"Rask = get your s**t together but omg you're so hot I could die"
"f***********kkkkk thaaaaaaat!!! What a game though yo, trip OT"
Just stop.
Posting meaningless, obnoxious remarks doesn't juxtapose the fact that you love or hate something unless it's obvious by nature that you love or hate it. In English, if you don't follow hockey, don't make mindless remarks about your team winning or losing. You are making yourself look stupid and humoring simple folk like me who understand what the game is about. Furthermore, you make your fan base look bad, and you make the sport, which is finally earning the spotlight it deserves, look bad. A true Hockey fan realizes how incredible a triple overtime Stanley Cup game is for all of the right reasons, not by who wins the game.
And lastly, bandwagoners, that was only the first game. We are guaranteed at least three more outstanding contests between the best two Hockey teams in the world. Chicago won a game that lasted over 100 minutes and only has a one game lead. A REAL Bruins fan remembers that the Bruins were down 2-0 to Vancouver and won games 6 and 7 to win the cup.
IT IS NOT THE END OF THE WORLD PEOPLE, so if you're one of those people who freaked out on social media because the Bruins lost one of the longest games in NHL history, sit down and find yourself a hobby.
And for those of you who keep asking me what my predictions on the final is, I'm going Blackhawks in 7. But at first, I predicted the Penguins to beat Boston in 6 games, so who knows.
(If your posts ended up on here, no hard feelings :) )