Wild on Sports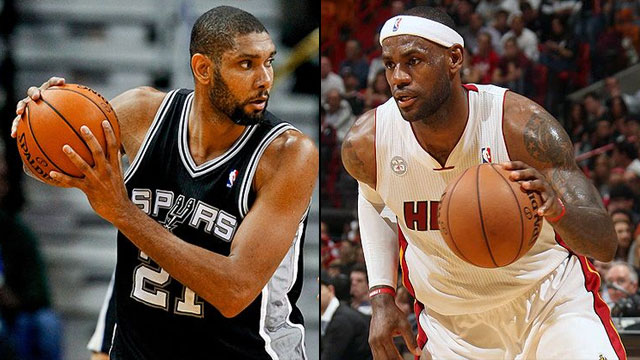 Hoopshysteria: Championship Breakdown
By Wild on Sports Analyst Talyon Perry

With the finals around the corner lets take a look into the match-ups on the floor.

PG: Tony Parker vs Mario Chalmers
Tony Parker is coming off a 37 point game in game 4 of the western conference championship and isn't going to slow down. And did I mention that he was the finals MVP in 2007? Chalmers will be splitting time with the younger Norris Cole, both great 3 point shooters. Luckily for the Heat, Lebron will be the field general more than Chalmers or Cole.
Advantage: Spurs

SG: Dwayne Wade vs Danny Green
Wade, like Parker, is a former finals MVP but has been limited due to lingering injuries. Wade did come up with a big 21 point game to help the Heat in game 7. Green replaces Ginobili due to injuries, but Ginobili could be back to form after the rest he received while the Heat were battling for their lives. Green is shooting 43% from three, so don't leave him alone on the perimeter.
Advantage: Heat

SF: Lebron James vs Kawhi Leonard
I will make this one short because this matchup isn't even close. Lebron has won more MVP awards (4) than years Leonard has been in the league (2). Kawhi is a defensive player but he's no match for Lebron.
Advantage: Heat

PF: Udonis Haslem vs Tiago Splitter
This matchup features two very average players, surprising given each team's talent level. Haslem has had a few postseason games that have neared 20 points but are few and far between. Splitter has also been uneventful but is shooting 58% from the field, if only his free throw percentage was that high.
Advantage: Neither

C: Chris Bosh vs Tim Duncan
Normally this would be an even matchup but this postseason Bosh has been a train wreck. Bosh was averaging under 38% from the field and 4.3 rebounds against the Pacers. Duncan on the other hand has nominated several overtimes in the playoffs, and will be battling for his 5th ring.
Advantage: Spurs

Bench: Heat vs Spurs
One of the Heat's biggest advantages is its bench featuring Bird Man Anderson, Ray Allen, and Shane Battier. The Spurs on paper have a very limited bench but the players are capable of coming up huge when needed. Given the way Anderson has been playing its impossible to go against the heat in this category.
Advantage: Heat

I predict the Heat and Spur series will mirror the results of the match ups.
Prediction: 4-2 Heat.