Wild on Sports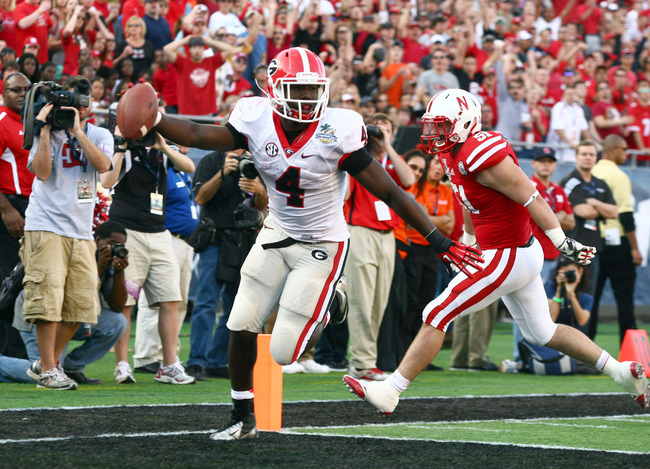 Georgia Bulldogs: Is This Finally the Year?
By Wild on Sports Analyst Bryan Ridall
Last year, Georgia ended the regular season just 3 yards shy of an SEC Championship and a spot in the BCS National Championship Game. As a result, Alabama went to play for the national championship and Georgia was passed over for a BCS bowl game, being selected for the Capital One Bowl. Since Mark Richt took the program over in 2001, the Bulldogs have won two SEC championships and six SEC East Division championships, but the major questions surrounding Richt was his ability to win important games and get to the national championship. However, with QB Aaron Murray returning, Georgia should expect at least a spot in the SEC Championship game, if not the BCS National Championship.
Georgia has had plenty of talent in Richt's tenure because he is a great recruiter, but he has a lot of talent to replace after this year's NFL draft. Georgia will be looking to replace eight defensive players including starting linebackers Jarvis Jones and Alec Ogletree, both of whom were first round picks, and impact players in college. The defensive line and secondary were both targeted in the draft as well, but Georgia has the depth, as well as strong recruiting class to fill the holes left by the upper classmen, and allow their young players to gain some familiarity with each other, which will improve the defense. Georgia will reload its secondary with freshmen Tray Matthews and Quincy Mauger, but they will have time to learn behind starters Blake Sailors and Damian Swann. Georgia reloaded its linebacking corps with five freshmen, including three redshirts, and has plenty of underclassmen talent to solidify the defense for the next few years. The defensive line is the most veteran of the defensive groups, and the most important, because a strong and veteran defensive line can make the linebackers and defensive backs jobs' easier. A strong showing from the Georgia defense this year would allow them to dominate the weaker SEC teams, as well as keep pace with teams like LSU and Florida.
The schedule plays favorably for Georgia this year, as favorably as an SEC schedule could at least. Georgia will play South Carolina, LSU, and Mizzou and home, and will also play Florida at a "neutral" stadium, even though the game will be played in Jacksonville. However, the first game of the year will tell us a lot about the Bulldogs because they play Clemson, a team who could contend this year if Taj Boyd continues to progress. In reality, the entire season sits on Aaron Murray's shoulders, or more specifically his arm. Murray has put together two impressive seasons with Georgia, combining for over 7,000 yards and 71 touchdowns, and looks to improve on those numbers as he starts his senior year. Murray has posted back-to-back ten-win seasons and will look for another one in order to not only keep Georgia in national championship talks, but also improve his Heisman position and draft stock, both things that will be important for him this year. Murray has huge weapons on the outside, including 6'5 receivers Jake Star and Jonathan Rumph, who have turned into matchup nightmares for defensive coordinators. Running backs Todd Gurley and Keith Marshall form one of the best backfields in college football, and their talent will force opposing defenses to respect the run, allowing Murray to read the defenses, as well as making play action pass more dangerous. If he can take advantage of the schedule and lead Georgia to the SEC Championship, Murray could be on the short list of Heisman finalists when the season is over.
This will be a very important year for the Georgia Bulldogs and Mark Richt. With the instant success of Texas A&M in the SEC, and Richt's inability to get over the hump recently, administration may look to get a new coach in who can elevate the program to perennial national championship contender. Richt will rely as much on Murray as the rest of the Georgia team for success this year, but will need to be able to manage the talent on his team and keep their heads on straight if they are going to be the SEC's and college football's best team.