Wild on Sports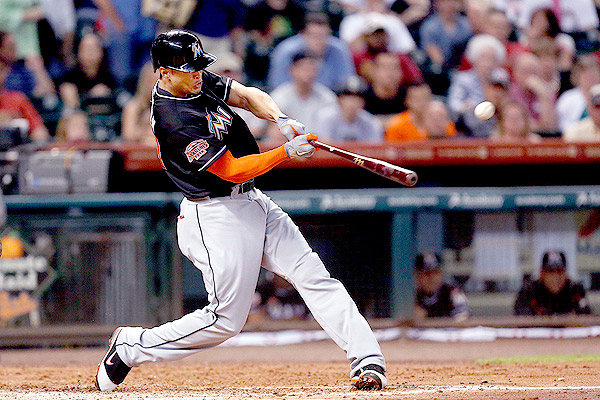 Trading for Giancarlo Stanton
By Wild on Sports MLB Anayst Aaron Dorman
It is inevitable. At some point before the start of 2014, Giancarlo Stanton will be playing for another team. Probably before the end of 2013. Only something unexpected, such as a regime change for the Marlins, or a devastating injury (his current monthly vacation does not count), could keep him in Miami. Even though the Marlins have denied shopping him, the fact is that the Loria ownership group are pathological liars and it's hard to imagine them keeping around a disgruntled Stanton. The Marlins have a consistent track record of trading their young stars before they become too expensive through arbitration. Hanley Ramirez and Josh Johnson were rare exceptions, except they were both traded anyway and neither of them expressed open dissatisfaction with the franchise the way Stanton did.
Still, Stanton is such a rare commodity, a sure-thing superstar who has yet to hit his prime (at 23, he's younger than many prospects!), so he'll command quite a haul. Interested teams may have to give up their best two or three prospects in order to obtain him. At least the Marlins have plenty of holes; they're scoring less than 3 runs/game this year, almost any position player prospect would be valuable to them. Now, the question becomes, what teams have both the need in the outfield, the prospects to trade, and feel they could contend soon(ish)?
The answer is: EVERYBODY. Seriously, Stanton is younger than many top prospects. His top comparisons include guys like Mickey Mantle and Hank Aaron according to this article:
http://www.baseballnation.com/2012/12/31/3822048/giancarlo-stanton-trade-rumors-miami-marlins
.
As such, almost every team could have some interest in Stanton. So I've tried to put together a 'realistic' trade for every team in baseball. However, I starred teams that would seem to be more likely to actually make a play for the guy. I'm also pretending that the Marlins are run by a competent management team who would take the players from the Stanton trade, as well as their current crop of rookies and prospects, and try to build a real team around them. Instead of, you know, trading them as soon as they are arbitration eligible.

NL East
1. Braves trade rhp Julio Teheran, rhp JR Graham, c Evan Gattis, ss Andrelton Simmons for Giancarlo Stanton and ss Adeiny Hecheverria.
WHY IT WORKS Shortstop is currently the hardest position to fill, so adding Smimons, who is adequate with the bat and a rising defensive star, helps offset the fact that neither Teheran nor Graham will be aces, and Evan Gattis is already 26.
WHY IT DOESN'T This is quite a reach, as the Braves currently lack top tier talent in the minors and are currently relying too much on their youngsters to deal any of them without create major holes. Most importantly, they are pretty set in the outfield with the Upton brothers and Jason Heyward, a criminally underrated outfielder who is not as far below Stanton in terms of talent as people would think. Maybe Stanton moves to first? More likely, the Braves contend and make a deep playoff run without him.
PROGNOSIS: NOT HAPPENING
2. Mets trade rhp Zach Wheeler, c Travis D'Arnaud, and rhp Noah Syndergaard for Giancarlo Stanton
WHY IT WORKS How nuts would it be if the Mets traded all those Blue Jays prospects for Stanton? A fun and eye-catching maneuver but that's about what it would take for the Mets to pull off a deal. You can substitute Syndergaard for Rafael Montero or Michael Fulmer if you like. The Mets have some pitching depth to offset the loss of Wheeler and a second significant pitching prospect. They also have a catcher hitting .400 in a-ball right now, Kevin Plawecki, and if they wish upon a star you could see two more years of John Buck and friends holding down the fort until he's ready. D'Arnaud gives the Marlins a significant upgrade over Rob Brantly.
WHY IT DOESN'T The Mets really are counting on D'Arnaud and Wheeler being ready to contribute this year and giving them a young core to supplement with free agents (and thus compete by 2014). While it's easy to see Stanton being more valuable than either of those players combined, can Stanton, Matt Harvey, and David Wright be enough to build around? The current Mets management team has craved flexibility. That means depth. Lacking depth can really torpedo a franchise. Look what happened to Toronto this year after Jose Reyes went down. Superstars are nice. Pennants are nicer.
PROGNOSIS: POSSIBLE TRADE PARTNERS
3. Phillies trade lhp Jesse Biddle, of Domonic Brown, and 3b Maikel Franco for Giancarlo Stanton.
WHY IT WORKS Brown is no longer a prospect but he's a young outfielder who is now holding his own in the big leagues. As someone who has proven this year (so far) he can at least be an average outfielder, his presence in a trade could make up for the Phillies' relative lack of star-caliber prospects. The only two who really stand out right now are Biddle, who profiles as a no 2 or 3 in the major leagues, and Franco, who has some swing issues but is currently mashing (.300/.360/.560) for high-A Clearwater.
WHY IT DOESN'T The Phillies have a lot of question marks right now, and a Stanton trade would gut the system, but acquiring him could also keep them on the fringe of contention, as he would fill the void left by the sudden disappearance of Roy Halladay. Stanton, Hamels, and Cliff Lee are a core anyone can build around. But if they fall further behind, do the Phillies see it that way?
PROGNOSIS: LIKELY TRADING PARTNERS
4. Nationals trade 3b Anthony Rendon, rhp AJ Cole, 1b tyler moore and utilityman Steve Lombardozzi for Giancarlo Stanton
WHY IT WORKS Rendon has revived his top prospect status so far by hitting in AA and even making a big league cameo filling in for an injured Ryan Zimmerman. He is definitely a star-level talent, although no sure thing considering his injury. AJ Cole is probably the best remaining pitcher in the Nats' minor league system, not counting a recovering Lucas Giolito who will not see action until some point next year. Lombardozzi and Moore are both capable of being full-time players for a developing Marlins team but are currently depth on the Nats' deep big league roster. Denard Span would make one hell of a fourth outfielder/trade bait.
WHY IT DOESN'T The Nationals probably don't have enough young and cost-controlled talent to make a trade for Stanton. The above four players are basically everybody, the Nats would have no ability to make further trades, and the back end of their roster could get ugly. Like the Braves, the Nationals have a pretty killer outfield. They also seem just fine without Stanton. In a few years their money will be tied up to the Zimmerman(n)s, Strasburg and Harper, and that should give Washington fans enough to cheer about. No need to get greedy!
PROGNOSIS: UNLIKELY TRADING PARTNERS
NL Central
1. Brewers trade of Norichika Aoki, rhp Wily Peralta, rhp Mike Fiers, rhp Jimmy Nelson, of Victor Roache (???) for Giancarlo Stanton and Ricky Nolasco, Marlins trade Aoki to Mets for 3b Wilmer Flores
WHY IT WORKS See that last part? Creative, right? The Marlins used to be great at finding creative ways to trade everybody, trading veterans for other veterans so they could then trade those guys. Remember when they had Mike Piazza for a week? Todd Zeile for a month? Mike Hampton for three hours? Anyway, in theory this is how a Brewers trade would work; Aoki and some of their pitching prospects for Stanton (and I threw in Nolasco since obviously if Milwaukee does this they're going all in this year).
WHY IT WON'T The above trade is probably the best the Brewers can do…and it's nowhere near good enough. The Brewers already have no depth and although they are 'contending' right now, any team that is playing Yuniesky Betancourt and Alex Gonzalez out of position in the same lineup is tempting fate in a bad way. They do not have the minor league talent to trade for another team's star, and really, they don't need to, not now anyway. Ryan Braun is a big offensive star, Jean Segura is coming into his own this year and maybe Milwaukee can find enough pennies to retain at least one of either Carlos Gomez or Corey Hart after this season. Home Run power is the least of Milwaukee's worries. The biggest problem is that none of their young pitching has stepped up yet in the majors or minors. This year's Mike Fiers, Hiram Burgos, doesn't really count, since last year's Mike Fiers, Mike Fiers, is back in AAA.
PROGNOSIS: BREWERS FANS BE THANKFUL YOU HAVE KYLE LOHSE AND LEAVE IT AT THAT
2. Cardinals trade of Oscar Taveras, rhp Carlos Martinez, and 2b Kolton Wong for of Giancarlo Stanton (and a relief pitcher???)
WHY IT WORKS Taveras is a ready-now blue-chip prospect who can immediately replace Stanton as a loud-hitting outfielder, one of the rare (only?) players who could straight-up replace Stanton without losing value. The uncertainty involved with any deal makes adding live arm (and big league ready?) Carlos Martinez and potential everyday middle infielder Wong necessary. Throw in an arm to replace Tommy John victim Jason Motte and you've got a deal!
WHY IT DOESN'T How crazy is it that St Louis would probably have to trade Oscar Taveras…just to make ROOM for Stanton in their outfield? Already Taveras is blocked by the formidable trifecta of Jon Jay, Carlos Beltran, and Matt Holliday. Poor Jay and his career .357 OBP is the weak link in the chain. What the Cardinals chiefly need is a real shortstop, as it looks like Pete Kozma might be AAAA material after all and Rafael Furcal is not coming back to St. Louis. Can Stanton play in the middle infield? However, you can't rule it out entirely. St. Louis does have the financial flexibility to add him and has been missing a true superstar since Pujols said goodbye.
PROGNOSIS: UNLIKELY TRADE PARTNERS
3. Cubs trade ss Javier Baez, of Al Almora, inf Logan Watkins, of Rock Shoulders and of Nate Schierholtz (majors) for Giancarlo Stanton
WHY IT WORKS Well, this would mean putting together a package of talented but unproven prospects, a whole lot of quantity, for Stanton. The Cubs could certainly use a young star like Stanton. Tony Rizzo is hitting home runs and Starlin Castro is young but both players are flawed; the rest of their roster is pretty uninspiring. Javier Baez plays the same position as Castro so he is somewhat more expendable in the Cubs search for other needs around the diamond. Baez is a top 25-30 prospect but he's very aggressive at the plate, to the point where he has some bust potential. Al Almora was Chicago's first round draft pick last year.
WHY IT WON'T The Cubs need everything, but what they really need is pitching. They don't have much in the majors and they have even less in the minors. I'm sure the Cubs would love to add Stanton but he wouldn't make them a contender by himself. Chicago still needs to see what they can get for veterans like Alfonso Soriano and David Dejesus. Also, it's hard to see a good fit prospect-wise with the Marlins. Outside of Baez and Jorge Soler, Chicago's best prospects are just too raw (or, at higher levels, not talented enough) to compete with offers from other teams with deeper systems. I doubt Miami would risk a Stanton trade where they could end up without an impact major league contributor. Baez could be an all-star next year…or his strikeouts could pile up in AAA.
PROGNOSIS: SCOTT HAIRSTON'S JOB IS SAFE
4. Pirates trade rhp Jameson Taillon, rhp Kyle McPherson, of Josh Bell, warm body Travis Snider for of Giancarlo Stanton
WHY IT WORKS Taillon is a top 10 prospect right now, he's finally striking out hitters in AA which means he may not be far. McPherson is a competent mid-rotation prospect and Josh Bell is a high-profile draft pick (he got $5 million two years ago) who is hitting for power at high-A Bradenton and building back up his prospect mojo. Snider holds down the fort in the outfield for Miami until Christian Yelich comes along. Or maybe Snider lives up to his past promise. WHY IT WON'T The exact combination of prospects might need some tweaking, but in theory this is a very possible trade scenario. The Pirates are competing this year, and they have enough depth at both the major league and minor league level to make a play for somebody like Stanton. Perhaps the emergence of Starling Marte makes a deal less necessary? There's not much precedence for the Pirates spending money and/or acquiring someone as tasty as this. There's also not much precedence for the Pirates being in the position they are now: realistic contenders. Might the Pittsburgh brass go for the kill? Pirates fans deserve it. There's no buzz around such a move, but the puzzle pieces fit. PROGNOSIS: LIKELY TRADING PARTNERS
5. Reds trade of Billy Hamilton, rhp Mike Leake, rhp Chad Rogers, something nice from the low minors (Tanner Rahier? Jesse Winkler?) for Giancarlo Stanton and lhp Wade leBlanc
WHY IT WORKS The fastest man in baseball for the most powerful? Has a nice ring to it, yes? Hamilton is off to a very slow start in AAA but he's still just 21 and figures to have a better approach and more gap power than your typical speed demon (a la Juan Pierre). Mike Leake may or may not have any more upside than Miami's gaggle of fourth starters but he has big league experience and is still under control for at least 3 more years. Rogers or someone similar such as Danny Corcino, as well as somebody else, could fill out the rest of the trade. Leblanc replaces Leake as pitching depth for the Reds.
WHY IT WON'T The Reds have the pieces to make a deal, and a clear need in one of the outfield corners, but a trade for Stanton will empty the minor league coffers and put a lot of pressure on their 2013 draft class. Might Miami demand both Hamilton and lefty phenom Tony Cingrani in such a deal? And does insisting those two result in a deal breaker? Can Cincinnati afford Stanton long term after throwing crazy money at almost every player on their roster this winter? Also, Hamilton isn't just struggling: he's hitting .197. That won't play.
PROGNOSIS: POSSIBLE TRADING PARTNER