Wild on Sports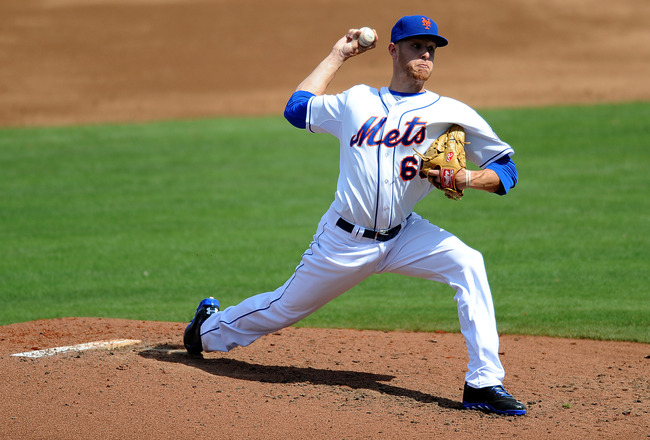 State of the Farm: NL East
By Wild on Sports MLB Analyst Aaron Dorman
As we inch closer to the 2013 MLB draft I thought it would be fitting to take pre-draft look at the state of each minor league system. On the agenda today: NL East...
Atlanta Braves:
OVERALL:
The Braves system is very thin and their last two top draft picks, Sean Gilmartin and Lucas Sims, have not done much, but they still have enough interesting arms and a handful of position players who seem to be able to contribute for the big league team. They'd rather have Paul Maholm and Justin Upton than any of the prospects they dealt for those two.
GRADUATIONS:
Julio Teheran, rhp, has improved his control and got his ERA below 4 in his last start. Evan Gattis filled in for an injured Brian McCann at catcher and is leading rookies with 10 Home Runs (and a robust .576 Slg %).
TOP PROSPECT
: Alex Wood, lhp, has been tremendous at AA-Mississippi and with less than a year since he was drafted, Wood's already generating rumors of a big league call-up thanks to his strong performance, which includes 57 K in 57 IP and a miniscule 1.26 ERA. His dominance makes up for the lackluster pitching of fellow lefty Lucas Sims, drafted one round ahead of him.
BIGGEST RISER
: Wood.
BIGGEST DISAPPOINTMENT
: Lucas Sims, lhp, has turned it around a little bit with low-A Rome (3.08 ERA), but with 15 BB in 28 IP pitching out of the bullpen he's a long way from contributing and even at 19, you'd want more than a lefty reliever out of a first-round draft pick.
Miami Marlins:
OVERALL:
The Marlins' farm system looks as good as you'd expect considering almost every viable big leaguer was jettisoned this winter for young players. Miami's also done well with drafting players in recent years and so overall they have a number of nice prospects who will be traded soon after joining the major league team.
GRADUATIONS:
Jose Fernandez was rushed to the majors but he's already Miami's best pitcher. Outfielder Marcell Ozuna and second baseman Derek Dietrich were called up when Miami got hit by injuries and they've held their own. Adeiny Hecheverria has played a good shortstop but he can't hit.
TOP PROSPECT:
Christian Yelich, of, is a five tool talent and at .287/.352/.581 at AA-Chattanooga, he's done nothing to cool down his prospect status. It will not be surprising to see him crack top 10 overall prospect lists at the end of the season.
BIGGEST RISER:
I have a soft spot for rhp Tony DeScalafani, a forgotten man in the crazy trade with Toronto. He doesn't throw hard but for high-A Jupiter (admittedly, a good place for pitchers) he has a 1.32 ERA and a strong 8/40 BB/K ratio in 41 IP. He deserves a shot at AA later this year, which will be the real test for his limited stuff.
BIGGEST DISAPPOINTMENT:
Several pitchers are not quite living up to hype for Jupiter, but the only guy who's really struggled so far for the Marlins is rhp Austin Brice, who is repeating low-A Greensboro and has a 6.57 ERA and 7.1 BB/9. That won't get it done.
New York Mets:
OVERALL:
The Mets' farm system has had a good first two months, with three affiliates above .500 but more importantly, most or all of their top prospects performing. The Mets have a nice collection of right-handed pitching arms, although most of their position player prospects are in the low minors or rookie ball.
GRADUATIONS:
Hard-throwing Jeurys Familia is trying to secure a spot in the bullpen. Outfielder Juan Lagares is the only position player with rookie status on the Mets current roster but he's nothing more than a fifth outfielder. 31-year-old "rookie" Scott Rice leads the majors in appearances, but he's just a lefty short reliever.
TOP PROSPECT:
Zach Wheeler, rhp is still down on the farm but he's going to make his Mets debut at some point over the next few weeks. He struggled early but by May he's made the necessary adjustments to his command, and he'll add a much needed power arm to complement Matt Harvey in their rotation.
BIGGEST RISER:
Rafael Montero, rhp, started the year high on prospect lists but he's seemingly gotten better at every stop in the Mets' system, with just 6 BB in 62 IP this year for AA-Binghamton and he looked good in one AAA spot start. He throws a variety of pitches to complement a slightly-above average fastball and could compete for a rotation spot no later than next spring.
BIGGEST DISAPPOINTMENT:
There really haven't been any non-producers in the Mets system; only short-term injuries have kept players off the field. Catcher Travis D'Arnaud, outfielder Brandon Nimmo and pitcher Michael Fulmer, among others, have seen limited playing time but none of the injuries are considered serious.
Washington Nationals:
OVERALL:
The Nationals farm system is among baseball's worst as they've been "victimized" by success: graduations and trades have left them with just a handful of interesting guys scattered among their six teams, although they do have a blue-chip talent or two.
GRADUATIONS:
Anthony Rendon made a cameo for Washington but he's back in the minors. Otherwise, that's it.
TOP PROSPECT:
Second basemen Rendon was one of the most talented position players drafted in 2011, but he was hurt most of last year. His early promise is back, however, as Rendon is hitting .330/.473/.625 for AA-Harrisburg. He could be a big league batting champion, and Danny Espinosa is in danger of losing his job awfully soon.
BIGGEST RISER:
Ian Krol, lhp, acquired from Oakland (with AJ Cole) for Michael Morse, was converted to relief and he has a 0.77 ERA in 23 IP with 27 K for AA-Harrisburg. He could give Washington a lefty bullpen arm to replace the departed Sean Burnett.
BIGGEST DISAPPOINTMENT:
AJ Cole, rhp, was returned to Washington from Oakland-he was traded for Gio Gonzalez and last winter for Michael Morse/John Jaso-and although his 14/49 BB/K ratio in 47 IP is very strong, his ERA is 4.98 and this is the second season in a row he's struggling in high-A. His stuff is better than that.
Philadelphia Phillies:
OVERALL:
The Phillies have some interesting names and solid depth down on the farm, but trades and budget-conscious drafts have depleted them of any true blue-chip talent. The current Phillies' strategy of going after tools in the draft and international signings has led to some nice finds up the middle, such as Cesar Hernandez and Cody Asche.
GRADUATIONS:
Jonathan Pettibone, lhp, has had some success early on in the rotation. Phillippe Aumont was a one-time Mariners top draft, acquired in one of the Cliff Lee trades, who is struggling with his control in the bullpen.
TOP PROSPECT:
Jesse Biddle, lhp, is doing very well right now for AA-Reading, with 60 K in 50 IP but his 4.3 BB/9 is pretty high and could foretell command woes in AAA or the majors. Scouts have seen a mid-rotation starter over the past few years and that prognosis hasn't changed.
BIGGEST RISER:
Aaron Altherr, of, has moved slowly through the system as a player more regarded for his athleticism than his baseball ability but he's off to a great start in high-A Clearwater this year, hitting .325 with 11 SB and good gap power, although he's also got a poor 14/52 BB/K split.
BIGGEST DISAPPOINTMENT:
Larry Greene, of, was an intriguing prospect drafted high in 2011 and he got on base last year with rookie-level Williamsport. But his inability to make contact (120 K in 356 AB) has led to early struggles at low-A Lakewood, and an odd .202/.358/.253 line, really calling his hit tool into question.