Wild on Sports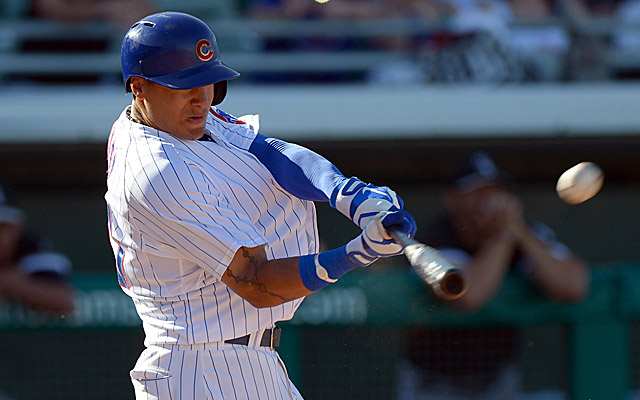 State of the Farm - NL Central
By Wild on Sports MLB Analyst Aaron Dorman

As we inch closer to the 2013 MLB draft I thought it would be fitting to take pre-draft look at the state of each minor league system. On the agenda today: NL Central...
Milwaukee Brewers:
OVERALL:
The Brewers have had a terrible recent track record with their top draft picks, starting with Eric Arnett in 2009. It's really hard to have a good farm system without some first-round successes, and to top it off, the Brewers are still missing all the young talent they traded for Zack Greinke and Shawn Marcum over two years ago. Doug Melvin thought that the handful of upper-level righties in the minors were ready to help; he was wrong. Their farm system is among the worst in baseball with just a few interesting right-handers looking interesting.
GRADUATIONS:
Hard-throwing Wily Peralta has struggled with a 6.35 ERA so far in 11 starts, and soft-tossing Hiram Burgos looks like he is Quad-A material (his ERA is 6.44). Although he's not a rookie, Jean Segura is one of the nicest surprises of 2013 and after a five-hit day today he's hitting over .360 with power at shortstop. That's a superstar profile.
TOP PROSPECT:
Jimmy Nelson, rhp, hasn't hit a well yet like some of the other pitchers in their system (like Tyler Thornburg), which means he still profiles as a mid-rotation starter (or better), and that's enough to make him Milwaukee's best prospect for right now. He has a 2.98 ERA in AA-Huntsville with a 12/55 BB/K ratio in 54 IP.
BIGGEST RISER:
Nobody, really. Ariel Pena, rhp, was acquired in the Greinke trade with Los Angeles, and struggled at the end of the year with a 7.24 ERA with his new team. Playing for AA-Huntsville again, he's lowered that back down to a much better-looking 2.87 with 43 K in 48.2 IP, although his BB/9 of 5.1 is still pretty terrible. He throws hard; is he a future reliever?
BIGGEST DISAPPOINTMENT:
Tyler Thornburg, rhp, has a 6.60 ERA in AAA but at least he his strikeout hitters out. The biggest disappointment in this moribund system is last year's first-round pick, C Clint Coulter, who is "hitting" .193/.288/.325 in low-A Wisconsin, and even though he's only 19 he raises more question marks as a big slow catcher. Is he moving to rookie-ball Helena in the second half? Whatever the case, his prospect status has taken a huge hit.
St. Louis Cardinals:
OVERALL:
The Cardinals system has severely weakened thanks to what must be a historic amount of players graduated to the major leagues. That's obviously a good thing, as those rookies have helped St Louis win nearly two-thirds of their games so far. Even last year's first round draft pick Michael Wacha was promoted this week, to make at least a spot start (but possibly more). What's left in the system are some interesting young guys in low-A ball from last year's draft and outfield wunderkind Oscar Taveras.
GRADUATIONS:
Everybody! Or almost. Shelby Miller is already one of the best pitchers in the league. Trevor Rosenthal and Carlos Martinez are important components of the Cardinals' bullpen. Finesse artist Seth Maness has done well in long relief. Before getting hurt, lefty John Gast showed some promise. For position players, Matt Adams is crushing the ball off the bench and Pete Kozma has surprisingly held his own at shortstop, even though he's not going to much more than a placeholder.
TOP PROSPECT:
Oscar Taveras, of, is a career .321 hitting in the minor leagues, and the "lefty Vlad Guerrero" is just waiting for an opening in the outfield, which might not come until Carlos Beltran leaves as a free agent after the year. He's not doing anything to lose his prospect luster; he's hitting .317 with power and his proximity to the majors means he might be the best bet currently playing in the minors right now.

BIGGEST RISER:
2012 third-round pick Tim Cooney, lhp, is moving quickly through the minors by throwing strikes and his last three starts in AA-Springfield have been especially impressive (21 K in 18 IP). He looks like solid option for the rotation in the near future. Will he be yet another midseason call-up for St. Louis?
BIGGEST DISAPPOINTMENT:
Teenager Carson Kelly, 3b, has made an awful lot of outs since being drafted last year in the second round, having now hit .230/.271/.371 in over 350 at-bats, but he's 18 and playing in low-A Peoria so more important than his actual numbers will be progress and decent components (like contact rate, XBH %, BB%, etc).
Chicago Cubs:
OVERALL:
The status of the Cubs farm system has not changed much since the winter; an impressive collection of athletic position players, especially outfielders, but lacking significant pitching prospects. Who is their best pitching prospect currently healthy? The closest to the majors is Rangers import Kyle Hendricks, who has a 2.44 ERA in AA but has the stuff to be no better than a back-of-the-rotation starter.
GRADUATIONS:
Nobody of any real importance, surprising for a team that is rebuilding. "Rookie" Kyuji Fujikama has thrown 12 indifferent innings out of the bullpen so far.
TOP PROSPECT:
Javier Baez, ss, is only 20 years old and he's flashing impressive power in high-A while looking like he can stay at the position. Baez is hitting .266/.305/.473 with 6 HR but his 8/50 BB/K ratio exposes his rawness, and Chicago and afford to slow down his timetable until he learns how to control the strike zone.
BIGGEST RISER:
Rock Shoulders, 1b/of, is somewhat of a man without a position, but with that name alone he belongs to show up on prospect lists in the near future. He's also hitting .282/.381/.546 in low-A Kane County, which makes him an interesting bat, much more so than he was before the season began.
BIGGEST DISAPPOINTMENT:
Brett Jackson, of, has a lot of tools but his high strikeout totals exposed him in the majors and he hasn't made any real progress since being sent down to AAA. Currently he is batting .242/.322/.375 with 39 K in 128 AB, which is not really an improvement on past ratios. He's stalling as a player and might not profile as an everyday player anymore.
Pittsburgh Pirates:
OVERALL:
The Pirates are having a great year in the major and minor leagues, as despite past issues with player development and odd boot-camp style practices, most of their high draft picks and expensive signees are performing well and the Pirates have plenty of exciting young pitching to use either as replacements for older veterans (AJ Burnett when he leaves? Francisco Liriano when he breaks down again?) or trade bait for a real star of a level up from the likes of Wandy Rodriguez (who admittedly is off to a great start).
GRADUATIONS:
Jeff Locke, lhp, is firmly established in the Pirates' rotation although his 2.45 ERA is a fluke. Another less heralded lefty, Justin Wilson, is off to a great start and now has a 1.60 ERA in 34 IP with the Pirates since last year. Outfielder Starling Marte looks like a star…but he's technically not a rookie, having passed the cut-off point last year.
TOP PROSPECT:
Gerrit Cole, rhp, was rated by most publications as a top 10 overall prospect in baseball going into the year, and his stuff still rates very highly. The 2011 top pick overall is off to a disappointing start in AAA, if only because some thought he might be ready to dominate in the majors. In ten starts with AAA-Indianapolis he has a 3.67 ERA and only 6.5 K/9, with some control issues to boot. That's the line of someone who needs more fine-tuning. Perhaps he is working on his secondary pitches?
BIGGEST RISER:
Stetson Allie, 1b, was rated as a top 100 prospect by Baseball America two years ago…as a pitcher. He threw hard but never established himself as more than a wild arm (37 BB in 29 IP) and Pittsburgh converted him to being a position player full-time. After some unimpressive hitting in the Gulf Coast League last year, Allie was pretty solidly a non-prospect, but the power is back in a big way with low-A West Virginia and he's still only 22. Right now he's hitting at .340/.422/.633 and looks like a potential slugger although he's striking out a lot and that average could go way down as he moves up.
BIGGEST DISAPPOINTMENT
: Kyle McPherson, rhp, may have hurt himself trying to win a job out of spring training, and after allowing ten runs in five AAA innings he's currently rehabbing. At 25 his future is now, so this lost development time is crucial. His future with Pittsburgh might have disappeared while he nursed this latest injury.
Cincinnati Reds:
OVERALL:
The Reds have been the "victims" of success as graduations and trades have left them with a pretty mediocre farm system overall. However, they still have quite a bit of upside down on the farm as they like to draft athletic position players and have recently been very active in Latin America.
GRADUATIONS:
Tony Cingrani, lhp, took his crazy minor league numbers to the majors without any major drop, so his limited pitch mix is still baffling even baseball's best. His 11.2 K/9 and 3.27 ERA portends future big league dominance and only impressive pitching depth (and health) leaves him currently stranded in AAA.
TOP PROSPECT:
Billy Hamilton, of, set the all-time record for stolen bases in a professional league last year, and he already has 26 SB this year in AAA-Louisville. He got off to a terrible start, and a mini-tear recently has only brought him up to .242/.316/.333 for the season. Was he pressing, so close to the majors, or is he really not ready? That line is a little ominous since prior to AAA he looked like he had the gap power to keep pitchers honest. His walk rate (9.3 %) is solid but down from last year. He's also strikeout out less so he's still a solid bet to become a sparkplug atop Cincinnati's lineup.
BIGGEST RISER:
Jesse Winker, of, was already a strong prospect coming into the year based on his high-round draft status and potent hitting in rookie-ball, but that was in a nice hitting environment and now that he's repeated that strong .300/.400/.500 slash line in full-season ball, he's an established top prospect and as he's only 19, there's a lot to love about his future.

BIGGEST DISAPPOINTMENT:
2012 Top Pick (2nd round) Tanner Rahier, 3b, has been moving in the opposite direction as Winker, his raw approach undermining any power he's showed in limited action. With low-A Dayton he's hitting just .198/.249/.379, and even at just 19 years old, that's the line of a project, not a prospect. Will he be sent down to rookie-ball in a few weeks to work on his plate discipline?