Wild on Sports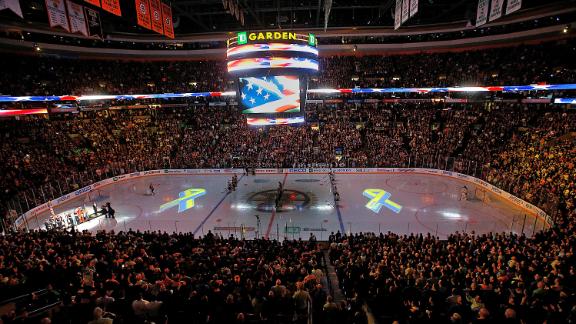 Puckmania: 1st Round Review
By Wild on Sports NHL Analyst Josh Tarr
So, uh, playoff hockey anyone?
I have no clue how to highlight the first round so far… possibly the resilience of the young and inexperienced New York Islanders team? EVERYONE picked them to lose in either 4 or 5 games and yet, after 5 games they only trail their best of 7 series 3-2. Not to mention their offense has essentially knocked Penguins goalie Marc-Andre Fleury out of the series after letting up 11 goals in games three and four. It's pretty impressive stuff overall for a team who's missed the playoffs for the last 7 years.
Speaking of playoff droughts…
A nine year post season absence is proving to be costly for the Toronto Maple Leafs, as the Bruins currently hold a 3-1 series lead. What's been most devastating for the Leafs in this series is that they lost both of their home games and will have to play their do or die game 5 in Boston.
Speaking of devastation…
In the Western Conference, the 3rd seed Vancouver Canucks were swept in four games by the San Jose Sharks. Also out west, the 8th seed Minnesota Wild lost their series to the Chicago Blackhawks in five games. In the Eastern Conference, the 2nd Montreal Canadiens lost their series in five games to the Ottawa Senators, who really never stood a chance, being outscored 20-7.
Come to think of it, the highlight of this first round thus far has to be the entertainment value of every single one of these games.
Ever since my summer vacation started on Tuesday, all I've wanted to do was watch Hockey from 7PM-1AM, and beyond (EST, of course). What I previously summarized about these games doesn't even begin to explain how good this post season has been so far. Ten days in and there have already been 13 games decided in sudden death overtime. No Shootouts! Just nonstop cutthroat Hockey until someone scores. There have been bench clearing brawls, hat tricks, unbelievable saves, huge hits and LOTS of blood. everything a Hockey fan loves to see, whether you're a diehard or a fair weather fan.
Thank You Readers!
For those of you who didn't know, WOS ran a page views contest amongst the writers for the month of April. Whosoever article got the most "unique page views" won a $100 visa gift card. Thanks to all of you incredible people who took the time to read my "Hearts Go Out to Boston" blog regarding the marathon bombings, I, no, WE won the contest.
I have decided in the nature of the article and in good spirit, that my earnings would go straight to One Fund Boston. Give yourself a hug if you read that article, all 468 of you! (and another if you're reading this one.) WOS has also decided to match my donation, so to that, thank you everyone for investing your time in my work, for now One Fund Boston is $200 richer.