Wild on Sports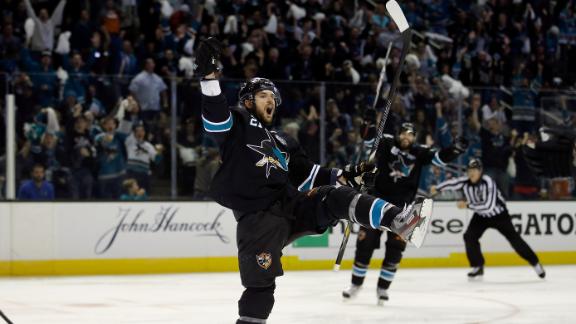 "Idiots" Force Game 7 in Cali
By Wild on Sports Analyst Jason Gillson
For as good as the San Jose Sharks have been during the regular season throughout the Joe Thornton era, for some reason come playoff time those sticks get gripped just a little tighter. The team that, in many cases, coasted into the playoffs gets left standing on the side of the road as the Stanley Cup party bus keeps on chugging along without them. Through five games it looked like we may be in for another season of "what could have been." LA's Jonathan Quick had re-found last year's championship form and while the big guys up front for the Sharks had shown glimpses, the pucks just were not finding the back of the night.
Then along came Sunday night's game 6. Do or die for the Sharks in a possible elimination game on home ice. Surely the Sharks team we have grown to know would show up with shaky knees and a target on their backs, right? Wrong. Instead a pre-game soccer match broke out in the hallway. A casual observer would think this team was about to play an inner-squad exhibition, not a backs against the wall elimination game.
Sharks captain, the afore mentioned Thornton, went so far as to call the pre-game shenanigans " a bunch of idiots staying loose." He went on to add, "when we've been loose this year, it seems that's when we play our best hockey. We try to have a lot of fun. Everyone enjoys each other's company. It feels like a team."
Well, the last professional team to call themselves a bunch of idiots ('04 Boston Red Sox) rallied from a 3-0 hole in a series to win not only the series but eventually their sport's championship. While I doubt there will be shots of Jack Daniels being passed around before Tuesday's game 7, there has been a strong history across the sports world of teams who stay loose just end up being the teams that have what it takes to make a deep run.
This is not your traditional San Jose Sharks team folks. Lets see what this "group of idiots" can bring to the ice for game 7.