Wild on Sports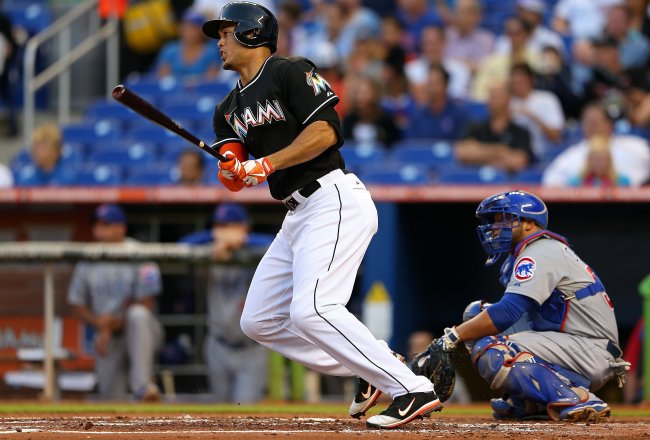 AL East Bound?
By Wild on Sports MLB Analyst Aaron Dorman
The next installment of possible landing areas for Miami Marlins outfielder Giancarlo Stanton. If the Red Sox and Yankees are in the mix anything could happen, right?
1. Blue Jays
trade rhp Aaron Sanchez, rhp Robert Osuna, of Anthony Gose for of Giancarlo Stanton
WHY IT WORKS: There goes the rest of Toronto's prospect cache, but it's worth it for Stanton, right? It's the least Miami can do for them after dumping all those contracts into Toronto's lap. In fact, maybe they can take Josh Johnson and Mark Buehrle back. Stanton would fit right in with Toronto's righty-bopping sluggers.
WHY IT WON'T: Toronto is currently in no position to deal away more prospects in a futile bid to contend. If somehow they make a miraculous comeback, it will be because all those veterans halt their declines and remind fans why they were acquired in the first place. Surely someone in that rotation can manage an ERA under 5.00? No matter what, they're probably done trading with Miami, who haven't exactly gotten much production from their end of the trade either. What they really need is a new hitting coach. It would be a shame if Toronto acquired Stanton only to watch him hit .220 and strike out 200 times.
PROGNOSIS: THEY CAN COME IN LAST WITHOUT STANTON JUST FINE
2. Orioles
trade rhp Dylan Bundy, lhp Zach Britton, rhp Eduardo Rodriguez, and 3b Jonathan Schoop for of Giancarlo Stanton
WHY IT WORKS: Bundy was the best pitching prospect in baseball before the start of the season, although he's dealt with some concerning arm issues so far this year. He'd still be a great centerpiece for a Stanton deal. Baltimore's pitching has been solid this year so they can afford to trade him, as well as Britton, who's gotten a bit lost in the shuffle but is doing fine in AAA right now. Rodriguez is a live arm in A-ball and Schoop is a power third basemen who's been rushed. Baltimore has taken some real steps forward this year and could be one big bat away from another 90+ win season. Stanton would be a nice complement to Machado, and would represent a strong commitment by Baltimore to try and turn their lucky 2012 a prolonged run of success.
WHY IT WON'T: It's a lot for Baltimore to give, and would leave them with only one true prospect in Kevin Gausman, currently throwing strikes in AA. It's hard to tell what Baltimore wants to do with this team, as they were not major players at all this winter for big ticket free agents or trade candidates. It's uncertain what their financial situation is either, or what they plan to do with extra money. Also, they can't make this deal without Bundy, and another team might not want to deal for Bundy until his health issues are clarified. If Bundy goes under the knife, Stanton will not be an Oriole.
PROGNOSIS: UNLIKELY TRADING PARTNERS
3. Rays
trade of Wil Myers, rhp Chris Archer, rhp Enny Romero and ss Jake Hager for of Giancarlo Stanton
WHY IT WORKS: The future Stanton for the current Stanton; Miami couldn't ask for a better replacement, as Myers boasts some of the best power in the minors and right now only Super Two status concerns are keeping him from the major leagues. The other prospects are all decent enough and make up for the risk inherent in acquiring any prospect, even someone as ready and touted as Myers. Archer could start immediately, while the other two players are further away. Stanton would definitely make the Rays pretty formidable going forward, although it's a shame he can't play catcher.
WHY IT WON'T: It just doesn't seem like Tampa's style, does it? After all, they didn't acquire Myers just to deal him away again. Tampa values cost-controlled players like Myers and may not have the budget for both Longoria and Stanton long-term. If Tampa does shell out money, you'd figure it'd be for David Price, who's already with the team. The steady pipeline of prospects is what keeps the Rays competitive every year (and I do think they will get better as 2013 goes on), so it's hard to see them dealing depth unless they can acquire a young catcher.
PROGNOSIS: UNLIKELY TRADING PARTNERS
4. Red Sox
trade of Jackie Bradley, 3b Garrin Cecchini, rhp Matt Barnes, rhp Anthony Ranaudo for of Giancarlo Stanton
WHY IT WORKS: Bradley is close to contributing as a leadoff hitter with some pop, and Cecchini is an underrated third base prospect with a great hit tool. The pitchers Barnes and Ranaudo could both be solid starters in the major leagues, or better. Overall it would be a very solid package in return for Stanton, mixing quality and quantity. If preferred, the Red Sox could swap out Bradley for slugging shortstop wunderkind Xander Bogaerts, but for now this trade scenario assumes they can avoid dealing him. The Red Sox are off to a great start but currently lack a player of Stanton's caliber in the lineup. They also have a history of dealing with Miami.
WHY IT WON'T: If Miami insists on Bogaerts, that could be a hold-up in trade negotiations. Perhaps Boston is placing more value on their young talent after getting burned by high-profile acquisitions like Carl Crawford and all those failed relievers they've piled up. Of course, Stanton is still younger than most "young talent" and he's not expensive yet. And didn't they trade away all that money so they could use it towards someone like this?
PROGNOSIS: LIKELY TRADING PARTNERS
5. Yankees
trade of Tyler Austin, inf Corban Joseph, inf JR Murphy, of Greg Bird and rhp Ivan Nova for of Giancarlo Stanton and rhp Ricky Nolasco
WHY IT WORKS: Austin is currently doing the best out of the Yankees' trio of vaunted outfield prospects (the other two are Slade Heathcott and Mason Williams, both off to slow starts). The other two position players offer potential at second and third, although JR Murphy, who is hitting very well for AA-Trenton, could be converted back to catcher. Nova is still fairly young at 26 and his ERA is almost a full run lower (4.05) away from Yankee stadium, so he would be a fine replacement for Nolasco. Hot-hitting 20-year-old Greg Bird gives the package an extra bit of ceiling to balance out the trade. The Yankees could obviously use Giancarlo Stanton in their lineup. He'd certainly be an upgrade over Brennan Boesch. He'd also take the sting away from losing Robinson Cano.
WHY IT WON'T: Speaking of, you'd think the Yankees first priority would be to lock up Cano, as he's not only the best second basemen in baseball, a tough position to fill, but he's the Yankees only healthy and productive asset in the lineup right now. Trading for Stanton only to lose Cano might actually be a downgrade when you consider positional strength. The Yankees have plenty of outfield prospects but they are very light on young pitching and still ought to be focusing on finding another young starter, as Andy Pettitte and Hiroki Kuroda are not long term solutions, and along with Phil Hughes all are free agents at the end of this year. CC Sabathia can't pitch every day. PROGNOSIS: UNLIKELY TRADING PARTNERS