Wild on Sports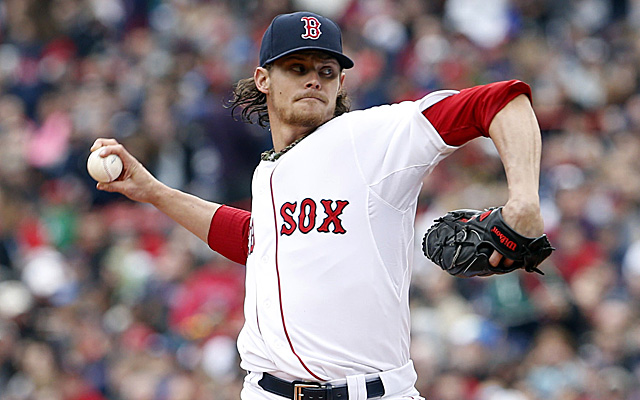 Weekly Walk-off
By Wild on Sports Analyst Kyle Kargel
Through the first three weeks of the season surprises and certainties have filled the league. The Rockies are the second best team in the NL and the Red Sox are the second best team in the AL. The Angels are only a half game from being last in the AL West which will likely change. The AL Central looks like it will be a dog fight all year as first and last place are separated by less than five games. All the teams in that division look to have enough talent to win the division title as well. Projected stud outfielder Giancarlo Stanton doesn't have a homerun or an RBI through 33 at-bats this season putting the Marlins at a lowly 3-13 record through 16 games. Derek Jeter announced that he wouldn't return until after the all-star break, but so far the Yankees are holding their own at 8-6. Also, the Braves got off to one of the best starts through 13 games going 12-1.
Studs of the

Week
1. Justin Upton OF Atl- Out to prove his couple weeks into the season weren't a fluke; Upton blasted three homeruns in a four game span this past week. He leads the MLB with a total of nine homeruns and it should be a safe bet that he will knock a total of 25-30 homers when the season is said and done. Keep an eye on Upton to be a major fantasy powerhouse with his base running skills as well.
2. Clay Buchholz SP Bos- The Red Sox are off to one of the more surprising starts in the MLB this season after many analysts projected them to finish in the bottom half of the division. Buchholz is due much of the credit for Boston's sizzling start as he's won each of his first three starts while posting a 0.41 ERA. He's pitched at least seven innings in each of his starts and this past week blew past the Rays pitching eight innings and striking out 11, while only allowing two hits. If this trend continues Buchholz should be in the Cy Young conversation at the end of the season, but expect his numbers to level out. 15 wins though isn't out of the question.
3. Carlos Gonzaelz OF Col- Much like the Red Sox, the Rockies have started surprisingly well too going 11-4 there first 15 games. In his past 20 at-bats Gonzalez has racked up 12 hits, including a home run and three steals. Considering Gonzalez was a top ten fantasy outfielder to begin with, this shouldn't come as a surprise to many. He is still a legit 25-25 guy assuming he stays healthy for the remainder of the year. The Rockies have an offense that can contend with most in the league so expect them not to slow down especially if their motivated to win an NL West title.
Duds of the Week
1. Matt Kemp OF LAD- Kemp is still having problems turning it on this season, still looking for his first home run and steal. He's even been removed from the starting line-up in favor of utility man Skip Schumaker which hasn't helped the Dodgers offense. The Dodgers are in a bit of a slump right now, but improvements will be made.
2. Buster Posey C SF- This is one name I never thought I would be writing in the "Duds" section. Posey has one of the smoothest swings in the game and his hitting fundamentals are one of the best in the game. As of late though Posey has seen his average drop from .276 to .213 and still has yet to homerun. Giants fans should see a quick turnaround of the reigning NL MVP though as their next nine games are against the Padres and Diamondbacks.
3. Chris Sale SP CWS- Although Sale only allowed two runs in his last start he allowed eight the start before that and has gone 0-2 in those games, both on the road. He looks a little unstable and might do a little less than what people expect of him this season. He's still a good source of strike outs, but the White Sox might be looking for a little more from their number one guy. His next start will likely be against the Indians at home next week so we'll see what side of Sale comes out for White Sox fans.
Sleepers for Next Week
1. Chris Johnson 1B/3B Atl- While starting first baseman Fredie Freeman has been on the DL; Johnson has been getting the starts at first base. He has taken advantage of the opportunity as of late accumulating six multi-hit games in his last nine starts. Freeman is close to beginning a rehab assignment so after that it will be hard for Johnson to keep seeing the amount of at-bats he's getting now. So take advantage of the opportunity while you can.
2. Brandon Crawford SS SF- He was the starting shortstop for the Giants all last season and easily kept the position in the spring. His stats were slim last year but he already has one less home run than all of last year. He's amassed an 11 game hitting streak and looks to be a powerful threat in the middle of the Giants batting order. He's worth the risk to pick up.
3. Justin Ruggiano OF Fla- While the Marlins offense has been dismal this season they've seen a bright spot in Ruggiano who was supposed to split starts with teammate Chris Coghlan has played better as of late so he will start a majority of the games as long as he plays well enough. If he plays to his max potential Ruggiano can be a legitimate 15-15 threat. Not bad for a guy who is probably a free agent in most fantasy leagues.
Match-ups of theWeek
A's vs. Red Sox- The teams with the best records in the AL will play in Fenway to see which team is the early season best.
Atlanta vs. Colorado- The Braves are undefeated on the road and the Rockies are undefeated at home. Something has to give as the Rockies look to continue to surprise critics.
Rangers vs. Angels- Pujols, Hamilton, Trout and company have to do something about this 4-10 record they've produced. What a way to turn it around than a home series win versus the Rangers.
Atlanta vs. Detroit- This is the best interleague matchup next week. This could be a future World Series matchup, and the Braves hitters want to prove they can hang with one of the best rotations in the league.