Wild on Sports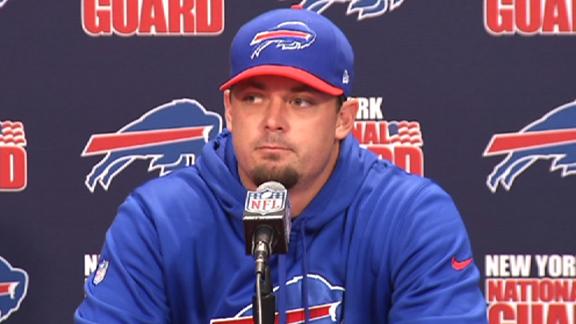 Buffalo Bills "Here to win a Super Bowl"
I'm guessing if you read that headline this morning you probably just spit your coffee all over your monitor...or nearly choked from laughing. In any case, that headline is not just here-say, it is a direct quote from the newest member of the Buffalo Bills.
The Bills signed quarterback Kevin Kolb on Monday afternnon to a 2-year deal worth as much as $13million after incentives. The first words out of his mouth as a Bill, "I'm here to win the Super Bowl. Period."
Of all the positions in sports there is no doubt in my mind that quarterback requires the thickest skin and highest possible level of confidence. Based on that statement I should have no problem with the words of Kolb on Monday, right?
IT'S THE BUFFALO BILLS! COMMON MAN!
Ok, now that its out here let me say this; I have no problem with the Bills. I would love to see them turn things around and have a nice bounce back year. Do I think it will happen? No. But I would be the first to eat crow and tip my cap to them if they could figure it out.
So, sorry Bills fans. Kevin Kolb, while being the best quarterback on the roster currently, is not the answer. I'm not sure drafting Geno Smith or Ryan Nassib is the answer either. Although I do think it will be a battle between Kolb and one of those guys for the starting job come this fall.
I leave you with the full Kolb quote to give it a little more perspective...
"I'm here to win a Super Bowl. Period. There's very limited opportunities in this league. I've been lucky enough to have a few of them, hopefully I have another one here.I plan on taking 100 percent care of that and making sure I do my part to play at the highest level. I know I can play at this level... here and there throughout my career -- two or three games at a time."
From the bottom of my heart -- good luck this season Bills fans!