Wild on Sports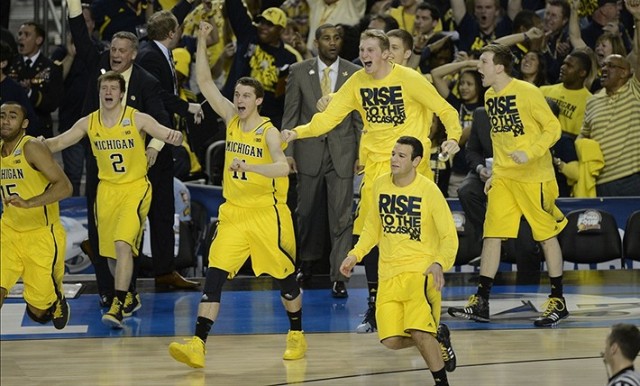 And Then There Were Two...
After a wild ride the NCAA Men's Basketball season comes to a close tonight in Atlanta. All in all this season we have seen highs and lows, sloppy play, thrilling finishes and a revolving door as the number one seed. That all changes tonight as someone will get to hold that distinction for the entire offseason. Heck, carrying the #1 seed for more than a month in today's NCAA is pretty solid accomplishment.
Enter Louisville and Michigan. In a season that has been filled with what many call a diluted brand of basketball, we head to the finals with two teams that are very strong from top to bottom and should silence those critics, at least for one night.
If nothing else, tonight's match-up will be an exciting one. Over the weekend fans across the country got treated to two of the better basketball games we have been lucky enough to see in years. First Louisville played a hard fought, back and forth, tooth and nail battle with a Wichita State team that came out of no where to capture the hearts of millions across the country. The Shockers had the Cardinals on the ropes most of the game before Louisville, led by a very deep bench, came storming back to steal victory in the closing minutes.
Entering the ring from the opposite corner comes Michigan, an offensive force who made one of the highest regarded defenses in recent history look like a block of swiss cheese in the semi-finals. Boy can that Wolverines team shoot. Led by National Player of the Year Trey Burke, Michigan poured it on from everywhere on the court, and even held their own in the defensive end (their lone achillies heal, if there is one) down the stretch.
So what can we expect tonight? Points, points and more points. This box score is going to look more like one you would see from an NBA game as opposed to one you traditionally see in the NCAA. Its fitting really, when you look at these rosters you see names that associate with NBA talent - Hardaway, Robinson. There are a handful of players on the court tonight that you will see playing in the Association in the near future.
As for game itself, perhaps the National Player of the Year broke it down the best, "It could be a very high-scoring game,'' said Michigan's Trey Burke. "We're both capable of scoring the ball and if we play our game then I think it definitely would be in the 80s, 90s or maybe higher if it went into overtime. Playing against teams like Louisville, high-tempo and pressure teams that are similar to your style brings out the best in both teams and should mean for definitely a good game Monday.''
A good game indeed. Get your popcorn ready folks. We are in for a doozie Monday night.