Wild on Sports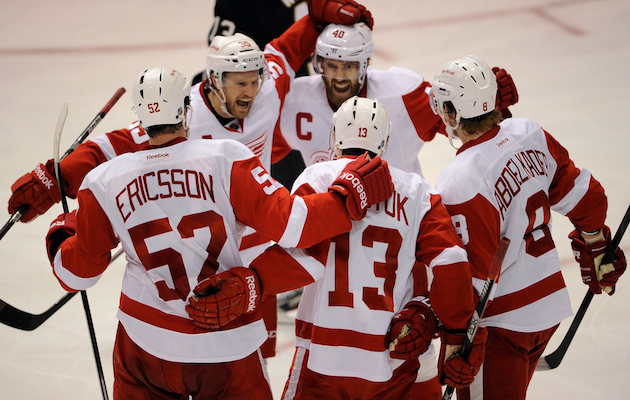 A Not So Ice Life
By Wild on Sports Analyst Brian Peirce
I just had to write about this potential story even though there is the biggest Regular season game since the 90s for the Detroit Red Wings being played in Dallas. Detroit has already lost big, in a fashion that blows away any game or playoff streak. It is an epic mistake, which is 1000 times worse than making a bad trade, and so much worse than the bad contracts signed in the past year by GM Ken Holland. The Detroit Red Wings have made the type of mistake that could cripple the future of the franchise, and I as a fan have never been angrier.
What happened? Well Darren Dreger is reporting that on Monday, Jim Nill Assistant GM of the Detroit Red Wings and prized front office mastermind will become the GM of the Dallas Stars. If this report is true, they will have lost a member of the team which has been so valuable that they have promised him Ken Holland's job as soon as he retired. This guy is considered by some to be better than Holland in terms of player evaluation, and in the very least he has been targeted routinely for the better part of a decade to be a GM. This is where the anger comes from in this news.
After Hakan Andersson, no other member of the team is credited with helping shape the excellent drafting history of the Red Wings. Holland gets credit for some blockbuster trades and signings, but Nill was said to be the mastermind of the futures and someone Holland trusted so much he would block other teams from even talking to Nill for the job. This is considered a very "dick move" to block someone from job opportunities and makes a team look awful to do it normally, but Jim was supposedly promised the big job in Detroit as soon as Holland retired. They may have even told him as early as a year ago that they wanted him to stay here, and promised it once again. The worst of it is that while they kept him under his contracts here, promising him the keys, Holland kept saying that he was looking to retire when Lidstrom retired.
If you kept people from promoting your guy, and promised him a job with a date in mind you have to give that guy the job. You are only as good as your word. It seems apparent to me that when Ken Holland did not retire, Nill got stabbed in the back and now is going to Dallas to take a worse GM job. Ken Holland had an awful post Lidstrom year, and his signings in the off season are the worst ones, in my opinion, I have seen in Detroit. He should have retired as he said. I assumed that he would retire after this year, but he made no indication and now it seems that he can't retire because now because they have to try and find the next-next guy now.
As I write this, the Wings are in a 0-0 tie in Dallas, and Columbus just got a goal against waived off and fans are getting antsy about a 22 season playoff streak. The smart fan should be more worried about the next 20 years without Nill than a one-year streak extension that likely will lead to an early playoff exit anyways. An organization that usually is the classiest and smartest when dealing with their own has done a 180 from that reputation. If that doesn't scare you as a Red Wings fan, I think you know nothing of hockey. Nill will never say a bad thing about Detroit, but I will apologize anyways. I really wish you were handling the offseason this year instead. I trust you far more now than I do the great Ken Holland.