Wild on Sports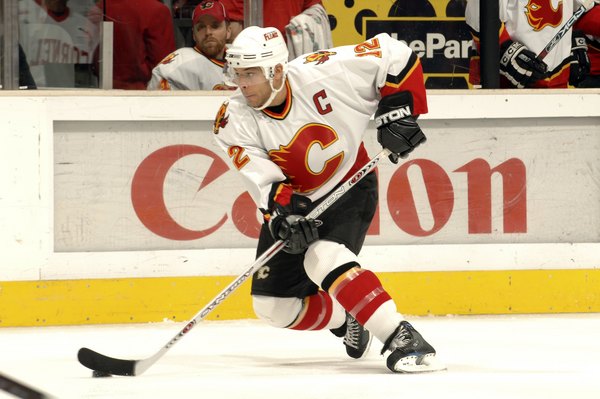 NHL Trade Deadline Preview: Calgary Flames
By Wild on Sports Analyst Brian Peirce
I said I was going to write about the Ducks next, but I figured I would wait and watch another full game with them tonight on local television to see if there is anything in particular they reveal.
The Flames deserve some time because, as I said, there aren't many teams in need of a total shakeup like the flames. This is well documented and it feels like the Flames are one of those teams that would need a remarkable winning streak to make the playoffs, so I think it is safe to say this team is a seller. Like Buffalo, who I profiled yesterday, they really have made some bad choices with their money which has minimalized the good young players in the system. Also, like Buffalo, they have a big name goaltender that has not been on the top of his game this year.
Kiprusoff could be a player to be moved as his no movement clause has expired and he is fair game right now. You would have to find someone who wants to take on 5.833 million dollars in the upcoming cap crunch. There might be a few teams out there willing to do that, but usually those aren't teams that are one goaltender away from being a contender. I am sure someone will kick the tires on this one; however it seems reasonable that the only team looking to get Kipper would be one desperate for goaltending. I am sitting here thinking about all the goaltender situations and few jump into mind. Perhaps if Dan Ellis, who was just injured last night with a leg cut, is out for a long period of time Carolina could possibly go after him if they were desperate to make the playoffs, but even that would mess up their future plans. I have to consider him a buyout candidate right now. Buffalo could consider it if they move Miller as a saving face move, again I doubt it. The rumors suggest Chicago or San Jose might be interested and that just makes me laugh because they need the cap space too bad.
The other major piece they could deal is Iginla. This guy is the face of their franchise and still a strong goal scorer that could change a team. He can add ability to score by adding top end talent changing the top two lines. Mind you that his best days are behind him and he is a very expensive rental with a NMC. He is a hot player right now with 21 points in 28 games who is a proven veteran scorer. Many teams covet this and with a small group of sellers I expect him to be moved this year for a king's ransoms.
Coincidentally, the Kings are linked to Iginla and the owner just OK'd the Kings to spend up to the cap as necessary. Boston is also hot on him if you listen to rumors, and the Red Wings have been heard to be interested in him for a long time. However, I would consider every team in the league that is a buyer to be a potential stop if it wasn't for the NMC. He will have the choice to veto any trade so I would consider Eastern teams with a strong roster as potential spots. He also has never played with an amazing set up center, so he might feel intrigued to see what he could do on a great line.
Beyond the two big pieces the Flames have a ton of value in trade and could end up with a ton of picks in a deep draft next year. Only Roman Cervenka, Blake Comeau, Steve Begin (who is a dirty player), Brian McGrattan, Joey MacDonald, and Anton Babchuk are UFA next season. None of those players strike me as rentals outside of Babchuk and Comeau. Anton and Blake could fetch a couple of decent picks in a thinner market even though Anton has shoulder issues. He is a right handed large defenseman who needs to settle his game down which could be valuable for depth. Blake is setting himself to be like Stafford in Buffalo to be a depth scoring option.
The team right now is getting some players hot in Hudler, Glencross, Cammalleri, and Stempniak. I don't think anyone is going to line up to take Hudler's awful contract and the others all have some form of NTC outside of Stempniak. Any of them being moved wouldn't surprise me though. Alex Tanguay remains one of my favourite discounted forwards. He always seems to make less than market value and put up decent numbers, but he clearly likes Calgary so I believe he would want to stay there unless it clearly is a total rebuild.
On defense Bouwmeester is always rumored to be moved because he hasn't lived up to an absurd 6.68 million dollar contract that still has another year on it. He still could help a team willing to eat that salary, or maybe Calgary would keep half of his salary as they are close to the 44 million dollar floor for next season and trading Jay or Miikka would put them below the floor. There should also be interest in both Giordano and Wideman, but Calgary will likely want to keep them to build the back end around. I also could see Sarich as a shrewd pick up for some team at the deadline with another year at 2 million he is a physical stay at home guy, and what team couldn't use another one of those to stash at 7th or 8th on the depth chart?
I wouldn't be surprised if they moved 5-10 players off the roster if they can find the right deals, but I would bet on at least two players being shipped out. Really if they do that, they likely will end up having to give some crummy players big deals just to hit the floor, so who knows what is best for them. I think it is time to blow it up.