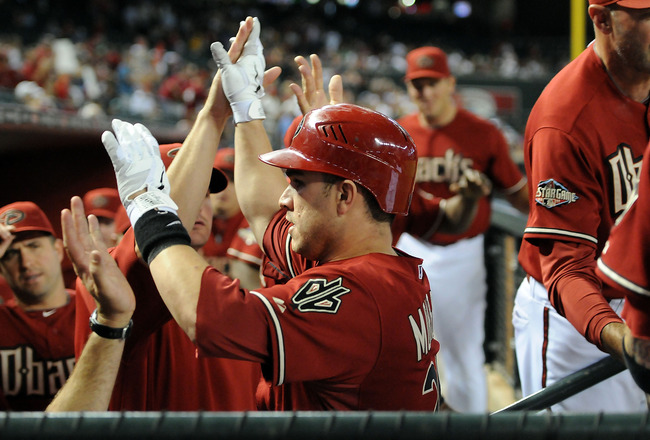 MLB 2013 Team Preview: Arizona Diamondbacks

By Wild on Sports Baseball Analyst Aaron Dorman
Arizona Diamondbacks
2012 Record:
81-81
The Diamondbacks continued their up-and-down see saw in the standings, leading to a dramatic winter overhaul.
NOTABLE ADDITIONS:
Martin Prado, Brandon McCarthy, Cody Ross, Didi Gregorius, Cliff Pennington
NOTABLE LOSSES:
Justin Upton, Chris Young, Trevor Bauer
KEYS TO SUCCESS:

How does Arizona resolve their outfield logjam? They have about six players who either deserve or are paid to be full-time players, even after trading Upton. Don't forget that not only did they sign Cody Ross, but also Eric Hinske and Eric Chavez. How much rope does Cody Ross or Jason Kubel get considering guys like Adam Eaton or AJ Pollock could be better? What is the health status of Brandon McCarthy and Dan Hudson? With Arizona's impressive rotation depth, it will be interesting to see whether the "losers" for the final few slots move to the bullpen or go back to AAA. Will Arizona reward seniority (Pat Corbin, Josh Collmenter) or upside (Tyler Skaggs)? Aaron Hill and Martin Prado got big extensions off their big bounce back seasons-but can they repeat their success going forward?
Prospect Watch:
Prospect Key
TBD= Work in Progress
X= Posses the Tool
XX= Excels at Tool
TYLER SKAGGS, LHP (rookie watch):
| | | | | | |
| --- | --- | --- | --- | --- | --- |
| Velocity | Second Stuff | Command | Control | Strikeouts | Health |
| x | xx | x | x | x | x |
Skaggs is the best left-handed pitching prospect in baseball, complementing a solid fastball with a tremendous curveball and change-up to put away minor league (and soon major league) batters. Last year his K-rate dropped from 2011's amazing 11.3/9 down a still-strong 8.5, as he went 9-6 with a 2.87 ERA in 22 starts between AA Mobile and AAA Reno. His numbers were identical at both stops but his AAA time is most impressive considering the difficult pitching environment. There may or may not be room initially in the rotation for Skaggs, but pitchers get hurt, and Skaggs should get plenty of starts for Arizona this year.
ADAM EATON, OF (rookie watch):
| | | | | | |
| --- | --- | --- | --- | --- | --- |
| Power | Speed | Hitting | Plate Discipline | Defense | Arm |
| | x | xx | xx | TBD | x |
Eaton, 24, is an ideal leadoff hitter who has burned his way through the minors and is ready to play everyday for Arizona. Unfortunately he may be blocked by lesser players. Eaton hit .376/.456/.523 with 7 HR, 44 SB, and 130 RS for AAA Reno. He led the minor leagues in batting, hits, runs scored, and doubles (47), showing that he at least has gap power, but could hit 10-15 Home Runs. Eaton finished strong in the majors as well, with a .382 OBP in just over 100 PA for the D-backs. He's a career .355 hitter in the minors, so this isn't a fluke. He's someone to get excited about.
MATT DAVIDSON, 3B:
| | | | | | |
| --- | --- | --- | --- | --- | --- |
| Power | Speed | Hitting | Plate Discipline | Defense | Arm |
| | | | x | TBD | |
Davidson is a big right-handed power hitter who has been getting better at his nominal position, third base, but is now blocked by Martin Prado for a while. Last year in AA-Mobile he hit .261/.367/.469 with 23 HR, 76 RBI, and 69 BB. He struck out over 120 times for the third straight year, and he'll probably always have a low batting average, but his walk rate is improving and is now a strong part of his overall offensive package. Davidson is only 22 so he has time to adjust his approach, but he passed the "AA test" so he's a solid bet to be an everyday player, particularly if he stays at third.
DIDI GREGORIUS, SS (rookie watch):
| | | | | | |
| --- | --- | --- | --- | --- | --- |
| Power | Speed | Hitting | Plate Discipline | Defense | Arm |
| | TBD | | | xx | x |
Gregorius is considered by scouts to be a strong defensive shortstop, and he is ready to play in the majors, but it remains a mystery why he is so highly regarded overall. Gregorius' tools simply do not show up in the box score-he has speed but only stole 3 bases (20 is his high point). He has gap power but his career high HR output is…7. Last year between AA-AAA he hit an uninspiring .265/.324/.393 in 129 games, which is just slightly above his career marks. A generous take is that he currently "hits okay for a shortstop", a glove man whose bat is not so bad that you would notice. Because he has speed, has shown flashes of power, and walks every now and then, there is some upside, but it would be a surprise if he ever was an asset offensively. Gregorius is a fine prospect, but he was traded for someone who could be an ace in Trevor Bauer, and that is an inexcusably bad decision, even if Arizona needed a shortstop and even if some evaluators think Gregorius is a low-risk to disappoint. Kevin Towers embarrassingly called Gregorius a "young Jeter." When Derek Jeter was 22, the same age as Gregorius last year, he hit .314 with the Yankees and won Rookie of the Year. Do not expect such things from Didi, even if he has an award-winning name.
ARCHIE BRADLEY, RHP:
| | | | | | |
| --- | --- | --- | --- | --- | --- |
| Velocity | Second Stuff | Command | Control | Strikeouts | Health |
| xx | TBD | | | xx | x |
Bradley was the second of two picks Arizona had in the first seven selections of the 2011 draft, and while he still has the potential to be an ace, much like his first-round (and now traded) partner Trevor Bauer, Bradley's introduction to pro ball was much more uneven. His overall numbers are fine: 12-6 with a 3.84 ERA in 136 IP for low-A South Bend. However, he's a wild one, having yet to fully complement his blazing fastball or command his pitches enough to dominate for more than short stretches. He struck out 152 batters, a 10.1 K/9, but also walked 84, which was the fifth-highest total in the minors. In low-A, Bradley was in the top five in both K/9 and BB/9 among qualifiers. That shows how much potential he has…and how far he has to go.
CHRIS OWINGS, SS:
| | | | | | |
| --- | --- | --- | --- | --- | --- |
| Power | Speed | Hitting | Plate Discipline | Defense | Arm |
| x | TBD | | | | x |
Owings is not the defender Gregorius is. In fact, scouts think he might have to move to third base or second if he doesn't improve. But he's only 21 and offers a potential more interesting bat than Didi's. Owings swings at everything-strikeouts against just 24 walks-but he has intriguing power for a shortstop, hitting .290/.323/.452 with 17 HR and 12 SB between High-A-Visalia and AA-Mobile. His numbers are boosted by a stronger stint with High-A Visalia (he hit over .320 there), but a 20-year-old in AA is impressive no matter what. Owings will probably repeat AA this year and try to work on his plate discipline, which is bad enough that he might not be an every-day player without major improvement. He has time.
2012 Top Draft Pick:
Stryker Trahan, C

Sleeper MLB Contributor:
Outfielder AJ POLLOCK isn't quite the player Adam Eaton is, but he's too good and too ready to stay in AAA, and ought to be somehow squeezed onto the big league roster.

2013 Outlook and Projection:
The Diamondbacks had a strange winter. They made a series of redundant, perplexing moves, hemorrhaging talent in senseless ways, at yet at the start of Spring Training they still look like a reasonably strong team. This is a real testament to the core talent base put in place by previous regimes before Kevin Towers arrived; Towers has drafted well and succeeded at the margins (bench, bullpen) but he may be damaging the team with his excessive tinkering. Some GMs are unfairly criticized for trading away fan favorites or destabilizing the team by making too many trades (this is what ruined Paul Depodesta's short tenure in Los Angeles), but Kevin Towers' moves, such as overpaying for Jason Kubel and Cody Ross in back-to-back seasons (needing neither one), are not based on advanced statistics or some broad view of team-building…at least they don't appear to be. The major error of the offseason was trading away Justin Upton, admittedly an up-and-down player, but one who is still young and possesses latent MVP talent in any given year for the forseeable future. Martin Prado, the biggest name in the trade with Atlanta, is a good player…but the Diamondbacks have a solid prospect in Matt Davidson who could be ready by next year, so they didn't need to give away Upton to cover that need. The other players in the trade are quite marginal, a smattering of second-tier prospects who most likely will not amount to very much. The Diamondbacks had two orders of business to compete with the Giants and Dodgers this winter: plug the hole at shortstop and deal with their outfield clutter. To the first priority, they simple hoarded mediocre defense-first players. In the outfield, they traded away the wrong guy in Upton and added Ross on a ridiculous contract. Gerardo Parra and Adam Eaton are their best outfielders but only one will play every day. Even their best move of the offseason, signing Brandon McCarthy was unnecessary-their rotation was already deep and talented. The 2013 Arizona Diamondbacks right now look like a solid team with no holes, but few (or zero) players with star upside. They might need a fluky season or two from someone (40 HR from Paul Goldschmidt?) to avoid third place again, but it's also hard to see them falling out of the race.
LIKELY CONTENDERS