Wild on Sports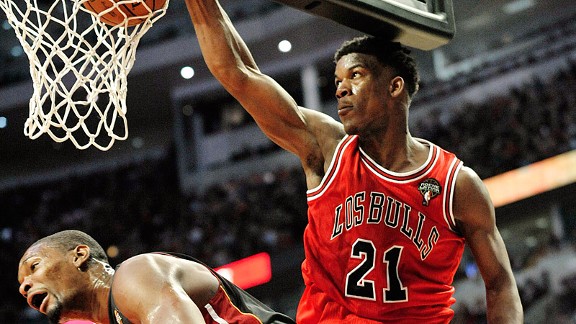 Hoopshysteria Weekly Blog - Bulls Show Horns
By Wild on Sports NBA Columnist Talyon Perry
After 27 straight games the streak has come to an end. The Miami Heat fell to the Bulls who were without Joakim Noah and no return from Derrick Rose yet. As far as they got they still came up six games short of the NBA record held by the Lakers. On a positive side the Heat's starters will get a much needed rest that they might not have received.
Across the country the Lakers have fallen flatter than Jason Terry trying to stop a dunk, and only sit half a game above Utah in the standings. It doesn't help that they lost Metta World Peace for 6 weeks (and most likely the season). With things coming down to the wire we will see who plays better under pressure the Lakers or the Jazz.
For our weekend preview we start off with a Friday matchup between the Clippers and the Spurs. Two of the top 3 teams in the western conference. Look for Lob City to make a statement before playoff time.
Saturday will excite with a game between the Mavs and the Bulls. Remember that Dallas isn't completely out of the playoff picture either, but the Bulls coming off a great win over Miami will be almost impossible to beat (especially is either Noah or Rose return).
Sunday's matchup is between the Heat and the Spurs. Watch to see how the Heat respond to coming up short of the record. Will they get pay back by sitting their starters? (Like the spurs did against the heat early this season) If your team is sitting pretty or stuck at the bottom there is always the last bit of college basketball to entertain you. Could this be the year a team like Wichita wins it all?