Wild on Sports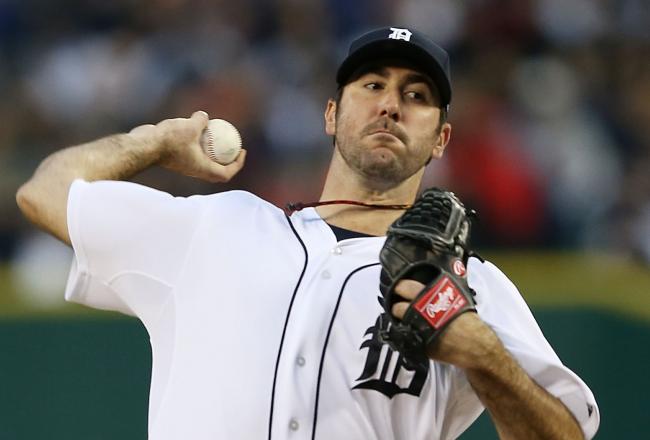 MLB Team Preview: Detroit Tigers
By Wild on Sports Baseball Analyst Aaron Dorman
Detroit Tigers
2012 Record:
88-74, won AL Pennant, lost WS
RECAP: The top-heavy Tigers won out in a weak division, then let their pitching carry them to the World Series, and third basemen Miguel Cabrera 'won' the Triple Crown, the first player to achieve this since Carl Yastrzemski in 1967.
NOTABLE ADDITIONS: CF Torii Hunter, C Victor Martinez (from the DL)
NOTABLE LOSSES: CL Jose Valverde
Keys to Success: Can Bruce Rondon step in as the Tigers' closer? Jose Valverde was mediocre, and Rondon throws hard, but he carries a lot of risk (see below). The Tigers are a very thin team offensively, so healthy and productive seasons from Torii Hunter and Victor Martinez are important.. Also, Alex Avila has yet to establish himself definitely as a player. Is he the star of 2011 or the merely adequate everyday catcher of 2012? And can either Max Scherzer or Anibal Sanchez take a step up to near ace-level pitching?
PROSPECT WATCH
Prospect Key:
TBD= Work in Progress
X= Posses the Tool
XX= Excel at Tool

NICK CASTELLANOS, OF (rookie watch):
| | | | | | |
| --- | --- | --- | --- | --- | --- |
| Power | Speed | Hitting | Plate Discipline | Defense | Arm |
| x | | xx | | x | TBD |
Castellanos went nuts for two months with high-A Lakeland, hitting .405 and shooting balls into the gaps, making good on his promising scouting reports. His adjustment to AA was a bit rough, however, as he got more aggressive and saw his average drop to .264. Overall on the season he hit 10 home runs and 32 doubles (4 triples), and at age 21 he could easily develop into a significant power threat. He moved from third base to the outfield, which shortened his timetable to the big leagues, but the Tigers should exercise caution. Perhaps recently departed Delmon Young will serve as a cautionary tale for them, a lesson about what happens when a potential batting champion never learns the strike zone.
BRUCE RONDON, RHP (reliever, rookie watch):
| | | | | | |
| --- | --- | --- | --- | --- | --- |
| Velocity | Second Stuff | Command | Control | Strikeouts | Health |
| xx | | | TBD | x | x |
Rondon throws are hard as any pitcher out there, but that's all he does. His limited repertoire was enough to carve up minor leaguers to the tune of a 1.53 ERA and 66 K in 53 IP, but his last month at AAA Toledo was mediocre. The Tigers are counting him to succeed in Detroit right away next year. Sometimes pitchers like that can still thrive easily, but there's plenty of risk. Limited effectiveness, along the lines of Matt Lindstrom or Bobby Parnell (to name two pitchers who sometimes hit triple digits) could still leave the Tigers looking for someone more reliable.
AVISAIL GARCIA, OF (rookie watch):
| | | | | | |
| --- | --- | --- | --- | --- | --- |
| Power | Speed | Hitting | Plate Discipline | Defense | Arm |
| x | x | TBD | | x | |
Garcia has tools and enjoyed a nice 50 at-bat audition at the end of the year for the Tigers, but he was rushed and is a long-shot to be an effective everyday player. His .299/.333/.455 slash line between High-A Lakeland and AA-Erie looks good enough. And he showed a good power/speed mix at both levels. But his 18/95 BB/K ratio shows marginal plate discipline, and this is actually an improvement over previously dismal pitch recognition (46 BB and 317 Ks over the three prior years). Very few players can swing at everything and get away with it, and Garcia is young and talented, but not so young and so talented that you'd think he could get away with his current approach. He is a rookie to watch only because the Tigers seem insistent on rushing him this year.
2012 Top Draft Pick: Jake Thompson, RHP
Sleeper MLB Contributor: CASEY CROSBY is a hard throwing lefty who's been held back by injuries but could still surprise.
Overall Outlook and Projection: The Tigers have strong pitching and possibly the strongest collection of top-tier talent in the major leagues. Justin Verlander is arguably the best pitcher in baseball and Miguel Cabrera is arguably the best hitter (too bad his fielding is awful). Nobody seemed to notice Austin Jackson's emergence to stardom last year, but the Tigers don't mind, they will benefit from his production all the same. The rest of the division is still weak, and there is no reason to expect anyone to have a significant drop-off. Max Scherzer's strikeout rates indicate a pitcher who is threatening to take his pitching to a new level of dominance, or at least enjoy a year or two of a special peak.