Wild on Sports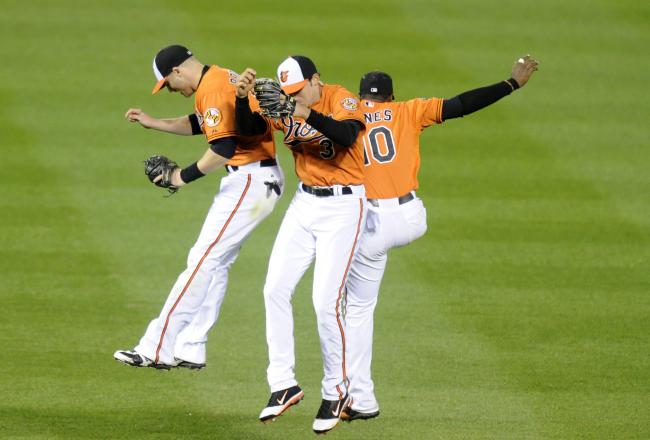 MLB 2013 Team Preview: Baltimore Orioles
By: Wild on Sports Baseball Analyst Aaron Dorman
BALTIMORE ORIOLES
2012 Record: 93-69, won WC, lost in ALDS
RECAP: The Orioles surprised everyone and never faded, thanks to a strong bullpen, surprise late-season contributors, and lots and lots of luck.
NOTABLE ADDITIONS: Jair Jurrjens
NOTABLE SUBTRACTIONS: Mark Reynolds
Keys to success: The Orioles will need full seasons from their better pitchers, specifically Jason Hammel, Miguel Gonzalez and Chris Tillman, in order to have a prayer of contending next year. Third basemen Manny Machado has the talent to become a star-caliber player quickly, and the Orioles might need him to surprise ala Mike Trout in the worst way. They also can't afford any drop in production from some their 2012 surprises like pitcher Wei-Yin Chen and third-basemen Chris Davis.
PROSPECT WATCH
Prospect Key:
TBD= Work in Progress
X= Posses the Tool
XX= Excel at Tool

DYLAN BUNDY, RHP (ROOKIE WATCH):
| | | | | | |
| --- | --- | --- | --- | --- | --- |
| Velocity | Second Stuff | Command | Control | Strikeouts | Health |
| xx | xx | x | x | xx | x |
Bundy is arguably the best pitching prospect in baseball after a superlative debut season with scouting reports to match. He started out the year allowing 5 hits in 30 innings with low-A Delmarva, and carved up three levels going 9-3 overall with a 2.08 ERA and 119 strikeouts in 103.2 innings. He even ended the season with a cup of coffee on the major league team. Bundy was taken fourth overall in the 2011 draft and features a 98+ mph fastball and at least two other pitches, his curve and changeup, which could be anywhere from above-average to top notch. He could get a serious look at a rotation spot during spring training.
KEVIN GAUSMAN, RHP:
| | | | | | |
| --- | --- | --- | --- | --- | --- |
| Velocity | Second Stuff | Command | Control | Strikeouts | Health |
| x | TBD | TBD | x | x | x |
The Orioles top pick from the 2012 draft, Gausman is a long way away but showed potential in a brief debut last year, and possesses the upside of an ace of no. 2 starter. He's a power pitcher who is still working on his secondary offerings but his 1/13 BB/K ratio in 15 professional innings last year indicates good control and the ability to put batters away. 2013 will further establish whether he profiles as a mid-rotation starter or future ace.
LJ HOES (ROOKIE WATCH), 2B/OF:
| | | | | | |
| --- | --- | --- | --- | --- | --- |
| Power | Speed | Hitting | On-base ability | Defense | Arm |
| | x | x | x | x | |
Hoes has hit .294/.373/.398 over the better part of two seasons in the upper minors (AA-AAA), and his 1.2 K/BB ratio is excellent for a hitter. He gets on base, but he doesn't have much power and his speed is just average (he's stolen 20 bases each in 2011 and 2012, but he's also been caught stealing too many times). Although he might be a better option for playing time at second-projected started Alexi Casilla is terrible-Hoes will probably never be a star.
TSUYOSHI WADA, LHP (ROOKIE WATCH):
| | | | | | |
| --- | --- | --- | --- | --- | --- |
| Velocity | Second Stuff | Command | Control | Strikeouts | Health |
| | x | x | x | x | TBD |
The 33-year-old Wada is an unusual "prospect" and is mostly forgotten after missing the entire 2012 season with Tommy John surgery. But prior to that, the Orioles signed him to a 2-year, 8.15 million deal, on the strength of excellent numbers in the Japan Pacific League. His last year in Japan he went 16-5 with a 1.51 ERA and 168 strikeouts in 185 innings. He is set to return sometime in May or June, and could contribute down the stretch
Top 2012 Draft pick: Gausman
Sleeper MLB Contributor: JONATHAN SCHOOP, SS/2B, has been young for his level and could press for playing time if his power develops
2013 OVERVIEW AND PROJECTION: Last year, the Orioles surprised everyone except Buck Showalter by contending and eventually winning the wild card. It was a mirage: their runs scored/runs allowed indicates last year they had the talent of a .500 team. Typically teams that outplay their projection like that enjoyed fluky seasons from their bullpen, and the Orioles were no exception. None of the returning corps-Jim Johnson, Darren O'Day, et al-inspires confidence in a repeat performance the magnitude of 2012. Strangely, management chose this winter to sit on their butts and do almost nothing. Jair Jurrjens barely counts as a significant addition and their highest profile offensive move was the retention of Nate McLouth, a surprising contributor to their late postseason run who might easily slide back to AAAA fodder this year. It's hard to know what players were available or interested in joining the team, but to do nothing shows a surprising lack of creativity. I also think shortstop JJ Hardy is strangely overvalued by the Orioles' staff considering their most exciting young player, Machado, also plays the position. Nevertheless, what saves them is a still-strong nucleus of young players, the potential for solid young pitching to improve. None of the returning hitters should be worse, and some, like Machado, could be better. Although Miguel Gonzalez could turn into a pumpkin, youngsters Zach Britton, Chris Tillman, and Dylan Bundy (when he arrives) could keep the Orioles in contention.