Wild on Sports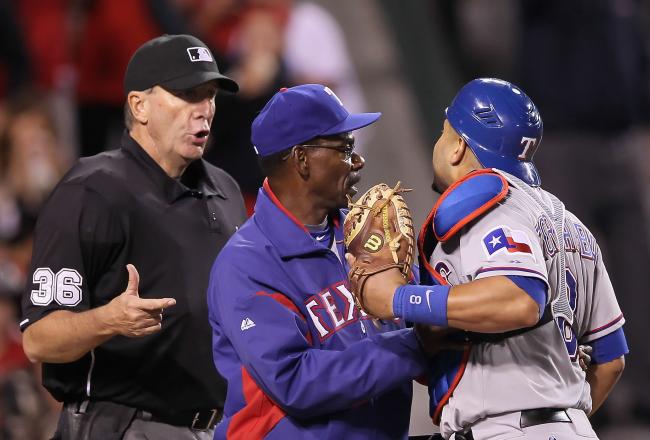 MLB 2013 Team Preview: Texas Rangers
By Wild on Sports Baseball Analyst Aaron Dorman
Texas Rangers
2012 Record: 93-69, lost WC
The Rangers looked primed to threepeat as pennant winners but faded badly in September and lost a disappointing wild card tiebreaker against the upstart Athletics.
NOTABLE ADDITIONS: AJ Pierzynski, Lance Berkman
NOTABLE LOSSES: Josh Hamilton, Mike Young, Mike Adams, Koji Uehara
Keys to Success: Can the Rangers find room for top prospect Jurickson Profar without hurting the team? Moving Ian Kinsler to first base might work. There has also been talking of shifting Elvis Andrus to center field. Will they lose Nelson Cruz for 50 games? How much will Lance Berkman play without getting hurt? Who will replace Josh Hamilton's playing time among their outfield prospects? Will Alexi Ogando start or relieve?
Prospect Watch:
Prospect Key:
TBD= Work in Progress
X= Posses the Tool
XX= Excels at Tool
JURICKSON PROFAR, SS:
| | | | | | |
| --- | --- | --- | --- | --- | --- |
| Power | Speed | Hitting | Plate Discipline | Defense | Arm |
| x | x | x | x | x | x |
Profar is the best prospect in baseball. Last year as one of the youngest players in the upper minors (19), he hit .281/.368/.452 with 14 HR, 62 RBI, and 16 SB for AA-Frisco. He is ready right now to do well in the majors, and although he might not yet excel at any one tool (except possibly his batting eye), he also has no weaknesses and he should offer star-level production in the near future as he matures into more power/in-game speed/etc. This puts Texas in a funny position as their current shortstop, Elvis Andrus, is one of the best in the game, and in fact the other logical positions to switch him or Profar to-second and third-are covered by stars as well.
LEONYS MARTIN, OF:
| | | | | | |
| --- | --- | --- | --- | --- | --- |
| Power | Speed | Hitting | Plate Discipline | Defense | Arm |
| TBD | x | xx | x | x | TBD |
Only health concerns hold Martin back from being a major league contributor. In 55 games, the 24-year-old Martin hit .359/.422/.610 with 12 HR, 42 RBI, and 10 SB (but 9 CS) for AAA-Round Rock. That slugging percentage is misleading as Martin probably offers mostly gap power in the majors, although in Texas' park it wouldn't be a surprise to see him reach 20 HR…if he plays the whole season. The loss of Josh Hamilton opens up a place for him in the lineup and he is ready to succeed.
MIKE OLT, 3B:
| | | | | | |
| --- | --- | --- | --- | --- | --- |
| Power | Speed | Hitting | Plate Discipline | Defense | Arm |
| xx | | | x | x | x |
Olt was the subject of trade rumors all winter as his best position, third base, is taken up by Adrian Beltre in Texas. The Rangers still seem to like him enough to try him in the outfield or first base during the spring. He hit .288/.388/.579 with 28 HR and 82 RBI in just 95 games for AA-Frisco. Olt will be 24 next year, so he's not young for a top prospect, but he could be a classic slugger who doesn't hit for average but makes up for it with 70+ walks every year. That profile is more valuable at third base, but even so, Olt is another bat who could let fans forget Josh Hamilton over the next year or so.
MARTIN PEREZ, LHP:
| | | | | | |
| --- | --- | --- | --- | --- | --- |
| Velocity | Second Stuff | Command | Control | Strikeouts | Health |
| TBD | TBD | TBD | | x | x |
Perez deserves a write-up because he'd shown past flashes of dominance, and he's close to the majors, but everything is up in the air after a terrible season in AAA. The 21-year-old went 7-6 with a 4.25 ERA in 21 starts, but that masks some major red flags: a 4.9 K/9 and a 1.2 K/BB ratio (69/56), both numbers being well below average. Those numbers were not representative of his career, as throughout the minors, even when Perez struggled, he has fanned batters (7.7 K/9). His fastball is hard but not exceptionally so. He is still young, and left-handed, two things which give him a chance to show that his vacillating stuff and performance are concerns he can put behind him.
CODY BUCKEL, RHP:
| | | | | | |
| --- | --- | --- | --- | --- | --- |
| Fastball | Second Stuff | Command | Control | Strikeouts | Health |
| TBD | TBD | x | x | xx | x |
Buckel is nearly the opposite of Perez, a right-hander with mediocre but consistent offerings who nevertheless commands his pitches well and has thus far bested minor league hitters to the tune of a crazy 10.5 K/9 over 250 innings. Last year he split the season, first dominating High-A Myrtle Beach with a 1.31 ERA in 13 starts, then later holding his own at AA-Frisco (5-5 with a 3.78 ERA). Overall he went 10-8 with a 2.49 ERA and 159 strikeouts and 48 walks in 144.2 innings. Buckel's stuff, while not great, is still good enough to project him to succeed in the majors, although his ceiling is probably a mid-rotation starter.
2012 Top Draft Pick: Lewis Brinson, OF
Sleeper MLB Contributor: Texas has a number of intriguing relief prospects, but the best and closest to contributing is probably WILMER FONT who struck out 29 batters (!!!) in 15 innings at the end of the year for Texas.
2013 Outlook and Projection: This winter the Rangers lost two franchise faces in Hamilton and Young and will not miss either of them. In the latter's case, the Rangers will benefit from addition by subtraction, as Young was no longer an asset as a full-time player. His production was so bad, in fact, that he may have cost them wins. Replacing him with even an average DH will add enough production to mitigate the loss of Hamilton. Speaking of, the Rangers have so much young talent that losing Hamilton, and even Nelson Cruz for 50 games (if that happens), will not hurt as much as people might think. The perception is the Rangers had a terrible winter as they lost Hamilton and "lost" the Zach Greinke bidding war, but the reality is doing nothing is a fine strategy for a team that probably has the most impressive overall talent pool in baseball. They have no holes, plenty of depth, and plenty of promising young players who could erase memories of a relatively quiet winter.
STRONG CONTENDERS