Wild on Sports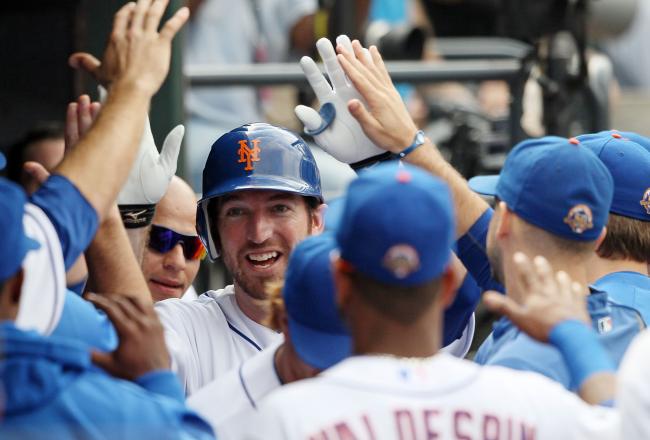 MLB 2013 Team Preview:
New York Mets
By Wild on Sports Baseball Analyst Aaron Dorman
New York Mets
2012 Record:
75-87
The Mets enjoyed a strong and competitive first half but attrition and a miserable July torpedoed their season. Last winter's budget was spent on a gaggle of awful relievers.
NOTABLE ADDITIONS: Shawn Marcum, Travis D'Arnaud (and Noah Syndergaard), an army of middle relievers and AAAA outfielders
NOTABLE LOSSES: RA Dickey, Mike Pelfrey, Jason Bay
Keys to

S

uccess:

Who will play in the outfield? The Mets currently don't have any full-time outfielders on the roster, although they could find some workable platoons. Can Lucas Duda hit like he did in 2011? He'll have to in order to make up for his awful defense, even though he's moving to left field. Can Ike Davis hit like he did in the second half? Can David Wright hit like he did in the first? Will Ruben Tejada be healthy all year long? When will top prospects Travis D'Arnaud and Zach Wheeler make their debut? Their success could put the Mets in a position to use next winter as an opportunity to build a contender again.
Prospect Watch:
Prospect Key
TBD= Work in Progress
X= Posses the Tool
XX= Excels at Tool
TRAVIS D'ARNAUD, C (rookie watch):
| | | | | | |
| --- | --- | --- | --- | --- | --- |
| Power | Speed | Hitting | Plate Discipline | Defense | Arm |
| x | | x | | x | x |
D'Arnaud is arguably the best catching prospect in baseball, and he's been traded twice already for two Cy-Young winners. He's probably done moving, and a move to the major is imminent after hitting .333/.380/.595 in 67 games with AAA-Las Vegas. Vegas is a great hitter's park, but d'Arnaud did well on the road so his line, while probably not repeatable in the majors, is still legitimate. D'Arnaud should hit for power and is a strong defensive catcher, both of which make him an elite prospect. Two red flags for the 24-year-old are his health issues-only 2 full seasons in the last 4 years-and his 19/59 BB/K in 303 PA. He's always been something of a hacker and so will probably have a low OBP in seasons when he doesn't hit .290+. The Mets are still happy to have him, as finding a good every day catcher is always tough.
ZACK WHEELER, RHP (rookie watch):
| | | | | | |
| --- | --- | --- | --- | --- | --- |
| Velocity | Second Stuff | Command | Control | Strikeouts | Health |
| x | x | x | TBD | x | x |
Wheeler, 23, is a near-ready of pitches and poise that indicate a future no. 2 starter. He figures to follow the path of fellow-Met Matt Harvey, fine-tuning his command in AAA for half a season before moving up to New York for good. Wheeler might be ahead of where Harvey was this time last year, as he's already made six good starts at AAA. Between AA-Binghamton and AAA-Buffalo, Wheeler went 12-8 with a 3.26 ERA and 148 strikeouts in 149 innings. Traded for Carlos Beltran in 2010, Wheeler's control took a major step up when he moved to the Mets, and he's shown no health concerns. He and Harvey could anchor the Mets rotation for the next decade.
NOAH SYNDERGAARD, RHP:
| | | | | | |
| --- | --- | --- | --- | --- | --- |
| Velocity | Second Stuff | Command | Control | Strikeouts | Health |
| x | TBD | x | x | x | x |
That the Mets got Syndergaard as well as D'Arnaud for knuckleballer RA Dickey is a real coup and a tremendous boost to their farm system. In fact, Syndergaard looks a lot like Wheeler before he was traded to the Mets-a talented right-hander with excellent velocity still working on his secondary pitches. As a teenager (19) for low-A Lansing he went 8-5 with a 2.60 ERA and 122 K in 103.2 IP. If he can maintain a K/BB ratio near 4 as he did last year, he will move quicker than expected.
WILMER FLORES, 3B/2B:
| | | | | | |
| --- | --- | --- | --- | --- | --- |
| Power | Speed | Hitting | Plate Discipline | Defense | Arm |
| TBD | | xx | | | |
Flores has been on prospect lists for a long time, it seems, as he was a high-profile international signing and he's moved slowly up the Mets pipeline. He reached AA-Binghamton in 2012, hitting .300/.349/.479 with 18 HR and 75 RBI between there and High-A St. Lucie. One thing that has always kept him on the radar is his exceptional contact ability, as he rarely strikes out (60 times in 547 PA) and looks good in the batter's box. Concerns about his power were mostly answered last year, but he's very slow and remains a candidate to move to first base in the future. That would put a lot of pressure on his bat. The Mets might try him at second base more often this year, after re-signing David Wright long-term. If Flores can hit at AAA this year, he might be most valuable to the Mets as trade bait for an outfielder.
2012

T

op

D

raft

P

ick:

Gavin Cecchini, SS
Sleeper MLB

C

ontributor:

RHP

JEURYS FAMILIA struggled as a starter last year but could thrive as a hard-throwing reliever, and he's very young.
2013 Outlook and Projection: The Mets are in an awkward position, hamstrung by bad contracts and insolvency. Although the owners claim their money troubles are over, the Mets payroll continues to drop, they continue to lose money, and their record continues to slide away from .500. Their GM, Sandy Alderson, has shown extreme caution and patience, which has worked at times, such as when he leveraged Carlos Beltran and RA Dickey (all three of their top prospects are from those two trades) into top-tier talent, but at times this approach has seemed uncreative and he may be missing out on some opportunities. Why, for example, was Scott Hairston allowed to play out the year in a Mets' uniform? Most damningly, the Mets got almost nothing for Jose Reyes, as the Miami Marlins had a protected first-round draft pick last year. Keeping Reyes through 2011 smelled badly of ownership interference. Will keeping David Wright around placate the fan base? Some veterans who will test Alderson's trigger finger include former Cy Young winner Johan Santana, Shawn Marcum, and John Buck. If you squint, you could see an interesting team come out of their roster. Their pitching is talented, and their infield is young. Still, even if things come together, they figure to repeat the pattern of years prior: start out well enough but see their lack of depth exposed as the season nears the trading deadline. This is a season to establish a group of players the Mets can build around.
Projection: REBUILDING (could contend by: 2014)