Wild on Sports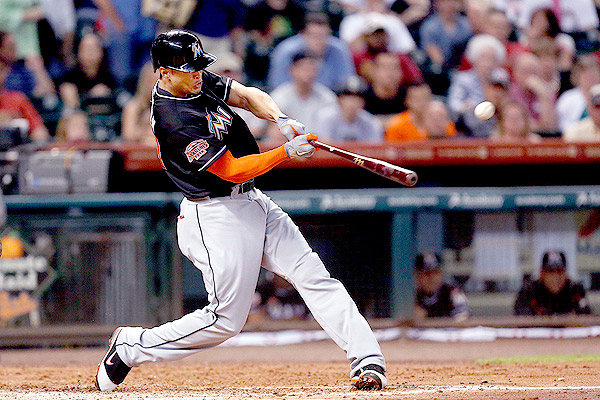 MLB 2013 Team Preview:

Miami Marlins




By Wild on Sports Baseball Analyst Aaron Dorman

Miami Marlins


2012 Record:

69-93

The Marlins were supposed to contend in a fancy new ballpark, and instead the "fish" completely tanked, spurring yet another absurd salary-dump and rebuild by baseball's worst ownership group.

NOTABLE ADDITIONS: unlucky prospects, cheap washed up veterans, money in the owner's pockets

NOTABLE LOSSES: Jose Reyes, Josh Johnson, Mark Buehrle, Emilio Bonifacio, John Buck, the faith of MLB and the Miami fanbase

Keys to

S

uccess:

Will Giancarlo Stanton sulk? How will Miami deal with their one remaining star? How long will they wait before they trade him away? If they are generous, Stanton will be dealt to a contender/real baseball team by midyear. Will Logan Morrison and Ricky Nolasco play well enough to be traded as well? In particular, will Morrison live up to his past potential? How real was Justin Ruggiano's half-season of greatness? Which if their rookie/sophomore pitchers will establish themselves? Will MLB finally force a sale of the team?

Prospect Watch:

Prospect Key

TBD= Work in Progress
X= Posses the Tool
XX= Excels at Tool

CHRISTIAN YELICH, OF:
| | | | | | |
| --- | --- | --- | --- | --- | --- |
| Power | Speed | Hitting | Plate Discipline | Defense | Arm |
| x | x | xx | x | x | |
Yelich is on the fast track to be the next all-star Marlin to be traded away. He has put up superlative hitting lines in his first two seasons since being draft in the first round. Last year at high-A Jupiter he hit .330/.404/.519 with 12 HR and 20 SB in just 397 at-bats. He hit plenty of doubles (29) and the Florida State League is a pitcher's haven, so his low HR total should not concern, he projects to hit 20-25 at least in the majors. He's fast, his defensive reps have been solid and he's only 21. A future batting champion, he could be in the opening day 2014 lineup for the Marlins, and the 2016 opening day lineup for your favorite team.
JOSE FERNANDEZ, RHP:
| | | | | | |
| --- | --- | --- | --- | --- | --- |
| Velocity | Second Stuff | Command | Control | Strikeouts | Health |
| xx | x | x | x | xx | x |
All things considered, Fernandez probably had the best season of any minor league pitcher last year. He looks like a future ace after going 14-1 with a 1.75 ERA in 25 starts with 158 K in 134 IP between low-A Greensboro and High-A Jupiter. Fernandez has a tremendous fastball and is among the best pitching prospects in baseball, despite going "only" 14th overall in last year's draft. Only his relative distance from the majors keeps him behind guys like Dylan Bundy or Shelby Miller in rankings. He could be the opening day starter in 2014 for the Marlins, and the opening day starter in 2016 for the Yankees.
JAKE MARISNICK, OF:
| | | | | | |
| --- | --- | --- | --- | --- | --- |
| Power | Speed | Hitting | Plate Discipline | Defense | Arm |
| x | x | | | x | x |
Marisnick was acquired from Toronto in this winter's megadeal/megadump. He's a good prospect but is still more tools than results as he hit just .249/.321/.399 with 8 HR, 50 RBI, and 24 SB in 489 at-bats with High-A Dunedin and AA New Hampshire. His AA exposure proved a real challenge as he hit just .233/.286/.336 there in half a season. He plays a good center field and plenty of potential, with a ceiling as a five-tool contributor in the major leagues. He hit as high as .320 in 2011 but last year shows that he will have to re-establish himself as a batting threat (he also struck out 100 times). He's only 22 so he has time.
JUSTIN NICOLINO, LHP:
| | | | | | |
| --- | --- | --- | --- | --- | --- |
| Velocity | Second Stuff | Command | Control | Strikeouts | Health |
| TBD | x | x | x | x | x |
Another Toronto import, Nicolino's advanced repertoire has been too much for low-A hitters, as last year he went 10-4 with a 2.46 ERA and had a stellar 119/24 K/BB ratio in 124.1 innings. His fastball is just average but he is only 20 years old so maintaining or even gaining velocity is a possibility. He shows incredible control for a pitcher as young as he is and could find the Florida State League is another opportunity to post video game stat lines before the real test of AA. He is far away from the majors but with his polish he easily projects to be no worse than a mid rotation starter in the future.
ROB BRANTLY, C (rookie watch):
| | | | | | |
| --- | --- | --- | --- | --- | --- |
| Power | Speed | Hitting | Plate Discipline | Defense | Arm |
| TBD | | x | | x | x |
Brantly was acquired in the trade that sent Anibal Sanchez (and Omar Infante) to Detroit. He plays a capable catcher and has posted interesting, if not incredibly strong, numbers in the minor leagues. Brantly hit .298/.348/.410 with 5 HR and 41 RBI in 362 AB between AA-AAA for both the Tigers and Marlins. He was better in AA (.311/.359/.461) but the sample size at each stop was small. He hit 10 HR in 2011 so he has some more power potential than he showed last year and he's only 23. Most encouraging was a successful major league debut, as he hit .290/.372/.460 in 100 AB at the end of the year with Miami, including 3 HR and 13 BB, which was nearly as much as he had drawn (20) in the minors. Brantly is fine defensively and if he hits .270-.280, he'll be at least an average everyday player.
ADEINY HECHAVARRIA, SS (rookie watch):
| | | | | | |
| --- | --- | --- | --- | --- | --- |
| Power | Speed | Hitting | Plate Discipline | Defense | Arm |
| | x | TBD | | x | x |
It is difficult to evaluate Hechavarria's offensive potential because he spent all of 2012 in AAA-Las Vegas, a great hitter's park in a hitter's league. He did not show major home/road splits while putting up a .311/.363/.423 line with 6 HR and 8 SB in 444 AB. The stolen base total is low but he has good speed and will probably add more to his totals. He might need to as his overall offensive game is still very suspect. He did very little in a major league audition at the end of the year: .229/.247/.314 with a putrid 1/23 B/K ratio in 70 AB). Those numbers are eerily similar to his line in AA-New Hampshire two years ago. His defensive reputation is strong and at worst, Hechavarria could be a defense-first hacker who occasionally hits above .260 and uses his speed to help compensate for other offensive shortcomings. It's not a tremendous package but Miami is counting on him to be their everyday shortstop this year.
2012

T

op

D

raft

P

ick:

Andrew Heaney,LHP
Sleeper MLB

C

ontributor:

3B ZACH COX had a terrible season, but a year ago he looked like an everyday third baseman, and Miami could have a steal on their hands as all it took to get him from St Louis was generic reliever Ed Mujica.
miami marlins preview:
2013

O

utlook and

P

rojection:
The Miami Marlins are a joke, one that is getting more or less funny depending on one's perspective. Certainly, teams in the AL East can't be very happy that Toronto was gifted half their roster. The number of fans in Miami was a short list to begin with, and they will stay away once again, although now with the knowledge that their tax-payer dollars went to fund a giant empty stadium with the ugliest ____ in sports. Technically, the Marlins now have a loaded farm system, with some talent on the way in the immediate future, but to what end? Jeff Loria has proven over and over again that he not only has no patience for a core to coalesce into a contender, but he doesn't really want to spend money to create a winning team. The Marlins were very bad last year but could have contended had they not made the trade with Toronto, and instead tried to add some veterans to plug their holes. It doesn't help that Loria his group are also liars, denying that they were going through another rebuilding phase after they traded away Hanley Ramirez and Anibal Sanchez last year, moves that, at the time, looked like they freed up money to sign free agents this winter…but Placido Polanco and Juan Pierre wasn't what fans had in mind. There are rumors that MLB and Bud Selig were very angry with the team this winter, and maybe another bad season could finally push them over the edge and force a sale. Until then, it is foolish to predict that the Marlins will be anything but a feeder outlet for the rest of baseball, letting prospects turn into stars and then trading them away before they cost any money. As a Mets fan, I am already excited about the possibility of trading for batting champion Christian Yelich in the winter of 2016.
REBUILDING (could contend by: whatever year a new owner steps in)