Wild on Sports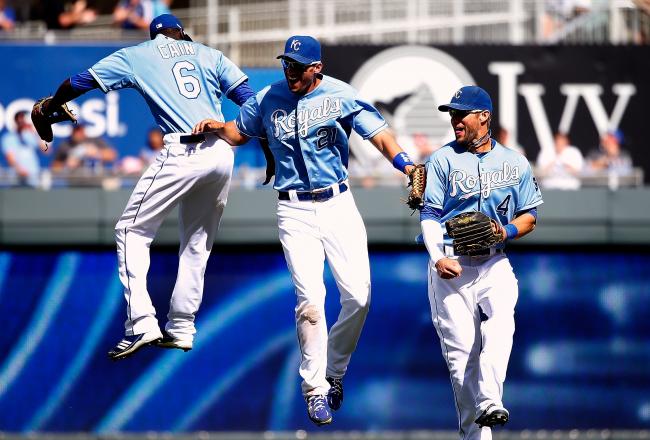 MLB 2013 Team Preview: Kansas City Royals
By Wild on Sports Baseball Analyst Aaron Dorman
Kansas City Royals
2012 Record:
72-90
Any mild pretenses to respectability were gone after several of their young players either failed to develop as hoped or took a step back. Except for two months of Jeremy Guthrie, nobody in the starting rotation was even average.
NOTABLE ADDITIONS: James Shields, Ervin Santana, Wade Davis
NOTABLE LOSSES: Wil Myers, some prospect depth
Keys to success: The pitching staff has more famous names now, but will it actually be good? That depends on Jeremy Guthrie and Ervin Santana, who must rebound from poor 2012 seasons (although Guthrie pitched well at the end of the year for Kansas City). What kind of production will they get from their outfield, aka are they seriously planning on contending with Jeff Francoeur as a full time player? Will any of their younger players develop into stars?
PROSPECT WATCH:
Prospect Key:
TBD= Work in Progress
X= Posses the Tool
XX= Excels at Tool
KYLE ZIMMER, RHP:
| | | | | | |
| --- | --- | --- | --- | --- | --- |
| Velocity | Second Stuff | Command | Control | Strikeouts | Health |
| x | x | x | x | x | x |
Zimmer, 21, is a rock solid pitching prospect, a strong mix of talent and polish. He was drafted fifth overall last year and is currently Kansas City's top prospect, although he is a long way away. He spent his summer debut in rookie-level ball, making nine starts in which he went 3-3 with a 2.09 ERA. He also struck out 42 batters (8 walks) in 39.2 innings, all signs of future dominance.
YORDANO VENTURA, RHP:
| | | | | | |
| --- | --- | --- | --- | --- | --- |
| Velocity | Second Stuff | Command | Control | Strikeouts | Health |
| x | TBD | TBD | x | x | x |
Ventura is closer to the majors than Zimmer and he throws very hard, but his secondary stuff is not as good. It is possible that he could help Kansas city in the bullpen later this year. Ventura spent most of 2012 in High-A Wilmington, where he went 3-5 with a 3.30 ERA and 98 strikeouts in just 76 innings. His last month at AA-Northwest Arkansas, he was not as effective, putting up a 4.60 ERA in 29 innings, although still generating strikeouts (25). He'll probably return there to start 2013.
BUBBA STARLING, OF:
| | | | | | |
| --- | --- | --- | --- | --- | --- |
| Power | Speed | Hitting | Plate Discipline | Defense | Arm |
| x | x | | TBD | x | x |
Bubba Starling was Kansas City's 2011 top draft pick, and he showed plenty of promise with rookie-level Burlington but also threw up some red flags which will slow down his timetable. Starling hit .275/.371/.485 with 10 HR and 10 SB, solid numbers in a hitting-rich league, but that batting average is misleading. Starling struck out a ridiculous 70 times in 200 at-bats, and pitchers could really take advantage of him at higher levels. Even so, there's plenty of time, and he could still hit .230-.250 and be an everyday player.
2012 Top Draft Pick: Zimmer
Sleeper MLB Contributor: CHRISTIAN COLON, 2B, is a former first-round pick who could become a league-average second basemen as soon as this year.
2013 OUTLOOK AND PREDICTIONS:
The Royals were very busy this offseason turning over their starting rotation, in anticipation of a competitive season. They've added four new starting pitchers since last July, leaving the last spot to whoever stinks least among their bad fifth starter options- Bruce Chen, Luke Hochevar, etc. The acquisition of James Shields, however, came at the cost of one of the top prospects in baseball, Wil Myers, and it's arguable that his replacing Jeff Francoeur, one of the worst everyday players in baseball, would have been more valuable than whoever Shields supplants, especially when you factor in money. Nevertheless, the Royals have enough young position players to expect improvement, adding to an already solid lineup core. Eric Hosmer especially should rebound back to at least his solid 2011 level of production, and he still has superstar potential. Still, asking a 72-win team to come together into a playoff-caliber unit is still a tall order, even one with a lot of latent talent.