Wild on Sports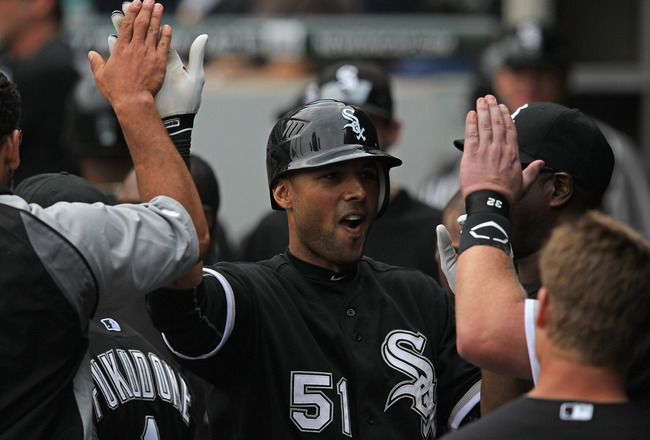 MLB Team Preview: Chicago White Sox
By Wild on Sports Baseball Analyst Aaron Dorman
Chicago White Sox
2012 Record:
84-78
Recap: The White Sox were a great story last year, contending thanks to rebound seasons from the expensive and previously disappointing trio of Jake Peavy, Adam Dunn, and Alex Rios. New manager Robin Ventura is a personal favorite of mine from his Mets years, so it was nice to see him succeed.
NOTABLE ADDITIONS: Jeff Keppinger
NOTABLE LOSSES: AJ Pierzynski, Kevin Youkilis
Keys to

S

uccess:

What will they get from the aforementioned trio this year? Health, age, and (especially in Rios' case) dedication all potentially threaten or cut short their new success, and with it, the White Sox'. John Danks could be this year's big resurrection story. Can Jeff Keppinger play every day at third base? Can catcher Tyler Flowers avoid striking out 200 times? Or will they have to dig up a retread in June to salvage the position?
PROSPECT WATCH:
Prospect Key:
TBD= Work in Progress
X= Posses the Tool
XX= Excels at Tool

JARED MITCHELL, OF (rookie watch):
| | | | | | |
| --- | --- | --- | --- | --- | --- |
| Power | Speed | Hitting | Plate Discipline | Defense | Arm |
| x | x | | x | x | x |
Mitchell as a first-round pick in 2009 and looked like a huge bust until a solid rebound season last year put him back on the map as a potential everyday outfielder, although one who still has major holes in his game. Last year Mitchell hit .237 with 11 HR, 67 RBI, and 21 SB between AA-AAA with plenty of walks and extra-base hits. That low batting average matches his career minor league totals in over 1000 at-bats. And while his 78 walks and .358 OBP are nice, his 179 K are not. In fact, no everyday big leaguer comes close to matching his 38% K/PA (strikeouts per plate appearance) in AAA. Only fellow White Sox slugger Adam Dunn comes close.
CESAR HERNANDEZ, INF (rookie watch):
| | | | | | |
| --- | --- | --- | --- | --- | --- |
| Power | Speed | Hitting | Plate Discipline | Defense | Arm |
| | x | x | x | x | |
Hernandez is a tiny middle infielder who is knocking on the door if/when the White Sox grow tired of Gordon Beckham's disappointing performances at second base. He's played some shortstop in the minors too but second base is his ultimate destination. The 21-year old hit .323 last year with 1 HR and 26 SB between three levels, although he only spent the last few weeks at AAA Charlotte. He strikes out a bit much (92 times) for a player with his lack of power but it's not a major concern.
JORDAN DANKS, OF (rookie watch):
| | | | | | |
| --- | --- | --- | --- | --- | --- |
| Power | Speed | Hitting | Plate Discipline | Defense | Arm |
| TBD | | | x | x | xx |
Danks, the brother of the White Sox' all-star pitcher John, has earned rave reviews for his outfield defense in the minors, but he's rarely hit well enough to be considered more than a spare part in the future. With a .317/.428/.514 slash line in 64 AAA games last year, Danks may finally have figured out hitting, but he was old for the league (25) and looked pretty useless in 50 games as a reserve for Chicago last year. He's awfully similar to outfielder Jason Pridie, another former prospect whose lack of hitting skills led him to bounce around as a AAAA defensive sub.
2012 Top Draft Pick: Courtney Hawkins, 3B
Sleeper MLB Contributor: Infielder TYLER SALADINO, 23, watched his power disappear last year at AA (.501 slg in 2011, .315 in 2012) but he's fast and gets on base, so he's another candidate for playing time in Chicago's mediocre middle infield.
2013 Outlook and Predictions: GM Ken Williams has an unconventional style of team construction which has often eluded accurate predictions. To give an example, the team bombed in 2011 following some big-money acquisitions (Dunn, Rios, et al), but then after it looked like Williams was rebuilding, letting long-time White Sox Mark Buehrle go to Miami, Chicago enjoyed a competitive season. With key players coming off injuries (Danks) or fluky seasons (Jose Quintana) and a smattering of youthful upside (Dayan Viciedo, Beckham???), another roller coaster ride could be in store for the south side.