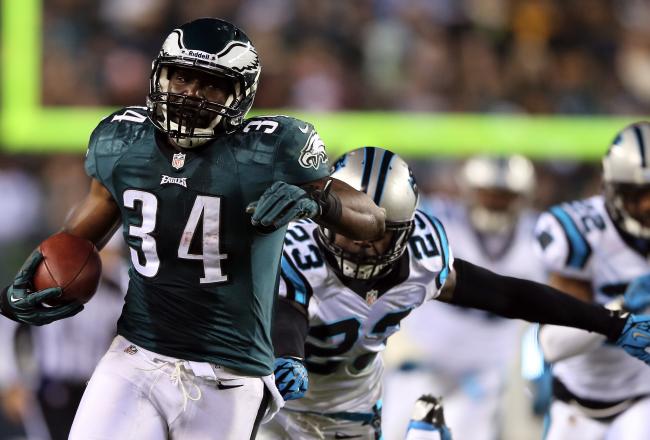 Week 13 Fantasy Football Wavier Wire Wonders

Fantasy playoffs are just around the corner! Now more than ever it is important to dominate the waiver wire to shore up your line-up for that championship run!

QB Colin Kaepernick - SF
*UPDATE 11/28 - Kaepernick named week 13 starter*
* What a strange situation in San Fan. The QB who led the team to the NFC Championship game last season and is in the top 5 in QBR this season very well may be the odd man out for the 49ers. In two weeks at the helm in SF, Kaepernick has found the end-zone five times (3 passing, 2 rushing) while turning the ball over just once. On top of that, he has beaten two playoff caliber teams in Chicago and New Orleans. With his ability to score both in the air and on the ground Kaepernick is a must play, assuming of course that he is named the starter.

RB Bryce Brown - PHI
LeSean McCoy owners listen carefully - this guy is a must have! Brown made his first career start Monday night for the injured McCoy and ran wild to the tune of 189 yards and 2 touchdowns. Brown, a 7th round pick from Kansas St. was and will remain the lone bright spot in the Eagles line-up until McCoy returns.

RB Knowshon Moreno - DEN
Many were surprised on Sunday when it was Moreno, not Ronnie Hillman, starting at running-back in place of the injured Willis McGahee. Moreno carried the ball 20 times and was on the field the most snaps of any back on the team. With McGahee's status still uncertain and when healthy a severe case of fumble-itus late in games, Moreno is a good player to have for those needing running-back depth.

WR Ty Hilton - IND
Hilton found the endzone twice on Sunday -- once through the air, once on a kick return. That gives him five touchdowns in the last four week for those of you keeping track at home. He is quickly becoming a great secondary option for Andrew Luck behind the often double teamed Reggie Wayne. With Wayne locked in one one side and Hilton splitting reps with Donnie Avery on the other side, Hilton may not yet be a must play, but in deeper leagues or leagues that give points for return yards he is a guy to keep an eye on.

TE Dallas Clark - TB
After a slow start, Clark is starting to become a key component to the Tamba Bay passing attack. After catching the game winner in OT in week eleven, Clark came back with another strong showing with 65 yards on Sunday. While he didn't find the endzone, Clark is emerging as the go to guy in the red zone (not named Doug Martin). Worth a look for those of you unhappy with your TE production.