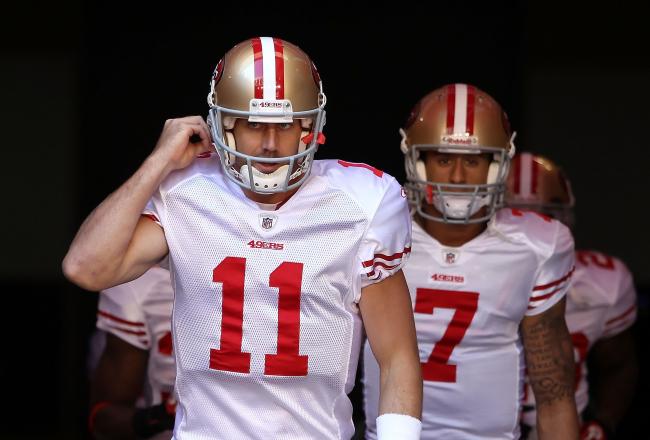 For five seasons Alex Smith left San Fransisco 49ers fans scratching their collective heads. After being taken 1st overall in the 2005 NFL draft the niners QB was pegged by sports writers across the country as the next Ryan Leaf, the next Akili Smith -- the next bust.

Insert Jim Harbaugh. After five years, a 19-31 record throwing 51 touchdowns ans 53 interceptions those numbers have improved drastically going 19-5-1, with 30 TDs to just 10 INTs -- A huge difference. Did the player get that much better in such a short time? Is it the system? Is Harbaugh the quarterback whisperer?

Fast forward to last night. Making his first career start for the injured Smith, Colin Kaepernick opened eyes everywhere picking apart a Chicago Bears defense that going into the game was one of the toughest defenses in the league to play against. Kaepernick dazzled to the tune of 16 of 23 for 263 yards and two touchdowns and a most impressive 97.5 QBR; the best rating by a QB in his first career start in the last five years; better than the likes on RGIII, Matt Ryan, Aaron Rodgers and how could we forget the great Tim Tebow.

Up until post-game Monday night all you would hear out of Harbaugh's mouth was commitment and high praise for Smith, who to his credit has the third best QB passer rating in the NFL through twelve weeks at 104.1 (trailing just Aaron Rodgers and Peyton Manning). Better than Kaeperkick's? Yes, but keep in mind Kaepernick put up those numbers against defensive player of the year candidate Charles Tillman and the likess of all-pros Brian Urlacher and Lance Briggs. On top of it all Harbaugh traded up in the second round of the draft a year ago to take the highly skilled Nevada QB. This is the same coach that recruited this past season's #1 pick and probable rookie of the year Andrew Luck.

So who starts on Sunday against the New Orlean Saints and the #31 rated pass defense in the NFL?

"I usually tend to go with the guy that has the hot hand and we have two quarterbacks that have a hot hand," said Harbaugh during his post game press confrence. "So I thought Colin did an outstanding job. I thought he did a great job, poised in the pocket pushing the ball throwing with accuracy, did a nice job running the game plan. Everything he did was exemplary and really acquitted himself great, very proud of him for that."

Who would you start?