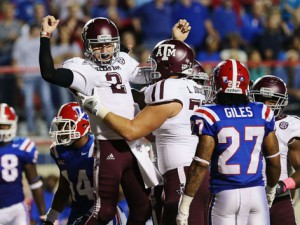 Heisman Thoughts: Why The Two Man Race Isn't A Race at All
With the college football season winding down, pundits and fans alike are casting their projections for the top individual prize in the college game, the Heisman Trophy. This season has offered its fair share of candidates, ranging from Kansas State quarterback Collin Klein to outside shots such as USC's Marquis Lee and Oregon's Kenjon Barner. As the season boiled down, two men separated themselves from the pack: The instant legend, Texas A&M's Johnny Manziel, and the leader of the Notre Dame defense, Manti T'eo. Speculation is that one of these two will walk away from New York City as the new owner of the Heisman. However, I'm calling the race right now.
Manziel is without question the Heisman Trophy winner. Everyone talks about their "Heisman Moment", that time in the season when a player leaps in to the national spotlight. Mainzel has his: the victory over then #1 Alabama. Can the same be said about T'eo? His 8 tackle, two interception game agains Michigan comes to mind, but other then some high tackle performances, his numbers are above average at best: 52 solo tackles, 7 picks, and 8.5 sacks. Compare that to Georgia Linebacker Jarvis Jones, who has 44 solo tackles, 1 interception and 10.5 sacks. Jones, considered one of the top linebackers in football (and playing agains a much more difficult SEC schedule) is nowhere in the Heisman conversation.
With that being said, take a look at Manziel's resume and compare it with, say, last year's trophy winner, Robert Griffin III.
Manziel's stats include 3,419 passing yards (another 1,181 rushing), and a combined total of 43 touchdowns (24 passing, 19 rushing). He did this while only tossing 8 interceptions.
RG3's numbers in his Heisman campaign? 4,293 passing yards, 699 rushing yards, and a combined 47 touchdowns, to go along with 6 interceptions. So yes, RG3's passing totals were better and he had a few more touchdowns in the Big 12, Manziel's rushing totals and overall more difficult schedule makes his numbers more impressive.
In reality, Heisman voters have an easy choice. The fact that T'eo plays for #1 Notre Dame may give him his biggest advantage versus Johnny Football, who is still in his college infancy. But when all is said and done, Mainzel will be the first Freshman to win the Heisman Trophy.